In Kolkata - The City of Joy (?) but surely city of Survivors! : ALAKH 2011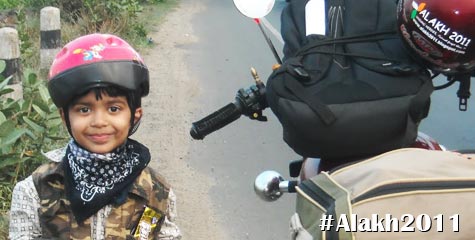 Saturday, May 7, 2011 | In the city of joy finally, though it took me nearly two hours to figure out how to GET IN ! Woke up after a LONG sleep to get on the job of getting Khanabadosh a well deserved pampering (servicing), he deserves all the credit for not complaining even once and kept going. And I must thank Arya too, so young but he kept his composure and kept pushing me to drive on. He really has made me proud; I will miss him in the rest of the journey as he will not be accompanying me in the remaining course.

Met Jahangir & his Brother who are Bullet Mechanics having a small repair shop (opposite to Zaika Restaurant on the Kona Expressway). And I was really impressed by their hard work & dexterity. While I was at the shop I talked with them and they did take a liking to me. They offered me tea and Puris & that was really the best tea I ever had and same goes for the Puri's. I could have chosen to ignore this detail about tea & Puri's but I wanted to highlight the attitude of these brothers. They did not waste a single second and got on the job right away. Every part was attended to after they dismantled the bike totally; I thank myself for not going to the "AUTHORISED SERVICE CENTRE". Got the battery changed to a new one & a few more jobs. It set me back by a fortune but it was really worth it.
Land of Netaji
,
Masterda
,
Bagha Jatin
,
Khudi Ram
and many such lions is being manipulated by many for their own personal ambitions. "Poriborton" or change will start from the mindset, in absence of that, it does not matter which Govt comes or goes. Anyways, since this was election time COMMON PEOPLE (who also happened to be the VOTERS) were fleeced all around, be it by shared cabs or by the normal Taxis, it was free for all! The Govt buses were not plying and I think people were not aware of this, because I saw long queues on the bus stops. May be they were consoling themselves by standing in queues that "they did their BEST to get in time to their workplaces".
I went to the taxi stand and stood there, watching the "modus operandi" of the people involved. Watching them for more than 45 minutes, I was convinced that those I was seeing were doing this for a time pass & it was surely not a means of earning. The clients were in fact begging them to drop them to their destinations. And these Saviors (won't dare calling them taxi Drivers ) took their time considering the profit & loss of the proposal. They were GODLY in their behavior, treating all alike, be it a frail, sick, old woman or someone comparatively younger like me (Here I would briefly mention one small thing, I keep a small notebook and a pencil always with me, and keep jotting down whatever crosses my mind, it helps in reproducing the same thoughts that crossed my mind at an earlier juncture, and which might have been changed/altered in future). A similar Savior, albeit much more honest, jolly & straightforward, took me across the Vidyasagar Setu (Second Bridge). I praise him because he admitted to me that they were just making good the opportunity that was presented before him. When I paid a toll of Rs 10 at the bridge, I saw many two wheelers stopping & paying too (Rs 5), I was forced to think where this money was being used (the Setu was opened in 1992). Because the condition of the Bridge was appalling, it was all patchwork & dangerous at places. It should be a food for thoughfor the RTI guys. I am sure an application would turn up shocking revelations.
I got down at the "Dharamtalla" though I could not see any Dharm around, just like not a single smiling face in this City of Joy. Contrary to my ways I was being too negative and sarcastic about almost everything, maybe because I simply HATE smoking and almost every male was smoking and throwing out "dhuan", I was going raving mad. I think we had it banned in public places or maybe roads and sidewalks don't qualify for "public places"!! Oh Got this was not me , so frustrated and angry, I sincerely prayed for a divine intervention J! And this is when I met
Shiv Kumar Mishra Ji
, and his calm & composed demeanor took away all that negativity, I was my old self again, conversing in the language that my "DIL" speaks in – HINDI! It really had a great calming effect on me. What we talked about ,will take me totally astray from what I have started to blog about , but in a nutshell I MADE A PROMISE TO MYSELF THAT I WILL READ EVERY BLOGPOST OF HIS! His Brotherly attitude really enthused me,and I was back to the focus I started ALAKH with. We were joined by
Vivek Acharya
who provided us with valuable insight into the mindset of the youth. With my attitude all "repaired" and all charged up I left for Howrah meeting one Taxi Driver (no sarcasm now) who told me that it takes him 17 hours of driving to earn Rs 400 ( he was not the owner) ! And it was not possible to drive 17 hours every day ,so it was not fixed L! I was forced to think , what was it that drove these people, if not an indomitable spirit, to fight for survival- these taxi guys, those people waiting in queues, silently harboring dreams of smiling freely someday. They were the real warriors, the real unsung heroes, who fought out a battle every day, never losing because their very survival meant seeing the other day. This made me salute their spirit of never giving up. Wish I could make them smile freely.
Next day (03 May 2011) was election day today so I decided to roam around a bit on Khanabadosh to test "his" ROAD READINESS and it was as if every sound of his was saying – MY WAY ,HIGHWAY! Wait Buddy, we will soon get going. Now that all my positivity was back, Kolkata was a nice city TODAY. Went to Salt lake to meet a friend and I enjoyed riding at my own pace while the world rushed/zoomed/vroomed past me.
Decided upon my next move and did some logistic arrangements like buying a raincoat etc. Will be leaving Kolkata tomorrow. I met Shiv Kumar Mishra on 4 May 2011just before leaving to take his blessings and also to get infected by his contagious calmnessJ. The weather was excellent and I was all roaring to go. I bid Goodbye to Arya (I will miss him throughout, but I know its in his own good interests that he stops here! Next post will be about the journey from Kolkata to Bhadrak in Orissa… Once again I must repeat that I am really overwhelmed by the support … thats what keeps me going ahead!
Vandemataram
A stubbornly proud Bharatiya
Shailesh
Share Your View via Facebook
top trend
what next
IBTL Gallery