A woman and a child killed by occupying forces in Dera Bugti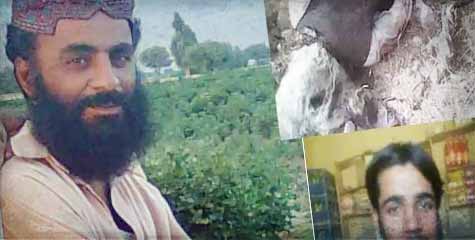 In a recent statement released via e-mail Waja Sher Mohammad Bugti rubbished the claims of pakistani forces and officials about the recovery of Baloch Missing persons and halt to military operations in Balochistan. Following is the complete statement

The arbitrary abductions and extra-judicial killings of innocent Baloch people continue unabated in Balochistan and on one hand Pakistani officials and supreme court of Pakistan claim to be making efforts for recovery of Baloch missing persons and for the halt in the cases of recovery of bullet-riddled dead bodies and on the other hand forces continue to abduct, torture and extra-judicially kill them.
Besides, a child and a woman were killed when they step on a land mine in Ilyasi area of Singseela Dera Bugti. The deceased were identified as 13 year old Haroon s/o Haizhav Paahi Bugti and his mother Mrs. Haizhav. It must be noted that the area always suffer from military offensives of the Pakistani forces and the residents are threatened by the forces to quit the area so they could pave the way of international oil and gas companies for the oil and gas reserves in the area. Drinking water sources like lakes, wells etc are poisoned and land mines are laid all over the area to compel the residents to flee the area. Laying mines, poisoning the drinking water and burning houses are the worst war crimes being committed in Balochistan by Pakistani forces with no attention from the civilized world.
The only aim of the so-called efforts of judiciary and claims of Pakistani officials about the recovery of the Baloch missing persons is to confuse the world about the real facts in Balochistan. We appeal to the international community, human rights organizations, European Union and the civilized nations to take notice of worst wars crimes by Pakistani forces and send fact finding missions to Balochistan to surface the genocide of Baloch people by the occupying state of Pakistan.
#
Independence is the only solution for Balochistan, says BRP leader Nawab Bugti
#
Discovery of mass graves in Balochistan is a question mark for the civilized world - BRP
...
Share Your View via Facebook
top trend
what next
IBTL Gallery