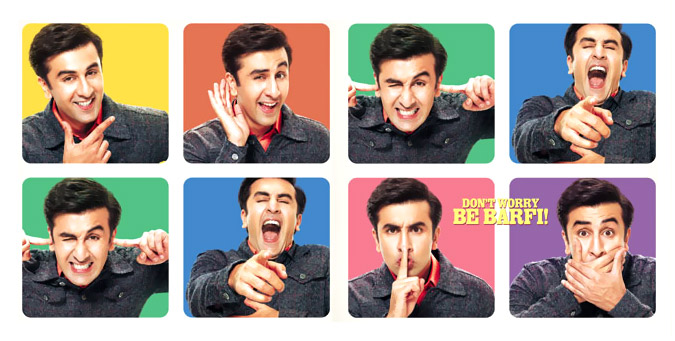 By Prakash Athrayil
Caution: Don't read this before you watch Barfi… Strictly.




Barfi came in to me with that brilliantly melodious background music and kept me glued to the screen throughout. I literally enjoyed it frame by frame. And I am glad I did, for every frame in this movie taught me something valuable. Life also does the same; just that we don't learn from it.




Sacrifice – I remember the scene where Jhilmil shouts from the window when Barfi was about to leave without finding her. Shruti had a choice to walk in to Barfi's life then. But after a moment of thought, she sacrifices her own life and leaves Barfi to Jhilmil. It needed the extreme in her to sacrifice all, when she had already left her husband and family just for Burfi and didn't know where to go. Shruti, this act will keep you forever in the books of Love and Sacrifice for the coming years…


Test for Love
: Everyone has their own ways of testing the intensity of the Love in their partner. Barfi too had his own unique way. And he found the one who did not leave when it mattered. And that really mattered. The one who left him in the test actually left him one or the other way in life too. It reminds me of an incident, when once in the golden seashore of Marina Beach we were beaten up by the fishermen because of one my friend's prank. When a huge crowd was beating my friend all our friends ran away, except the two of us. After the incident while we were walking back to the bus stop I remember my friend saying, "It takes such incidents in life to know the true friends around you, who will stay with you when it really matters."
Silence
: I liked the way Anurag Basu has experimented with silence at a totally new level in Barfi. Simply Classic! Every expression communicates, giving a new depth to our understanding of the characters and enjoying them.
Love
- Loving someone with the question, "Will I will be happy with him/her or not?" is something. But just being Love is the ultimate thing. Thanks to that something that didn't grow in Jhilmil, she could be natural and just be the Love she is….
You may be dumb, deaf, physically and mentally challenged, but Love works. You respond to Love; In fact, you only respond to Love. And how many such Jhilmils would have left us permanently because we took Love for granted sometime. Barfi was lucky to get her back…but we may not be.
So, start Loving and expressing Yourself; Identify and be aware in the moments where God shows you the ones who really matter — who will stay with you when it really matters. Be cautious not to lose your love to ignorance or arrogance. Never let go off a chance to sacrifice, for that takes Love to the next level.
Communicate to the whole world with Silence, with Love, with Sacrifice. Smile and Serve through the Art of Living.
Prakash Athrayil, Art of Living Teacher |
artoflivingsblog
Share Your View via Facebook
top trend
what next
IBTL Gallery