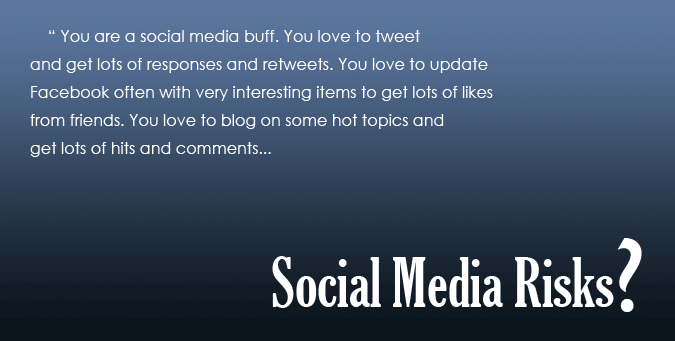 You are a social media buff. You love to tweet and get lots of responses and retweets. You love to update Facebook often with very interesting items to get lots of likes from friends. You love to blog on some hot topics and get lots of hits and comments.

But do you know the risks of doing this in India? No we are not trying to scare you. This is not even a a standard legal advice article. But we are your friends who believe that everyone active in the social media in India, should know about the basic risks.

Why?

Two Mumbai girls got arrested. One of them, reportedly a 21 year old girl, wrote on her Facebook page something like this (not the exact words): "many people are born and many die daily. Why should a city observe bandh or shutdown for Balasaheb Thackeray's demise?". We got to learn from newspapers that both she and her Facebook friend who reportedly hit the "like" button for this message, got arrested by Palghar police in Thane district, Maharashtra.


Why were they arrested? : This is still evolving over the past nine hours. No one knows for sure as we hear conflicting info from different media outlets. We also read that Shiv Sena people allegedly attacked the orthopedic hospital of the Facebook girl's uncle, thehindubusinessline.com/news... .

As of 11 PM India time on 19-Nov-2012, the info available is summarized as follows:

# One girls expressed her dismay for a bandh following Bala Thackeray's death on FB.

# Some Shiv Sena workers overreacted. We learnt about who incidentally complained to the police here.
For those asking: The man who complained against the 2 women arrested by Palghar police is Bhushan Sankhe, the Palghar pramukh of Shiv Sena.

— Sachin Kalbag (@SachinKalbag) November 19, 2012

# Maharashtra Police, who are under the Congress-NCP government, probably overreacted by arresting the girls. We are basing off Markandeya Katju's followup letter.

# And Kapil Sibal's (infamous) Section 66A of IT Act 2000 (amendment 2008), that might have been misused.

Again, the info is still trickling in through the news outlets. So check and double check everything being provided here. The aim here is to give you info to be on the safer side of the law, during these times where a few on social media have been targeted by law enforcement.

Either the two girls were arrested for 'making public statements creating ill will between various classes of the society' (IPC 505 -2) or for hurting religious sentiments (IPC 295 A). We don't know for sure.

Under what section(s) of the law were they arrested?

# Economic Times reported that the Palghar girls were arrested under IPC Section 505 (2). economictimes.indiatimes.com/news...

# Business Standard reported that the Palghar girls were arrested under IPC Section 505 (2). business-standard.com/india/news...

# Zee News was saying that the Palghar girls were arrested under IPC 295 (a) and and Section 64 (a) of the Information Technology Act, 2000. zeenews.india.com/news...

# Times of India was saying that the Palghar girls were arrested under IPC 295 (a) and and Section 64 (a) of the Information Technology Act, 2000. timesofindia.indiatimes.com/india...

# First Post was also saying that the Palghar girls were arrested under IPC 295 (a) ! firstpost.com/india/girls-arrested...

Our confusion was mostly because the news reports are giving different pictures, and also some are mentioning Section 64 (a) of the IT Act 2000, which we could not find in the available list of sections. What we heard was the association of IT Act 2000′s Section 66A, or the infamous "Sibal Act" of 2008 and 2010. Read further to learn about all these potentially risky sections.

What you should know?

Over the next couple of days, this matter will receive more attention and things will become clear. But at a high level, beyond this particular case, everyone in the social media must know these:

# Beware: Treat every tweet, retweet, Facebook update, like, Google plus update, Plus 1, blog, article etc. as though someone from law enforcement is watching it. Just one or two skirmishes with the law will be enough, if you are unfortunate. Also, be extra careful retweeting on Twitter or Liking on Facebook, when the original poster is anonymous and you are not. Though we focus mainly on IT Section 66A here, things like IT Act 2000′s section 66E looks more scarier. If one person tweets your phone number (private info), without your consent, there could be three years in jail, per our understanding. The section 66F goes even further. If your email sends a virus, that results in property destruction (say electric short circuit), we are looking at life imprisonment! These are layman interpretations, so kindly consult a lawyer if you need to learn this in an authentic way.

# Learn about IT 66A Details: This is by far the most discussed section of the Cyber law off late. The Information Technology (Amendment) Bill, 2008, as passed by the Lok Sabha on 22nd December 2008, a bill further to amend the Information Technology Act, 2000 contains this section.

You can download the entire amendment here: tvmcitypolice.gov.in/123.pdf

You can download the entire IT Act of year 2000 here: eprocure.gov.in/cppp/sites/default/files...

Section 66A. Any person who sends, by means of a computer resource or a communication device,—

(a) any information that is grossly offensive or has menacing character; or

(b) any information which he knows to be false, but for the purpose of causing annoyance, inconvenience, danger, obstruction, insult, injury, criminal intimidation, enmity, hatred or ill will, persistently by making use of such computer resource or a communication device,

(c) any electronic mail or electronic mail message for the purpose of causing annoyance or inconvenience or to deceive or to mislead the addressee or recipient about the origin of such messages,

shall be punishable with imprisonment for a term which may extend to three years and with fine.

'Explanation — For the purpose of this section, terms "electronic mail" and "electronic mail message" means a message or information created or transmitted or received on a computer, computer system, computer resource or communication device including attachments in text, images, audio, video and any other electronic record, which may be transmitted with the message.

# Learn about the various interpretations of this law: You can also check out some real good dissection of this complicated and seemingly vague law here:

a) Brief: Section 66A of the Information Technology Act: abhishekchaudhari.blogspot.in/2012/11...

b) Cyber laws in India: iibf.org.in/documents/Cyber-Laws-chapter...

c) Sibal's Law: 'Grossly offensive' and of 'menacing character': rediff.com/news/column/kapil-sibals...

d) Section 66A – Sending offensive or false messages: chmag.in/article/mar2012/section-66a...

e) Section 66A of the IT Act: "Sending" Messages: thedemandingmistress.blogspot.in/2011...

f) Cyber law – Karti Chidambaram case:

Section 66A in Karti Vs Ravi incident - (Part I) : www.naavi.org/cl_editorial_12...

Section 66A in Karti Vs Ravi incident - (Part II) : www.naavi.org/cl_editorial_1...

# Defamation Litigation: A Survivor's Kit, by Subramanian Swamy: hindu.com/2004/09...

This one is a gold standard in case you do land into legal trouble for what you wrote or published.

a) The first tool of defence in a defamation case, is that the aggrieved person must prove "publication".

b) The second tool in the survival kit is that to appeal that the alleged defamation is related to the personal conduct of person, and not to anything he did in the course of public duty.

c) The third tool in the kit is that the person allegedly defamed must first prove in court that the defamatory statement is not only false, but that the maker of the statement knew it to be false.

Of course, You have a constitutionally guaranteed fundamental right for freedom of speech. Here is what the Press Council Chairman Markandeya Katju wrote in a letter economictimes.com/news/politics... on today's issue to the Maharashtra CM Prithviraj Chavan: "To my mind it is absurd to say that protesting against a bandh hurts religious sentiments. Under Article 19(1)(a) of our Constitution freedom of speech is a guaranteed fundamental right . We are living in a democracy, not a fascist dictatorship. In fact this arrest itself appears to be a criminal act since under sections 341 and 342 it is a crime to wrongfully arrest or wrongfully confine someone who has committed no crime. I request you to immediately order the suspension and criminal prosecution of the police personnel who ordered this arrest."

Finally: Beware of the risks, tread your social media journey carefully, but do not stop. Social media is a great opportunity and time. Freedom of speech is priceless and we all should defend it. Just know the delicate balance between the freedom of speech and crossing over the limitation set by various laws. It's a complex matter, but hopefully, this article gave you some basic information.

Good luck!

PS: Corrections welcome as we want to present accurate information. You can leave comments.

Author : Kiran KS | First Published in Samvada.org | Follow the writer on twitter/KiranKS

Share Your View via Facebook
top trend
what next
IBTL Gallery