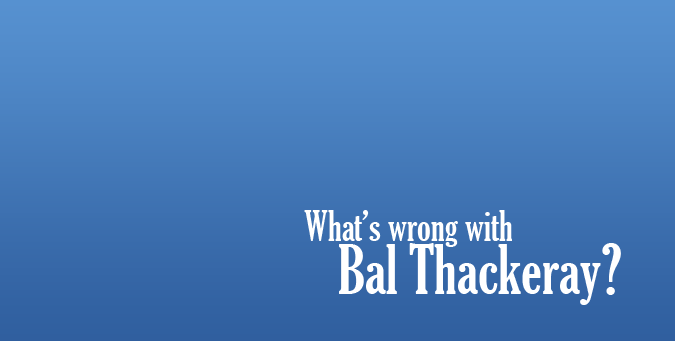 Nothing is wrong with Bal Thackeray. He lived a complete life and with all dignity said goodbye at 86. He seems to have been a good family man, a traditional husband and a good father to his children. He respected his wife very much. Unlike most men of his generation he publicly acknowledged that his wife was his main moral strength and that he looked up to her for comfort and support.

Balasaheb Thackeray was also a good son to Mr Keshav Sitaram Thackrey, a well-known politician, social activist and author. It was Mr Keshav Thackrey who introduced his son to public life. Sri Keshav Thackray exposed Bala Saheb to his organizational skills, governance, delegation of authority and connecting with the masses. History has proved, beyond a doubt, that junior Thackeray was a good student.


He displayed the remarkable leadership quality of having his feet firmly on the ground despite receiving public adulation on a scale no other leader from Maharashtra can boast of. His grit is evident in the fact that he never regretted or appeared apologetic about the consequences of his utterances.
Bal Thackeray was not even apologetic about his illnesses. He spoke freely, and directly. Perhaps, that is why, even Amitabh Bachchan commented on his grit. No other leader in this decade has displayed such courage in their conviction as Thackeray. It is commendable that he rarely left the city of Mumbai in the last 50 years. Yet, he always stayed abreast of regional, national and international matters.
Perhaps his biggest moment of failure was when his nephew Raj Thackery decided to part ways with Shiv Sena. This made the tiger into a human who could not distance himself from his own son. His impact and contribution was evident during final journey to the funeral, when two million people turned out to be part of it and brought the city to a standstill. What was his connect with the people? We may never know it because we do not have another parallel.
BalaSaheb Thackeray is known to have taken strong stances. No doubt his trump card began as a pro Marathi movement, but 50 years after the beginning of his movement, the diversities in Mumbai and the passion of Mumbaikars have only increased across all communities.
Certianly he did not represent all of Mumbai. There are people who would rejoice in the downfall of Balasaheb and Shiv Sena and they may have their reasons too. But in the context of leadership he towers over many of his ilk.
Author : Vinod Kumar,
artoflivingsblog
Share Your View via Facebook
top trend
what next
IBTL Gallery