Delhi Gang Rape, British Raj Inherited Section-144 and the Rise of Power in India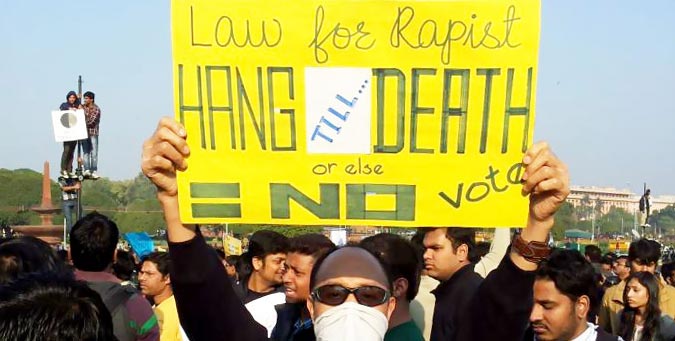 For some strange reason, I had been following the rape cases in the country for the last couple of days honestly. Now that my respect for the Government, Opposition, Media and Society has reached its boiling point, I have permitted myself this liberty to let it evaporate here.

Before I begin with, let me first ask a question that you might like to ask some of your acquaintances and then mull over where the nation is going. Question is: "How many rapes have happened in India in past 10 days?"
The relevance of this question doesn't hold good for the people who follow politics and current affairs closely but to those who get offended if you criticize Sachin for being a burden on the Indian Cricket Team and yet budge not when a Keenan and Reuben gets killed in front of them. A conscious man will know how sick and ignorant have we become collectively as a society. So far I could discover, there was a rape in Delhi, a rape in Tripura, a rape in Chennai, a rape in Bhubaneswar, a rape in Kashmir in last 10 days. There might have been many more such incidences that might have missed my news feeds, I won't be surprised. Let us take one case that has somehow made it to the front page of newspapers and fortunately caught the attention of public and try to understand where we are heading collectively as a society.
Some things never change. Cricket still our religion, #Sachin still our god. #RetireTheJerseyNo10

— Sanjiv Kumar P (@_iamsanjiv_) December 24, 2012

A 23-year old educated and learned physiotherapy student doing her internship in Delhi was standing at a bus stop with her friend to pick up a bus for Dwarka in Delhi at 9:30 P.M on 16th of this month when a bus stopped near her tricking them as a common bus and asked them to board in saying that the bus was going towards same destination. They boarded. There were 6 guys waiting inside who shut the doors of the bus a few minutes after the ride, attacked her 28 year old male friend and raped the girl one by one till she and her friend became unconscious. The girl and her friend were beaten like a rented mule and then thrown off the moving bus. The bus was then taken to some destination and was thoroughly washed. The girl, upon discovery, was taken to Safdarjung hospital and put on ventilator in the hospital's ICU. Even today, she is struggling with her life.


Deccan Chronicle
Today is 25th of December. Tomorrow, India will celebrate Christmas. F.I.R was lodged. Four of the 6 accused were caught and produced in courts on 19th December and were sent to judicial custody for 14 days. Later, other two accused were also caught. Accused confessed their crimes with pride and requested judges for death sentence. Politicians, celebrities and all opinion leaders did their regular job of expressing unhappiness, shock and dismay and eased off. Delhi CM proposed five fast track courts for handling rape cases in Delhi, now popularly known as rape capital of India as per some news channels.
The entire government machinery had, with one incidence,
understood
the importance of security of women in Delhi. The promptness with which Delhi Police had been working can be understood and analyzed from the observations of the Delhi High Court on the report submitted by the Delhi Police Commissioner.
Following are
excerpts
:
"…On this aspect a report is filed... We have gone through the report and we are not convinced. None of the details of the police officers have been mentioned," Chief Justice D Murugesan.
The bench observed that "nobody is safe". Police could provide no convincing reply on how brutal sexual assault carried on the bus for more than 40 minutes and went undetected. The court observed that Central Forensic Science Laboratory had no Directors.
Its observation says,
" We are informed that there is no director at the CFSL and there are two deputy directors in the CFSL who are not competent and leads to delay in 1-2 years in the investigation".
It further went ahead and said: " Evidence is lost. They don't accept any sample as there is shortage of chemicals also. If it is so, then please rectify it immediately". There was no buzz in mainstream media about any of these observations. Media kept people busy by pouring in how filmstars
expressed
their deep concerns. United Nations women expressed indignation and urged the India Government to ensure safety of women. The pathetic systematic failure of state machinery as observed by the courts could not get due attention.
Though its a public display of hurt, but shall risk it! My proof that Govt protects women?!? #DelhiProtests #TheekHai twitter.com/amritabhinder/…

— Amrita Bhinder (@amritabhinder) December 24, 2012

The court, then, fixed the date of next hearing to 9th January. This is not the first rape in the city capital. 600 rapes were reported last year and this year Delhi has already crossed that magical figure and is all geared up to set a new benchmark. On an average, there are 2 rapes per day in Delhi. There had been twofold increase in rape cases in the country between 1990 and 2008. United Nations women expressed indignation and urged the India Government to ensure safety of women. How long will mere assurances do? Had there been one case when assurance of justice and protection of women had not been granted? People on being convinced that they are being beguiled by the system started protests and gathered near Delhi CM's official residence on 19th of this month. Seeing no concrete action being taken against the diabolical crime, what first began as a misty protest now became a question of larger concern given the indifference. More and more number of people poured in on Saturday, 22nd Dec with a hope that the government they voted for will listen to them. Alas, come 23rd Dec and there was a replay of British Raj in Delhi when state administration imposed Section-144 to curb the helpless, innocent kids, teens, young men and women who were protesting peacefully with simple demands written on placards in hands.


msn.com

Police went on rampage beating kids, women, teens mindlessly and blindly. More than 200 rounds of tear gas were fired and water cannons used when cops went berserk over crowd and dragged them to buses forcing them to oust the venue. On being questioned about this apathy, the Delhi Police had to offer a lame excuse saying that the movement was hijacked by some unruly political elements and hooligans and thereby justified the sinister lathicharge on teens and women who came there with a ray of hope to ask for their rights. As the pressure was built on media and the government to cover the incidence with more vigour, police cracked on journalists too. Wait, I was talking about an India about which every child speaks only one sentence:-I am proud of India.

Amidst all these, there is something which has gone completely missing. It is the validity of Section 144. What is said to be the first war of India's Independence happened in 1857. Section-144 of the Criminal Procedure Code traces its history back to 1860. It was enacted by the British government with the only motto of curbing India's freedom struggle and it was used over and over again by British Raj to imprison our leaders who were pioneers in Civil Disobedience movement.

Are we living in British Raj?
Was this protest a terrorist activity?
Was there a riot like situation?
Did people come up with arms and ammunitions?
What was the occasion to impose Section-144?
Worse, did Section-144 help solve the problem?
Did it pacify the angry innocent people whose demands were limited to-"Right to Dignity?"
Under what circumstances my rights to express my opinion, protest against government, and demand for justice can be throttled?
Do we have clarity on this?
This is not the first time. Government had been doing it with complete immunity and had been throttling people's rights to protest. The police crackdown on Ram Lila Maidan during last year that resulted into death of Raj Bala is one of them. We didn't ask the validity of this British Inherited law. We never questioned whether government has rights to kill anyone just because it cannot control crowd? It is a matter of shame and disgust and a manufactured ignorance that when our women are being raped, kids are being beaten like criminals and terrorists and when the rest of the world is expressing its empathy to crowd, our very own Government imposes Section-144, treats its countrymen like animals, media creates smokescreen and never discusses the key areas that need to be worked out in order to reach a practical solution and opposition says that it cannot go and stand by protestors in the crowd because media might give it a political color.

What is the solution?

First thing that needs to be done, in my view, is that opposition leaders or for that matter any political party should go and stand by the crowd and pacify them. We have already seen the obligation of Prime Minister with his "Theek Hai" speech and the Home Minister has also spoken the golden words and hurt the sentiments of all Indians by comparing them with Maoists. People have no hopes from Government but the crowd needs to be given solace and assurance. "Only some leader with towering personality and with a public appeal can assure crowd that they will follow up with Government with deadlines. If the crowd is not controlled now, I shudder to think, at this rate, a Jalliawala Bagh may get repeated; who knows.

Secondly, crowd should be given some deadline before which the accused can be punished.

Thirdly, media should call legal experts and create pressure on government to clearly understand as to whether Section-144 can be imposed in such conditions and 100s of Raj Balas can be killed. People should also build pressure on government, media and opposition leaders to discuss its validity and ensure complete transparency on government's stand and urgency to impose Section-144.

Finally, matter may get decided by Judiciary. At any cost, not even in the wildest of nightmares, can one imagine that one will go to seek justice and dignity and they will be trampled by the same government they voted for. If at all the government stands the scrutiny and justifies that there was a call for Section-144 in that kind of situation, we need to have an upper limit on the number of times and incidences in which this barbaric, anti-people Section-144 can be imposed. If any government elected by the people gets compelled to impose Section-144 over and over again to control extraordinary situations that is a clear indication that Government is incapable and not worthy of ruling the State. There has to be some upper limit on how many times can a government use this sinister Section-144 to control an extraordinary situation. There also needs to be transparency on how is the government supposed to handle the innocent people, kids and women in such protests. Last I heard, we were living in Independent India. It is the people who pay taxes because of which police runs and governments run and the whole system runs.

Last but not the least, who were those hooligans who are said to have hijacked the movement as per Delhi Police. Onus is on people, media, opposition and the ruling party to trace the origins of those hooligans and honor them and the parties they are affiliated to. There is no clear visibility on how things are going to take turn. However, one thing is sure. People are no longer protesting for rape of a 23-year old brave girl. This protest has now become a protest against the rape of system. This protest is also no more against the government or the police but against all those ignorants who kept seeing a Keenan-Reuben [Read Keenan's Father's latest blog on Delhi Gang Rape] dying and yet budged not even once to overthrow the death of two brave young men. This protest, in fact, is a clarion call to all Indians to wake up and stand for dignity and truth. Come what may, but one thing is sure:- If India is to rise, it must acknowledge women power. Men must join this protest. If you want this protest to reach its logical conclusion, give women their due respect in your everyday life and be not indifferent to any social issue. If you want this protest to reach to its logical conclusion, make sure that you make your sons, daughters the hero, the lion and not the cowards. If you want this protest to be successful, you can still join in by taking a resolve that you won't produce another Manmohan Singh who comes and spits on your face when all that you asked for is your dignity. Its not the rise of women, its the rise of Shakti. Be a part of it and do away with your ignorance. Some Reactions from common men:"

Author : Mihir Jha, Follow the writer twitter.com/Back2Vedas
Share Your View via Facebook
top trend
what next
IBTL Gallery