So was it really Yeddy-Reddy, or actually Reddy-Reddy?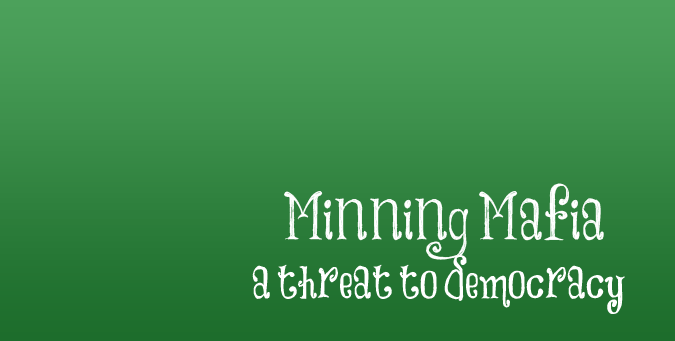 You have heard a lot over the past 3 to 4 years about Yeddyurappa and Janardhana Reddy. The infamous Yeddy-Reddy stories that made headlines across English media channels told a common Indian that everything about mining scam in south India was their making.
But wait.. there's a lot more to the real deal than Yeddyurappa and BJP. The much paraded Santosh Hegde's Lokayukta report that listed Yeddyurappa's name in 2 places, suffered a huge setback in the High Court. That chapter mentioning Yeddyurappa was actually thrown out as it was a violation of the principles of natural justice.
HC strikes down case against BS Yeddyurappa
Excerpts:
a) "Virtually passing strictures on the Lokayukta report on illegal mining, a division bench comprising justices K Bhaktavatsala and K Govindrarajulu held Chapter 22 of the Lokayukta report and also Lokayukta police case under various provisions of the Prevention of Corruption Act, 1988, as bad in law"
b) "Terming the case as bad in law, the court also nullified the sanction given by governor HR Bhardwaj to prosecute Yeddyurappa."
Maybe it was too late as both BSY and BJP lost in Karnataka. The damage of media and Congress propaganda was too deep. But it is never too late to present the correct facts.
So here we go. This is your chance to go through a very detailed report on the mining scam, on Andhra Pradesh's principle opposition party's website. If anyone has concerns of political bias in this report as TDP is an opposition party, they can cross verify the documents they have referred and presented. But one thing is certain, TDP is not an ally of BJP too.
Mining Mafia A threat to Democracy
It exposes systematically the nexus between a Congress Chief Minister of Andhra Pradesh, Late YS Rajasekhara Reddy, and the companies operated by now-jailed mining baron Janardhana Reddy.
It is a 55 page long report with many authentic attachments and images. In this article, we will only cite four key items that the so called 'mainstream' English media houses, never cared to highlight over the past few years.
1) Who was the key politician closest to Janardhana Reddy?
Among the 3 Reddy brothers, the kingpin was always the middle guy Janardhana Reddy. And it becomes clear from that report, that it was none other than the late Congress CM of Andhra Pradesh, YS Rajasekhara Reddy, who encouraged him all along. The report talks extensively about how he favoured them throughout his tenure, how he made pro-Reddy key decisions and how he justified in the assembly, the immense amount of support to them provided by his government.
I am sure most of you would never have seen a picture of Gali Janardhana Reddy of BJP and YS Rajasekhara Reddy of Congress, sitting next to each other, on prime time TV!
2) Did Reddy brothers' mining empire grow "suddenly" during BJP government in Karnataka?
The answer is clearly no. They have been expanding all along. The table above shows that they had reached a Rs.3000 crore turnover level (provisional) by the time BJP came to power in Karnataka during mid 2008. Also, as a matter of fact, their empire got a shock during BJP government, with the mining ban imposed by Karnataka CM. You can recall the resort-rebel dramas during that period, clearly explaining why they were unhappy with the BJP CM and why they wanted to oust him.
For those who didn't follow south Indian politics closely.
2003-04 – Karnataka had a Congress CM
2004-05 – Karnataka had a Congress CM
2005-06 – Karnataka had a Congress CM
2006-07 – Karnataka had a JDS CM
2007-08 – Karnataka had a JDS CM and President's rule (Manmohan Singh & Sonia Gandhi's UPA)
2008-09 – Karnataka had a BJP CM.
So, except the fag end of Reddy mining empire's growth, BJP government was no-where in the picture. Did the media houses ever highlight this to you? Also, when for half year, UPA government directly ruled Karnataka from the center, how come Reddy empire grew more than 500% in 2007-08?
3) A historic Hindu temple destroyed during the mining scam:
A small, but very prominent local temple on the Karnataka- Andhra Pradesh border was blasted off during this mining scam.
You will see media hyping up any place of worship destruction. But why didn't this make headlines? Time to ask the media.
4) Which CM actually complained to Sonia Gandhi's UPA government about the whole illegal mining episode in south India?
Read this letter summary from the TDP report.
It's very clear that BJP government actually started fighting against mining mafia, even though some were linked to the party. But as the report highlights, the letter written by then BJP CM Yeddyurappa, on 9-Feb-2009, did not get any cooperation from the central government of Manmohan Singh and Sonia Gandhi. It's worth highlighting that the letter was written after BJP government in Karnataka was frustrated at the non-cooperation of YSR's Congress government in Andhra Pradesh.
The letter even asked the authorities from Survey of India, to do a joint survey.
Has any media told you about this important letter fighting mining mafia in South India, and the subsequent non-cooperation from Congress governments? Has anyone raised why state borders were changed, but the survey authorities didn't do much?
There's a lot more in that report. Read it when you get a chance. It clearly establishes that the mining scam was not exactly Yeddy-Reddy, but actually Reddy-Reddy! For more information, also read about what the Reddy brothers are telling CBI over the last 18 months, particularly whom they paid in Andhra Pradesh during the 2009 election campaigning.
Author : Kiran KS | Follow the writer on twitter/KiranKS
Share Your View via Facebook
top trend
what next
IBTL Gallery