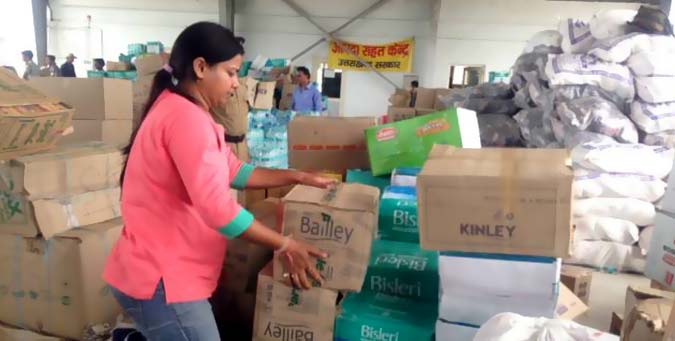 I have been receiving reports of what our volunteers have been doing to bring relief to the tragedy-struck region of Uttarakhand. I wanted to share an overview of the tremendous work being done.
100 trucks of relief material from various parts of the country have been sent to Uttarakhand
A team of about 300 volunteers has been working in different areas of the region
They have been working with the para-military forces and the Disaster Management Team assisting them in rescue operations
Apart from gathering and distributing food material, medicines and other essentials, they are also engaged in conducting trauma-relief camps for survivors. Conditions have been tough to carry out operations due to the scale of the calamity and difficult weather
Volunteers have also helped bridge the communication gap where stranded survivors don't understand the reasons behind the delay in their rescue, allaying fears and keeping spirits high

Swami Divyanand and Swami Vishwachaitanya are coordinating relief operations in Uttarakhand.
Jolly Grant airport, Dehradun was the transit point where survivors were brought after rescue via choppers. Volunteers helped the IAF, BRO and Disaster Management Team in dispatching supplies and counselling the survivors.
Loading relief material in the helicopters
Teams of doctors put up medical camps assisted by volunteers
Supporting survivors who need care and attention
Many youngsters have come forward and carried food supplies and other relief material to disconnected villages. The survivors in these villages were families of tour guides waiting for them to come back. All their belongings, including livestock had been washed away. These youngsters formed teams and reached many such inaccessible villages and gathered groups of villagers to come and take supplies from these makeshift supply points.
Helping clear out the debris from houses
Non-stop rescue work caused stress and fatigue in the armed forces personnel. Meditation sessions helped rejuvenate them continue their work with more energy.
The terrain to reach villages in the upper terrain is extremely tough as roads have been entirely destroyed.
So far, relief camps have been setup in Rishikesh, Rudraprayag, Dharasu, Saigul (Tehri), Chinyali, Guptkashi, Srinagar, Harsil, Kharabi, Gochar, Chandrapuri, Hanumanchetti, Uttarkashi, Rana Chetti, Srikot, Agastyamuni, Ukhimath, Kund, Arkhund, Kotma, Sonprayag, Triyugi Narayan, Athali, Tilwara and Mathali. After the evacuation, roads are being cleared up to reach places that have been cut-off all these days. The challenge is to reach supplies to these places and also to reassure the survivors to come and fetch supplies from camps because the distance is several kilometers and accessibility is hard even with mules.
Everybody involved — the armed forces, NGOs and volunteers, overcome many challenges on a daily basis in this operation. Their efforts and spirit remind us that there is a lot of goodness in society. Those of you who would like to go to Uttarakand and volunteer may contact : Shweta Golani - 9837246264 | Bhartendu Sethi — 9896790734 | Vijay Radadia — 9327387873.
– Sri Sri Ravi Shankar, Follow him on twitter.com/SriSriSpeaks
Share Your View via Facebook
top trend
what next
IBTL Gallery