A Storm, 'Narendra Modi' is coming – IBTL Opinion Poll 2013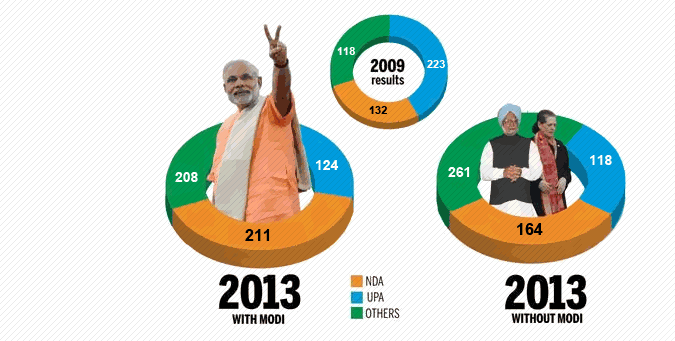 If my loud music system disturbs you, who would you hate: Me, Music System or the Singer? This metaphorical question fits perfectly to the online world, Narendra Modi, his supporters and detractors. It is said by the Modi haters that Narendra Modi has an Army in the Social Media space to take his detractors to task. They are believed to be abusive and Modi has built one such large army of virtual profiles in Facebook, Twitter etc. How true are these allegations? The 'Modi building a large paid abusive army' part, not so true; 'A huge group of people taking Modi detractors to task' part, pretty much true. But if electoral battles were won or lost in Social Media, Modi would have been PM by now with almost 95% seats. However that is not the case, battles are won in polling booths. So what is it that makes the Congress, the communists and the Anti Modi haters so restless about Modi's rising clout in Social Media? Well to answer that in 1 sentence; Congress won 206 seats in 2009 General Elections with approximately 11 Crore votes across India (while population of India is more than 10 times this figure) and the number of users in Social Media during the 2014 General Elections would be quite close to that.
In the 3rd & concluding part of IBTL Pre Poll online survey (Read Part 1 here and Part 2 here), we would absolve some of the myths both adulating Modi to a God and disparaging him to a Demon. This part would focus on the Numbers game. How the vote percentage and share have been in the past and would be in the future. Also this part would cover the seat projections for the Southern States which have been the Achilles Heel for both the National parties. Can Modi's popularity bring in seats for BJP in South? Finally we would also analyze t­he possibilities of Third Front Coalition, conclude with the Key factors that would prevail during the 2014 General Elections. The Seat projection would also be made for 2 different scenarios. 1. Narendra Modi is not declared the NDA PM candidate & 2. Narendra Modi is declared the NDA PM candidate
In, both the scenarios, NDA & UPA would have constituent parties as:
NDA – BJP, Shiv Sena, Shiromani Akali Dal, Haryana Janhit Congress, Janta Party, Nationalist People's party, Nagalan­d People's Front.
UPA – Congress, NCP, JMM, National Conference, Kerala Congress and Muslim League
All other parties would fall under 'Others'.
Important Note - INLD was shown as a part of NDA in the previous editions. As of now it has been removed, while Subramanian Swamy's JP has been added to the NDA block. JMM has forged an alliance, once again with Congress in Jharkhand and now is a part of UPA. Yedurappa's KJP would be considered as a part of NDA if Narendra Modi is made PM candidate and in 'Others' if Modi isn't. Rest all Parties would be blocked as 'Others'
The Modi Myths
Some of the Modi's supporters have made him a seeming God. Some of his haters make him look like a Demon of lifetime. We would try to showcase the truth.
Modi can single handedly win Elections – Modi cannot win the elections comprehensively. As even the survey reveals, BJP would emerge as the single largest party with or without Modi. What Modi will do is add that extra cushion of 3-4% votes, which would help BJP gain some extra seats. In states where Modi is popular like UP, Karnataka and Bihar, these extra votes would convert into seats. In states where Modi is not so popular such as Delhi, Maharashtra, Madhya Pradesh, he may bring in some extra votes which might not be sufficient enough to bring in extra seats. Also there is no such thing as Anti Congress wave or a Pro Modi wave which is flowing

1. Cadres of BJP/RSS – Narendra Modi is one of the most popular leaders in BJP since a very long time. He rejuvenates the cadre in ways others can't. In his recent visit to Uttarakhand, one could sense how RSS and BJP cadres galvanized in working towards the Relief program

2. Urban Social Media Youth – Yes the much talked about Army of aggressive youngsters present in the Social Media. It is a myth that Modi has hired a large army to combat the Anti Modi propaganda. Modi may have a group of youngsters at his service in the Social Media, but by and large the staunch supporters of Modi do not have any kind of political affiliation. These youngsters have suffered from UPA's perceived misrule and therefore see in Modi, the last ray of hope due to his much publicized Gujarat Governance Model. This group acts as if it owes its allegiance to Modi. Hence they do everything possible to project Modi in the best possible way, in return of a possible expected Good government. Half of these sections would not come to polling booth, but one survey reveals that 38% of these Urban youngsters have roots in Rural areas who would cause a ripple effect in their native towns/villages

Modi is a Magician – Modi is made to be perceived as a Messiah who has solutions to every problem and would make every problem disappear through a simple magic trick. The fact is that Modi is like any other normal leader with better understanding of the business. He is far more efficient than his rivals. Hence he will do a much better job, but not enough to alleviate all the issues or bring a drastic change overnight. In views of former ex RAW man B Raman, "Modi may not meet expectations but would be refreshingly different".

Modi is a Hindutva Mascot – This would come as a heart break for many Right Wing Hindus but the truth is that Modi is a Secular leader and not a Right leaning leader. Yes, this report is being published after he has claimed himself to be a Hindu Nationalist but that is at a personal level. As far as Modi the politician is concerned his politics are Centre leaning and not Right leaning and he is a Secular leader (as per the dictionary definition of the word 'Secular'). If at all he becomes PM, his focus would be on issue like Development and Economic growth instead of Religious issues like Ram Temple

Modi would sideline Muslims/Minorities – Increasing number of Muslims are voting for Modi in Gujarat as they are impressed by the Economic growth of the state. For a state witnessing riots every now and then, modi has remarkably made the State riot free since 2002. Some may say, he didn't give tickets to Muslims in Assembly elections, but that is nothing more than symbolic gimmicks. He has actually worked for Muslims and is finding support from them as days go by

IBTL Opinion Poll Projection for Southern States
Summary for 181 seats cross South India in Phase 3
The gains made by 'Others' in all the 3 parts are highly skewed because many Big allies like TMC, DMK, JDU etc have dumped UPA/NDA and moved to others. A fair comparison is made while presenting for the Overall seats
Overall Seats Projection for Lok Sabha Elections 2014
Game of Thrones
BJP would emerge as the single largest party whether it projects Modi as PM or not. However in both cases it would be well short of majority

BJP gets 140 seats without Modi as PM (repeat of 2004 performance) and if Modi is made PM, he powers BJP to its best ever tally of 184 (2 seats more than 1999)

Congress would bleed profusely and would fare one of the worst performances ever and surprisingly Modi as PM would slightly help Congress/UPA to get additional 5-10 seats

The 'Others' block would suffer the most if Modi is made PM candidate of NDA, since he helps NDA get an additional 47 seats.

Other major players crucial in Govt. formation would be: Left Front (20-30 seats), SP (34-40 seats), AIADMK (25-30 seats), TMC (22-26 seats), JDU (11-17 seats), TDP (13-15) seats etc

If Modi is the PM candidate, NDA would get 211 seats. Other NDA leaning parties could help them garner the magic number of 272 which would include: AIADMK – 26, TMC – 22, TDP – 13, BJD – 15, MNS – 4, JVM – 1, SDF – 1, AGP – 1, INLD – 1, Independent & Others - 5. Total – 300

If Modi is not the PM candidate UPA would get 118 seats while NDA 164. However UPA would find it easier to form the government owing to more parties inclination towards UPA as given below

UPA – 118, SP – 40, BSP – 18, JDU – 17, Left Front – 32, YSR Congress – 11, MIM – 1, SDF – 1, JDS – 7, DMK – 4, PMK – 1, DMDK – 2, AUDF – 2, RJD – 8, TRS – 9, Independent & Others – 4. Total – 275

In the democracy of India, a party needs to have atleast simple majority (i.e. atleast 272 of the 543 Lok Sabha seats). However since 1984, no single party has reached this figure on its own. This has given rise to the Alliance politics. 1st it was the Post Poll Alliance followed by the Pre Poll Alliance in the 1998 elections. But inorder to win 50% of the seats does a party need to win 50% of the votes? The answer is no. In a constituency if there are 10 candidates, one candidate can win the seat by just getting the maximum votes which could be as low as 11%.
In 1996, BJP got 20.29% votes and emerged as the single largest party with 161 seats
The above chart is quite a revelation. Vote % of Congress is nearly the same in 1999 and 2009 elections and yet the difference between the numbers of seats is almost 100. It is also clear that Congress has to get more vote % to win as many seats as BJP because Congress is a bigger force in some of the states like Kerala, Kashmir, Haryana, North East, Tamil Nadu etc where BJP is nonexistent. In these states, Congress may win get a large chunk of votes, but might not get any seats because of stronger regional power. Hence Congress would have to get atleast 3-4% extra votes to win same number of seats as BJP. As per our survey in 2014, the vote share would be
Without Modi as PM
Congress – 21.72% with 105 seats, BJP – 23.68% with 140 seats.
With Modi as the PM candidate of NDA
Congress – 23.39% with 113 seats, BJP – 26.82% with 184 seats.
With Modi coming into picture the % of voters coming out to vote would increase from 63.6% to 65.1%. This is a very high polling percentage considering that both in 2004 and 2009 the Polling attendance by the voters lied between 55-60%. So by projecting Modi as the PM, an additional 1.5% of the Voters would come out to vote. BJP would be helped by a powerful Prime Ministerial candidate.
Third Front - In both the scenarios (With or Wihout Modi), a Third front is practically not possible. Inorder for a 3rd or 4th front to materialize, they should have outside or inside support of BJP or Congress. Also SP-BSP in UP, JDU-RJD in Bihar, Left-TMC in Bengal, DMK-AIADMK in TN, TDP-TRS-YSR in AP and NC-PDP in Kashmir are bitter rivals so only one of the two in each of these sets can come under one roof. Choosing the bigger partners among these pairs when modi is not the PM candidate
SP – 40, JDU – 17, Left – 31, AIADMK – 30, TDP – 15, NC – 2 still gives us 135 seats. Joining BJD – 15, JVM – 3, JDS – 7, 'Others' – 20 the number would barely reach 170 and would require the support of Congress or BJP. Hence even if BJP + Congress got less than 272 seats, which is a likelihood if Modi is not projected the PM, candidate, the possibility of a 3rd Front is quite remote and History says that such an unstable coalition does not last for too long.
In the last editions we covered the reasons for NDA's loss in 2004 and 2009 elections. In this final edition we would just list down the major issues that would prevail in the next elections along with the percentage of respondants who feel this would be a major issue
Major Issues in the Coming General Elections
Corruption – 83% of the respondents felt this would be one of the major issues
Gujarat Development Model – 56% considered it to be an election issue
UPA's foreign policy – Surprisingly 55% consider Foreign policy a major issue
Economy – Inflation and Stagnated growth was considered a major issue by more than 47% of the respondents
38% felt Secularism and Pseudo Secularism would be the talking point
9% also thought that Terrorism and Internal Security would be a major issue during elections
Only 3% of the respondents felt that 2002 Gujarat riots are going to be an issue

We have tried to cover all the possible issues that would prevail in the next General elections. Inorder to maximize the chances of Government formation, here are a few suggestions for the 2 National Parties
Suggestions for Congress/UPA
Only 3% consider 2002 riots an election issue, hence attacking Modi and running smear campaigns would only galvanize his supporters and each Malicious bout would make him stronger, hence not the best thing to do
In important parameters, NDA leads ahead of UPA. Congress should showcase its Economic achievements
Congress should also highlight the promises which BJP failed to deliver in states where it was ruling and lost recently like HP, Karnataka, Uttarakhand etc.
Alliances are a proven winning formula. Congress must strive hard to ally to forge pre-poll alliances with like minded parties such as JDU, LJP, SP/BSP
Desperate times call for desperate measures. Congress can also ally with Left in the state of West Bengal to counter Trinmool while fight against Left in Kerala.
Lastly, even though a Parliamentary form of elections, a strong PM candidate affects a swing of votes in favour. Congress lacks a strong popular leader in its National line. Chidambram, A K Antony etc all are perceived as weak leaders. Rahul Gandhi has no proven track record. Congress can consider Shiela Dikshit or Bhupender Hooda as their Prime Ministerial Candidate as they have won back to back elections and also have some sort of developmental track record.

Suggestions for BJP/NDA
More than 80% consider Corruption as an issue, this does not automatically give BJP the default right over those voters, since BJP has had its own problems of corruption. Hence a PM candidate of seemingly incorruptible image would be the best bet to take
Even for BJP, pre Poll Alliances with trusted Allies such as BJD, TRS and AIADMK etc would prove beneficial.
BJP must avoid alliance with partners it has ideological differences such as JMM, BSP, RJD etc. Allying with these parties would only prove suicidal.
In States where BJP is nonexistent, BJP must try to reign in Local politicians who work at an individual level. This would help in getting some more swing in its favour.
BJP's core voter base is the urban mass, most of which doesn't come out to vote. BJP would do well to run online campaigns so as to bring out the Social Media users to Polling booths by running awareness campaigns and helping set up Voter Id registration helpline numbers
As said earlier, Congress got 11 Crore votes in 2009 and won 206 seats. If BJP gets same number of votes it could win 215-220 seats on its own. The same number is active in the online world. BJP needs to target those 216 seats where Social media has an impact and if a large % of these voters come out and vote, BJP would be staring at a historical performance

How we did it – The IBTL Opinion Poll 2013
IBTL 2013 Opinion poll was 1st of its kind where the survey was conducted online. Almost 5684 unique respondents took part in the survey. So as, not to lose the competitive advantage, the methodology would not be revealed. However we would definitely make a few revelations. In the survey close to 90% said they would vote for BJP; however BJP only gets 23-26% of the total votes for the elections. That is because each of the factor has been given a weight and adjusted accordingly. The factors are
Propensity of the Social Media User to vote
Scaling down of Modi's popularity
Scaling up Congress' popularity
Inclusion of Rural votebank and Rural factors
Proxy Voting in Rural areas
EVMs accuracy
Extrapolation of Sample

The exact weight assigned and statistical equations would not be revealed but the technology involved has taken care of all known and unknown forms of biases known to the voters.
We have tried our best to take into account, the prevailing mood of the nation and convert into an expected presentation. The numbers are not the actual seats won by Political parties. These are just an indication, how it might unfold, if elections were to happen now. There are still 10 months remaining between now and the actual elections and anything can happen between now and then. Should there be a drastic change in the political landscape, we would try to attempt another survey with fresh findings. Until then signing off.
IBTL survey findings in Feb 2014 (Click the image) ...

Author : Suyash Bharadwaj | Follow the writer twitter.com/Suyash75
Share Your View via Facebook
top trend
what next
IBTL Gallery