Kerala Girl ends her life, unable to pay college fees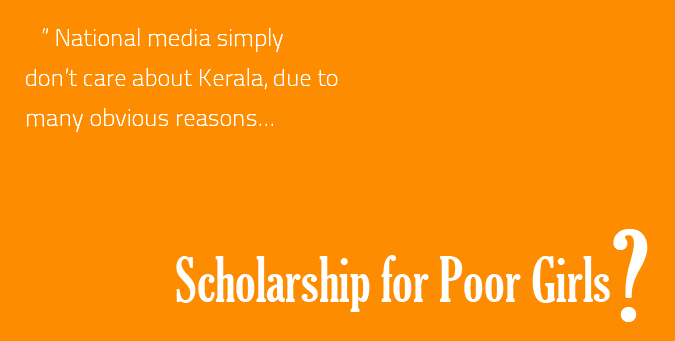 National media simply do not care about Kerala, due to many obvious reasons. They had OB vans at place in Karnataka, which is a neighbouring state. But for some obvious reasons, events happening in Kerala do not reach the national audience; it does not reach media courts. Media which haunted former Chief Minister of Karnataka does not even discuss the present Chief Minister of Kerala, who is allegedly involved in a solar – scam.
I had to write this blog, because of news which both media- local and national-are neglecting. The news is about a girl who ended her life because she could not afford paying fees. She jumped to Pampa River, which is sacred to Hindus of Kerala. Her name is Ashwathi and was 19 year old, and she belonged to a poor family.
This may be just another suicide event happening in a state which is known for high suicide rates. Newspaper reports indicate that Kerala is third when it comes to number of suicide cases. But there is another issue which should be read along with this particular incident, which is about Minority scholarship and reservations.
Former Leftist Government in Kerala introduced a scholarship for Poor Girls who belong to Muslim community, Eligibility -Should belong to MUSLIM, Latin, Converted Christian (SC, Velar) community and should be a native of Kerala. - Should be a GIRL student studying for the first year of Graduation or Higher courses in Govt./ Aided Institution. - students who got admission to Self financing colleges from merit seat are also eligible to apply for this scholarship. -Should have scored 50% or above in the qualifying Examination. - Family Annual income should not exceed 2.50 Lakhs. This scholarship scheme is still in existence. If Ashwathi was a Muslim Girl, she also could have got this scholarship, but unfortunately she was not.
Does poverty and economic backwardness has a religion? Why do politicians divide scholarships and reservations on religious basis? Are criteria for poverty different for Hindus and Muslims? Why not Government support every student who is really in need of it, regardless of what community she belong to? These are the questions which so called seculars hate facing at. This incident of suicide is an eye-opener to Kerala Hindus and it expose how faulty our concept of secularism is. Basic Human needs are same, whichever religion they belong to, and the state is duty bound to support its citizens, by not dividing them to caste-religion lines. Religion of an individual is his personal issue, and state need not interfere in it, but state should help a person in his secular needs.
There are people who defend caste – religion reservations citing History of atrocities of Upper Caste towards lower castes. They say upper caste people are paying for the sins their ancestors did in the past. But they do not understand that in India, almost every community have faced discrimination and persecutions from other communities. The author of this post belongs to a community whose ancestors had to face persecution from Christian missionaries in Goa and had to flee from their homeland. Does that mean this community is entitled to reservations and scholarships? Should the present Christians around us pay for the sins their ancestors did to this community? Silence follows this Question. Discriminating in favour of one community is indeed a discrimination against another community.
Time has come for our Government to see us as Indians, not as Brahmins, Dalits, Muslims and Christians. Time has come to redefine Majority and Minority, or the need of dividing India to majority-minority community. Time does not wait for us, it is we who should not to miss the train.
Share Your View via Facebook
top trend
what next
IBTL Gallery