The Nationalist who turned Spiritualist: Rishi Sri Aurobindo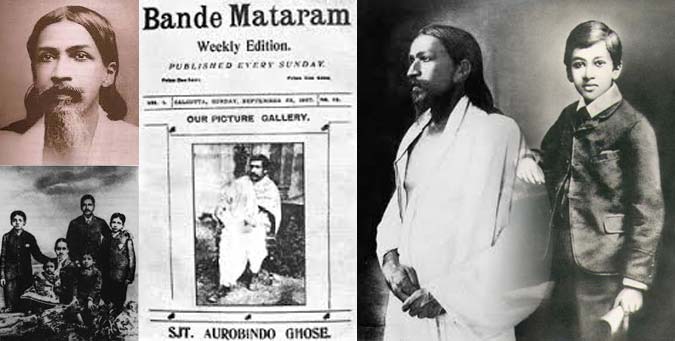 A Prophecy : Sitting in a small village of Nagai near temple town of Mannargudi of the then Thanjavur district of Tamil Nadu, Sri Vasudev Iyengar, head of a congregation that used to chant a special mantra which was a combination of Gayatri Mantra and Ashtakshara mantra, before attaining his Maha-Samadhi, informed to his disciples in 1870 that there would come a [Uttara] yogi from North to South, as a refugee, some 30 years down the line who would practice Integral Yoga and his arrival would be of great spiritual significance not only for India but for the entire humanity. Sri Vasudev further added that the arrival of that Uttara Yogi would be precursor to India's freedom and he would be known for his three utterances. The future Uttara Yogi was discovered by Sri K.V Srinivas Iyengar in Pondicherry, whose father was married to youngest sister of Sri Vasudeva's wife and was an ardent follower of Sri Vasudeva. I shall return back to this prophecy as I take you through the journey of harbinger of truth and light.
Childhood, Family and initial days in India : 19th Century was that period in the history of the world that not only changed the power equations with the collapse of the French, Roman and Mughal Empires and emergence of Europe, America, Russia and Japan but also led to culmination of industrial revolution with Great Britain as its Pioneer; slavery was being abolished in west and social evils like Sati system in India. On the one hand, materialism had attained new dimensions in Europe and on the other, Spiritualists like Paramhansa and Vivekananda from India had swept the world with a storm with the message of Vedanta. It was at this turning point when the earth was being pulled by different forces in different directions, each weighing on other, that there was born to Dr Krishnadhar Ghose, on the auspicious day of 15th of August 1872 at 5 A.M, an hour before sunrise, a child who would later show the world the path that would reconcile the matter and the spirit, the East and the West, the heaven and the earth and who would, in next 78 years, live a life which would be thousands of years ahead of ordinary mortals. Indeed, I was talking about Sri Aurobindo.
Dr Krishnadhar Ghose had studied medicine in England and West had such deep influence on him that he wanted his son to grow uncontaminated with Indian culture and tradition and thus, when [the future] Sri Aurobindo was born, he kept his name as Aurobindo Ackroyd Ghose, honouring a lady Miss Annette Ackroyd who was present that time. Such was his father's aversion to anything Indian that he provided Sri Aurobindo with an English nurse Miss Pagett, and, at the age of five, he sent him to an Irish convent school in Darjeeling. At the age of 7, in 1879, he took his sons, of which Sri Aurobindo was third, to England and left them there with his friends for their studies. Sri Aurobindo spent his next 14 years in England and when he was to return to India, at the age of 20, in 1893, somehow he boarded a different ship and the one by which he was to return got wrecked in Portugal. News reached to his father that the ship that carried Sri Aurobindowas wrecked and all in it had died and by the time Sri Aurobindo reached India, his father had already passed. His father, its worth mentioning here, was a queer man who had given instructions to his friends to keep his son away from any religious teachings. He wanted his sons to decide for themselves the religion they would like to follow once they would grow up. Also, he was queer in the sense that he used to serve poor Bengali people not only as a physician but also with money while his sons would not have enough to get morsels for two times or to cover their bodies in shivering winters. No one returned empty handed from Dr Ghose's home. Sri Aurobindo was 3rd of 5 sons of his father. Manmohan and Binoy were elder to him and then came Sarojani, his sister, and Barindra, the youngest son of Dr Ghose. Manmohan, who used to spend considerable time with Oscar Wilde in London, became an accomplished poet and professor of English and younger brother Barindra became fierce revolutionary and was later jailed for 13 years in Port Blair. What about Swarna Lata Devi, his mother who was also known as "Rose of Rangapur" because of her beauty and graciousness? "Whatever else is unsure in this stinking dunghill of a world a mother's love is not." says James Joyce but that did not hold good in case of Sri Aurobindo. When Sri Aurobindo returned from England, his ill mother could never recognize him. God has his own ways of of extracting ransom and testing him to the limits who is set to leave an indelible stamp on time and Sri Aurobindo was not made to succumb but to soar high in the sky and then bring down the cosmic truth from above and install it in earth's consciousness.
Early Days in England at St Paul's, Manchester : For initial 5 years, from 1879-1884, Sri Aurobindo lived in Manchester. Here, the poet in him had begun to develop. At the age of 11, he wrote his first poem-"Light"- which was published in Fox magazine on 11th January 1883 in which he imitated Shelley's "The Colud". In 1884, he moved to St Paul's School, London and by this time, he had already mastered French and Latin. There, at St Paul's, he won Butterworth prize for Literature and Bredford award for History and seeing this prodigy, Dr Walker, the head master of the school, personally coached him in Greek. At the same time, around 1886, idea of India's liberation, of which he was going to be champion in next 5 years, had begun to make rooms into his heart. But, days in London were not that easy. Mrs Drewett, the lady who was caretaker of the three Ghose brothers, declined to live with them because Benoy, Sri Aurobindo's brother was an atheist and she feared if house would fall down on her because of living with heretics. Suffering with poverty, living on a slice or two of Sandwich and with barely enough clothes to cover but lost in his own world Sri Aurobindo took a house in Kenningston and later Cambridge and familiarized himself with German, Italian and Spanish and by the time he turned 17, he had already drunken Dante, Goethe, Homer, Aristophanes, Shelley etc in Original.
King's College, Cambridge Days and ICS : His father wanted all his sons to join ICS. Sri Aurobindo started his preparation for ICS exam in 1890 and during those days, any Civil Services aspirant required to clear an entrance test and study in an English University under probation for 2 years. Thus he cleared his entrance exam with high grades in Latin, Greek, English, French, English Literature, history, Italian and poor in Mathematics and logic and for probation made it to King's College, Cambridge on scholarship. Here he obtained first class in classical Tripos and won all prizes in Greek and Latin verse. Oscar Browning wrote to him," I suppose you know you passed an extraordinarily high examination. I have examined papers at thirteen examinations and I have never during that time seen such excellent papers as yours. As for your essay, it was wonderful." However, cause of India's liberation had already taken over him and his new obsession included American Revolution, Joan or Arc, Mazzini etc. What next-he became Secretary of Indian Majlis, an association of Indian students at Cambridge, formed a secret society called "Lotus and Daggers", cast off his English first name "Akroyd", delivered revolutionary speeches and finally glorified the Whitehall's list of blacklisted students. He had wanted to do his ICS to fulfill his father's dream but in these 2 years, he lost the interest in it and intentionally disqualified himself by not appearing for a horse-riding test which was but just a formality to become a Civil Servant. A senior tutor at Cambridge could not resist writing-" That a man of this caliber should be lost to the Indian government merely because he failed to sit on a horse or did not keep an appointment appears to me, I confess, a piece of official short-sightedness which it would be hard to surpass..". But, the British knew that Sri Aurobindo was dangerous and they let him go. They were right. Lord Kimberly, the then Secretary of State for India wrote on his file- "I should much doubt whether Mr. Ghose would be a desirable addition to the Service." During this time, the Gaekwad of Baroda who had visited London learnt about Sri Aurobindo and offered him a place in his service. Sri Aurobindo agreed and Gaekwad had thus hired an ICS guy for Rs. 200 per month of which he often used to boast. This is how Sri Aurobindo became an accomplished westerner even before he learnt anything about India, let alone Hinduism.
Return to India and death of father : It was in 1893 that Sri Aurobindo returned back to India and with his first step on the Apollo Bunder in Bombay, he had his first spiritual experience when a vast calm descended upon him and kept him surrounded for long. It was the first time he had any spiritual experience. Commenting on Christianity, this is what he had to say -"The only personal contact with Christianity (that of Nonconformist England) was of a nature to repel rather than attract. The education received was mainly classical and had a purely intellectual and aesthetic influence; it did not stimulate any interest in spiritual life. My attention was not drawn to the spirituality of Europe of the Middle Ages; my knowledge of it was of a general character". He left for Baroda where in the service of Sayajirao Gaekwar the Maharaja of Baroda and worked for different departments like survey and settlement department, revenue department, Secratariat and later as teacher of French and finally as Vice-Principal of Baroda college. He stayed there for 14 years and within this period his main activities included learning different Indian languages, Hindu scriptures, poetry and masterminding activities for India's Independence.
Sri Aurobindo, known more popularly as Arabinda or Aravind during his Baroda days, had a unique approach towards nationalist movement. On the one hand where people used to write about the atrocities of British government, Sri Aurobindo used to pour vitriol on his own countrymen for their short-sightedness. He wrote, in first of the series of his essays called "New Lamps for Old", at the age of 21, for Induprakash, a weekly published from Bombay by his Cambridge days friend K. G Deshpandey-"Our actual enemy is not any force exterior to ourselves, but our own crying weaknesses, our cowardice, our selfishness, our hypocrisy, our purblind sentimentalism. I say, of the Congress, then, this,—that its aims are mistaken, that the spirit in which it proceeds towards their accomplishment is not a spirit of sincerity and whole-heartedness, and that the methods it has chosen are not the right methods, and the leaders in whom it trusts, not the right sort of men to be leaders;—in brief, that we are at present the blind led, if not by the blind, at any rate by the one-eyed". This series of 5 essays that he wrote in 1893, in which he took Congress to task for its ignorant ways, frightened editors of the Weekly and they suggested him to write on cultural issues instead. Sri Aurobindo lost interest and it was discontinued. This was the time when Sri Aurobindo had begun to emerge on national map as one of the fiercest writers with sharpest pen and profoundest words but then during those days his involvement in freedom struggle was indirect and actions covert and limited to articles. It is the Geeta, the Vedas and the Upanishadas that kept him preoccupied and during his 14 years of stay in Baroda, he not only learnt different Indian languages like Bengla, Hindi, Gujarati, Sanskrit, Tamil, Marathi, Maithily etc but also mastered the Hindu scriptures and different Indian schools of Philosophy.
Marriage with Mrinalini Devi : In 1899, at the age of 27, he became a Professor of French in the Baroda Maharaja's college and was known for his unconventional ways of teaching. In 1901, at the age of 29, Sri Aurobindo had put an advertisement in Calcutta paper for his marriage saying that he would marry a Hindu girl according to Hindu rites and he married Mrinalini Devi, daughter of Rai Bahadur Bhpal Chandra Bose, a staunch Brahmo Samaj follower. Of 18 years of married life, Mrinalini Devi could spend initial one year with Sri Aurobindo as he plunged into politics, journalism and latter into intense spirituality as a refugee in Pondicherry where British kept eyes on him for 20 long years. Soaked in Hindu traditions, lost into spiritual world, he wrote, in one of his letters, "The wife is the Shakti, the strength of her husband. This means that the husband's strength is redoubled when he sees his own image in his wife and hears an echo in her of his own high aspiration." Harder Sri Aurobindo tried to spend time with Mrinalini Devi, tougher the situations would get for him. When he came down to Calcultta after leaving Baroda, he was already a big name and people would flock to meet him and he had also taken up the pain of running the "Bande Mataram" daily. A glimpse of his helplessness can be estimated from what he wrote once," I have not written to you for a long time. This is my eternal failing. If you do not pardon me out of your goodness, what shall I do?" In her days of agony, she came in contact with Sharada Devi, wife of great Indian mystic RamaKrishna Paramhansa and people would rush to her to touch her feet in her latter years knowing that she is the wife of India's one of the most admired nationalist and above all an enlightened soul with unimaginable spiritual heights.
Return from Baroda to Bengal and Bande Mataram Newspaper Editorship : Sri Aurobindo had, by 1905, established contacts with revolutionaries all over India and had created enough awareness and used to keep a close watch on the freedom movement. He had founded secret revolutionary groups like Jugantar and was very active in Anusilan Samiti. Its worth mentioning here that he didn't let his spiritual aspirations come in way of his political life. By 1906, Lord Curzon had already separated Bengal and following a nation-wide agitation, Sri Aurobindo took one year of leave without pay and later quit his job and Baroda and came down to Calcutta and attended several conferences of Congress with likes of Dada Bhai Narojee, Lokamanya Tilak etc and by means of Bipin Pal's "Bande Mataram" newspaper of which he became Chief Editor and for the first time in India's history, way back before Mahatma Gandhi came on the landscape of India's freedom struggle, Sri Aurobindo demanded for "Purna Swaraj". In 1907, he was prosecuted by British Government for an allegedly inflammatory, inciting article in his Bande Mataram newspaper but was later released due to lack of evidence. It was tough for a new newspaper to make an impact during those days but "Bande Mataram" became popular within no time. The editor of "Statesman" complained that time-"Although the editorial articles in the Bande Mataram were diabolically clever and crammed full of sedition between the lines, the paper was still legally unassailable because of the superlative skill of the writing". In 1950, more than 4 decades later, S.K. Ratcliffe, editor of Statesman wrote:-"I knew Aurobindo Ghose as a revolutionary nationalist and editor of a flaming newspaper which struck a ringing new note in Indian daily journalism". He further added, "It had a full-size sheet, was clearly printed on green paper, and was full of leading and special articles written in English with brilliance and pungency not hitherto attained in the Indian press. It was the most effective voice of what we then called nationalist extremism." The Times wrote that Bande Mataram was edited by literary ability rare in Anglo-native press.
Historic Surat Session of Indian national Congress and Imprisonment : In December 1907, Sri Aurobindo attended the historic session of Congress where there was a split & that was then followed by a separate meeting held by Tilak & Sri Aurobindo. And, Henry Nevinson, a member of Parliament from England, remarked: "a youngish man, I should think still under thirty. Intent dark eyes looked from his thin, clear-cut face with a gravity that seemed immovable.... Grave with intensity, careless of fate or opinion, and one of the most silent men I have known, he was of the stuff that dreamers are made of, but dreamers who will act their dreams, indifferent to means....". The message was clear, Sri Aurobindo was irresistible and unstoppable and British had no clue how to deal with this mad man who knew the psychology of British even better than British themselves. Lord Minto, the then Governor General of India wrote," I shall not rest my head on pillow until I have crushed Aurobindo Ghose. He is the most dangerous man we have to deal with today".
Imprisonment and realization of Krishna : Destiny has its own plans. Two Bengali youths threw bombs and tried to kill Magistrate Kingsford, police conducted raids everywhere which included Manicktolla Gardens and this land belonged to Sri Aurobindo's family. British had their golden opportunity and Sri Aurobindo was handcuffed was arrested and put into a solitary confinement. His brother, Barin was involved in armed rebel but Sri Aurobindo was completely unaware of the gory details of this rebel like the land where it was being carried out, its owners and its main leaders and activities. A perverted empathizer preached sermons to him in jail and then expressed regret on allowing Barin and others to run armed training in the piece of land that belonged to him. Sri Aurobindo replied with complete calmness, "Who said land belongs only to me? It belongs as much to Barin as much to me". Sri Aurobindo had to live in that solitary confinement for 1 year till the judge C.B Beechcroft who had studied with him, could not find enough evidence against him and he was acquitted. C.R Das who had taken up the case of Sri Aurobindo had this to say:-"My appeal to you is this, that long after the controversy will be hushed in silence, long after this turmoil, the agitation will have ceased, long after he is dead and gone, he will be looked upon as the poet of patriotism, as the prophet of nationalism and the lover of humanity. Long after he is dead and gone, his words will be echoed and re-echoed, not only in India but across distant seas and lands. Therefore, I say that the man in his position is not only standing before the bar of this Court, but before the bar of the High Court of History". Sri Aurobindo, during this time period of 1 year did intense Sadhana and realized Krishna and thus he wrote," I looked at the jail that secluded me from men and it was no longer by its high walls that I was imprisoned; no, it was Vasudeva who surrounded me. I walked under the branches of the tree in front of my cell but it was not the tree, I knew it was Vasudeva, it was Sri Krishna whom I saw standing there and holding over me His shade. I looked at the bars of my cell, the very grating that did duty for a door and again I saw Vasudeva. It was Narayana who was guarding and standing sentry over me. Or I lay on the coarse blankets that were given me for a couch and felt the arms of Sri Krishna around me, the arms of my Friend and Lover." While talking with his disciples one evening he said," I have spoken of a year's imprisonment. It would have been more appropriate to speak of a year's living in an ashram or a hermitage. The only result of the wrath of the British Government was that I found God."
Released from jail, Krishna's Adesh and end of political career : After being released from jail, Sri Aurobindo once again joined the political movement with a new vision and amazing clarity. He wrote, soon after his release, "India does not rise as other countries do, for self or when she is strong, to trample on the weak. She is rising to shed the eternal light entrusted to her over the world. India has always existed for humanity and not for herself and it is for humanity and not for herself that she must be great." He now started two monthly weekly magazines, Karmayogin in English and Dharma in Bengla. But, God must have come to know that a man of Sri Aurobindo's depth was meant to work for higher, spiritual and a divine world and his political career got a dramatic turn when news was in air that British were planning once again to arrest Sri Aurobindo. One fine day when Sri Aurobindo was sitting in his Bande Mataram office, this news reached to him and people had begun to explore what could be done and all of a sudden, Sri Aurobindo rose from his chairs and said,"I am going to Chandergore". Someone asked:-"Now"? Yes, right at this moment and he left the office, went straight to Ganga and boarded a boat for Chandernagore, a French colony during those days. Barin and 2 other Bengali friends followed him and he reached Chandernagore and from there, within short span of time, Sri Aurobindo left for Pondicherry. Years later when his disciples asked him about this incidence, he had this to say," I heard a voice and it said:-"Go to Chandernagore". He further added," I could not question. It was Sri Krishna's adesh. I had to obey. Later I found it was for the Ashram, for the Yogic work".
Arrival in Pondicherry : On 4th April 1910, at the age of 38, Sri Aurobindo reached Pondicherry and thus came the end of political career of India's one of the most feared Yogi cum nationalist. Since Pondicherry was under French rule at that time, British could not do any direct harm to him there but even then bilateral talks were on and they had put their watchmen right in front of Ashrama. There's an interesting anecdote worth mentioning. A few years after Sri Aurobindo's arrival, someone called Birendra Roy got admitted into Ashrama saying that he wanted to practice Yoga. One day, he shaved his head and an impulsive Moni, an old disciple of Sri Aurobindo also decided to shave off his head seeing Biren. Next day, everyone sat to have talk with Sri Aurobindo as per regular routine and suddenly Biren stood up and shouted:-"Do you know who I am? You may not believe it, but I am a spy, a spy of the British police. I can't keep it to myself any longer. I must speak out, I must make the confession before you" and speaking this he fell on Sri Aurobindo's feet. Everyone around got stunned and completely dumbfounded and Biren started again and said:-"Oh, you do not believe me? Then, let me show you", and he entered his room, opened his trunk and came up with 100 rupee note and continued-"See, here is the proof. Where could I have got all this money? This is the reward of my evil deed. Never, I shall never do this work again. I give my word to you, I ask your forgiveness". Similarly, once a complaint was lodged against him and his Ashrama to Police by covertly putting some documents written in Sri Aurobindo's handwriting into the well of Ashrama, the police came and detected his house and found several books written in Greek and Latin. Seeing that Sri Aurobindo knew Greek and Latin, they bowed to him and left behind saying a man who is a scholar in Greek and Latin cannot do such mean works of conspiracy against state. A few years later, British put pressure on French gov in Pondicherry asking them to deport them from there and a proposal was put in front of Sri Aurobindo to send him to Algeria which was under their control at that time. Subramania Bharati, the famous tamil poet and revolutionary, his disciple showed inclination to go Algeria but Sri Aurobindo was commanded by higher forces from above and he knew that Lord Krishna had selected Pondicherry for him and thus he said- "Mr. Bharati, I am not going to budge an inch from Pondicherry. I know nothing will happen to me. As for yourself, you can do what you like". Sri Aurobindo's life in Pondicherry was that of miseries and he wrote once to one of his friends-"The situation just now is that we have Rs. 1 1/2 or so in hand. Srinivasa is also without money... No doubt, God will provide, but He has contracted a bad habit of waiting till the last moment. I only hope He does not wish us to learn how to live on a minus quantity like Bharati."
Prophecy becomes true : The prophecy that I had mentioned at the outset became true when Sri Aurobindo arrived in Pondicherry. K.V Srinivas Iyengar came to know about Sri Aurobindo who was a revolutionary, demanded from British complete freedom, a Yogi who had realized Krishna, came to Pondicherry as a refugee and had made three declarations in his letter to his wife which was meant to be confidential but became public after British raided his house when he was arrested in connection with Alipore Bomb case. These three declarations were: 1. All the knowledge and wisdom that I possess is a gift of God to me and I have full rights to use it for myself without caring much for family and others except what is essential 2.By whatever means, I must realize and experience God 3. While others regard their country as an inert object, for me, my country is my Mother and I worship her and adore her as the mother. What would a son do when a demon sitting on the breast of his mother is drinking her blood? Would he sit down content to take his meals, and go on enjoying himself in the company of his wife and children, or would he, rather, run to the rescue of his mother? I know I have the strength to uplift this fallen race; it is not physical strength, I am not going to fight with the sword or with the gun, but with the power of knowledge. The power of the warrior is not the only kind of force, there is also the power of Brahman which is founded on knowledge. This is not a new feeling within me, it is not of a recent origin, I was born with it, it is in my very marrow. God sent me to the earth to accomplish this great mission."
Literary Works from 1910-1950 : From 1910-1950, Sri Aurobindo lived in Pondicherry a life of intense meditation, translated Geeta, Vedas, Several Upansihadas, Ramayana, Mahabharata and works of all literary giants from Kalidasa to Dante, from Homer to Vidyapati, wrote Savitri in which he queezed the teachings of Vedas in poetic form and added new dimensions to understanding of Spirituality and his magnum opus-Life Divine contains works that had not been uttered till now in the history of Spirituality. There was literally not one poet, not one philosopher in the world that he didn't study and didn't translate and hence he left with more than 30 thousand pages of literary works. He had come up with concept of Overmind and Supramental mind which he got from Vivekananda's spirit while in Jail. Not only that he came up saying that evolution of man is not complete and man is yet to evolve and become a gnostic being. Paramhannsa, during his last days had said-"Look, he who is Rama, he who is Krishna is inside me now". Sri Aurobindo had realized that state in 1926 and he lived in that Krishna's consciousness for 24 years till he breathed his last. When India became Independent in 1947, All India Radio Trichy requested him for a message and he said,"To me personally it must naturally be gratifying that this date which was notable only for me because it was my own birthday celebrated annually by those who have accepted my gospel of life, should have acquired this vast significance. As a mystic, I take this identification, not as a coincidence or fortuitous accident, but as a sanction and seal of the Divine Power which guides my steps on the work with which I began life". When a disciple called Nolini came to take his blessings before embarking on Freedom struggle after having formed a large group of revolutionaires, he told him that India's freedom was already destined and this life has a purpose which is higher than Indpendence and insisted him to practice Yoga. Nolini said,"But, I can't sleep till India is free. Can anyone give me guarantee that India will become free.". Sri Aurobindo remained silent and then he said, "Lets say, if I happen to give you assurance, will you practice my Yoga". Nolini fell on his feet and quit his plans and became his disciple forever. Such was the confidence with which Sri Aurobindo used to forecast things. Before he breathed his last breathe, he had predicted about India-China war and US President Kennedy was mute with wonder to have discovered that Sri Aurobindo had already left the mortal world before this war took place and he had predicted about with complete clarity.
It is beyond the scope of this article and my limited intelligence to speak about his life from 1910-1950. Mira Alfassa, spiritual collaborator of Sri Aurobindo who had seen Sri Aurobindo in her vision, upon meeting him identified him as an Avatara of Krishna. Sri Aurobindo's Yoga was different than any other Yogi as he didn't practice and advocate Ashtanga Yoga o any rituals as such but advocated everyone to live consciously and realize the truth of his/her being. Sri Aurobindo would walk for 7 hours a day and that was one form of his Sadhana where he used to ascend higher and higher in the supramental world and used to absorb light and for 12 hours in night from 6 PM to 6 AM, he used to write which was his another form of Yoga. During the months of Oct-Dec, rains and cyclones are common for Pondicherry and people take precautionary measures to barricade their rooms and windows well before the forecasts come. A cyclone came sweeping Pondy once and on that night Mother rushed to Sri Aurobindo's room to help him close windows and found that Sri Aurobindo was seated in his regular place and was writing calmly. The windows were wide open but not a drop came inside room. The peace that reigned there, recalls Mother, was so solid, so compact, that the cyclone could not enter. It was on 5th Dec 1950 at 4 AM when the Emperor of India who took care of world sitting in a corner of Pondicherry that he breathed his last. His material body was kept for public darshana in open sky and people from all over the world kept pouring in thousands and his body remained in open for more than 100 hours without slightest signs of decay. The French government in Pondy came up to Pondy asking Ashramites to do the last rites ofSri Aurobindo on 3rd day but seeing that his body was as fresh as a normal man in his sleep, went dumbstruck. Finally, on mother's direction, his body was laid to rest on 9th Dec 1950 in evening.
The earth, as of now, sunk in ignorance, is not able to acknowledge the message that Sri Aurobindo left by living a divine life here on earth but a time will come when it ignorance would go and earth and mankind will realize Sri Aurobindo's dream:
The Spirit shall look out through Matter's gaze
And Matter shall reveal the Spirit's face.
Then man and superman shall be at one
And all the earth become a single life.
Author : Mihir Jha, Follow the writer twitter.com/Back2Vedas
Share Your View via Facebook
top trend
what next
IBTL Gallery