Why they dream 2002, sleep Narendra Modi and eat Gujarat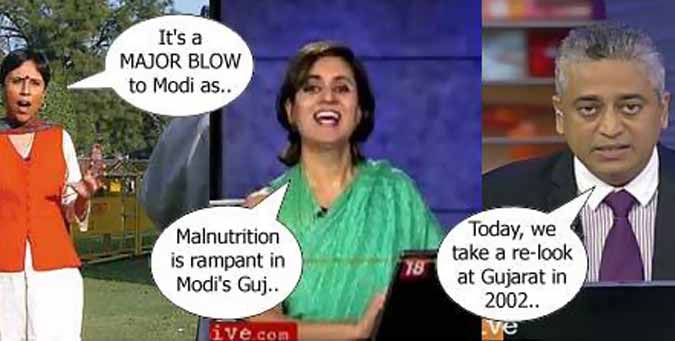 This article is written with the purpose of rebutting The Hindu's piece "Narendra Modi and why 2002 cannot go away" by N. Ram, which was published on November 6, 2013.
This is a free country where an individual is allowed to have his/her own opinion, no matter how narrow it is and the article was in the 'Opinion's section as well. What prompted me to write was not just a horde of factual errors made by Mr. Ram, but a conscious nitpicking of incidents and situations by Mr. Ram to build a web of propaganda against an ideology, thereby forcing & influencing others through his opinions.
Unfair comparison of Modi and Vajpayee as Prime Ministerial Candidates
N. Ram deliberately goes on to point that Modi is far from the charismatic former PM Vajpayee as far as oratory skills are concerned. He is right, but his needless mention of this point neutralizes his acknowledgement of Modi's charisma among a certain section of middle class and youths. What Mr. Ram doesn't realize is, if oratory skills were required to win elections, then Ms. Swaraj would have been the PM candidate & not Mr. Modi. The record crowds which Mr. Modi is pulling in his rallies, particularly in states where BJP is relatively nonexistent like Tamil Nadu, Andhra Pradesh, Haryana etc shows that Modi has breached the popularity levels of Vajpayee and the audience connects with his 'rhetorical skills'.
Lies about NDA and the incoming & outgoing allies
Mr. Ram says that NDA currently has only 3 components, BJP Shiv Sena & the Shiromani Akali Dal which is a lie. He missed out mentioning other important NDA allies namely Haryana Janhit Congress, Nationalist People's Party (Sangma), RPI (Athavale). Mr. Ram goes on to say that "aside from the Congress and the Left, several regional parties, including an important erstwhile BJP ally, the Janata Dal (United) led by Bihar Chief Minister Nitish Kumar, have come out in spirited opposition against a prospect of Mr. Modi becoming the Prime Minister." It is important for Mr. Ram to take note of the following points to come out of his virtual world.
Since Mr. Modi's rise, there is only 1 party which has come out openly against Mr. Modi, that is the JDU

Other parties including Congress, Left & a few other regional outfits would oppose BJP, irrespective of Mr. Modi's prospect. Does Mr. Ram imply that had BJP named Mr. Advani or Ms. Swaraj, Congress and Left would have supported BJP?

Many parties have started showing interest in a Modi led NDA,. YSRCP & TDP, the 2 powerful parties of Andhra, Yedurappa's KJP have given hints that they consider Modi secular.

As recently as last week, Kashmir based NC said that their party would support, whichever alliance is in power in the centre.

Even in an interview to India Today, Mr. Navin Patnaik had categorically stated that he was not averse to Modi leading the country

Modi's friendly relationship with Tamil Nadu based AIADMK's supremo Jayalalitha is out in the public

To conclude, BSP, Trinamool, National Conference, DMK, AIADMK, JDS, Jharkhand Mukti Morcha, and many other parties, have allied with both BJP & Congress in the past. Hence it shows that these parties are not allying to serve any ideological interest but to serve their personal & political interests. Therefore whichever party crosses the threshold figure (~190) would be swarmed with alliance prospects (1998, 1999 & 2009 elections prove this empirically). There is a saying, "There are no friends or adversaries in Politics". It is time for Mr. Ram to apply this quote in political life

The Hoax called Third Front
Mr. Ram's invokes the recent pre poll surveys to arrive out at a conclusion that Congress is dwindling but BJP is not gaining enough as the combined tally of the 2 major parties fall short of 272. Per him "That suggests the possibility of a combined and relatively stable post-election front of regional parties coming to power, with support from the Left and, quite likely, from the Congress as well."
Mr. Ram ignored 2 key points. Firstly the pre poll surveys showed that there was a consistent anger against Congress nationwide (except Assam & Karnataka), so the clear advantage will be with the pre dominant Non Congress force in a particular state, Left in Kerala, TMC in Bengal, BJD in Orissa, AIADMK in TN & BJP where BJP exists like in Rajasthan, Delhi, Uttarakhand etc. N. Ram ignores the fact that BJP is not a dominant force in many of the states, so naturally all of Congress loss does not mean all of BJP's gains. The prize would be shared among BJP and the other regional parties. Secondly Mr. Ram ignores the fact that these surveys have shown steady gains for the BJP in their subsequent editions and a steep gain for BJP after the surveys were conducted post Mr. Modi's anointment as PM candidate.
The funniest part of his analysis, probably a result of his denial mode was his terming of "relatively stable post-election front". I would dig in the History to show what has been the aftermath of these 'stable' fronts which were formed without a powerful National party with considerable numbers in the axis of the front.
Janata Party government 1977 – After emergency, Janata Party govt came to formation. The party managed to win a majority, but what many don't know that this single party was formed by a rushed merger of 11 constituent political parties. The government collapsed in 1979 as a result of frequent splits in the alliance, after and witnessed 2 PMs

1989 VP Singh govt. – A group of non Congress parties allied to form a government which would hardly last a year. VP Singh's rival Chandrashekhar pulled out and caused the fall of govt.

1990 Chandrashekhar Govt. – Congress supported this govt. From outside and this 'stable' alliance could only see a few month's daylight

1996 HD Devegowda govt. – It was again a coalition of 'stable' regional front, with the outside support of Congress. It barely lasted for a year

1997 IK Gujaral govt. – Gujaral replaced Devegowda, but Congress eventually pulled out support even from him, making it fall wigthin a year of formation

It can be concluded that the word 'stable' would find a new meaning in N Ram's dictionary. One can argue that, History may not repeat and the current situation is different. To them, here is my answer. BSP-SP, TMC-Left, DMK-AIADMK, TDP-YSRCP, JDU-RJD, NC-PDP are fierce rivals and dominat regional players who would be considered as the pillars of Third Front. Would these parties come together? If Mayawati allies with Mullayam, it would an end of Political career for her. So will it be for any party which allies with its rival, because the basis of existence of these parties is to oppose the other. Not on this world will they come together. Hence only 1 party out of each of the pair can be considered. These parties at best can gobble up 150 seats (in the best case scenario) and would still need outside support of Congress. Does it seem feasible that such a formation will last even for a year? There will be fight and each regional party would want to push its agenda. Mamta would want a special package for Bengal, so would Nitish Kumar. There will be a massive fighting for various cabinet berths and most importantly the PM's post.
The idea of a 'stable' regional front supported by Congress is nothing better than a Hoax.
Aggressive Participation & the Modi Visa row
Mr. Ram is far too much concerned about the the diversity of India, which is a refuge to the 3rd largest Muslim population in the world. Perhaps he forgets that this country is also a Home to the LARGEST Hindu population in the world. Mr. Ram propagates fear mongering by saying that Modi would push the Hindutva agenda. Mr. Ram is ignorant of the fact that BJP ruled for the period between 1998 and 2004 in the centre and has been ruling many states. Nowhere did one find this Hindutva agenda being pushed. Ram also talks of a mythical aspect of Modi projecting himself as a strong Hindutva leader in states where BJP is powerful and as a Development messiah where BJP doesn't exist. If one analyzes BJP's campaigns and rallies, it revolves round exploiting the anit incumbency sentiments of Congress and there hasn't been any mention of Hindutva anywhere.
He is scared of the fact that, the right wing BJP would damage the Secular fabric of India. To correct him, India is not a Secular state anymore, because there aren't uniform rules for all the religions. India lies somewhere between a Secular state and a theocratic Islamic state with special rules and privileges for Dominant minorities (Muslims & Christians). Over the last 6 decades, Right wing parties (right wing for muslims & christians) have ensured that India loses its Secular fabric, so BJP can hardly do anything to shift the pole from one right wing to the other. At best the BJP can negate the effect of Green parties and make the country 'Secular' again. Mr. Ram also talks about existence of a fanatical Hindutva wing and extremist elements in that wing. To correct him ONCE again, there is no such thing as Hindutva radicalism & Hindu Fundamentalism is a nonexistent term, a misnomer coined by Islamic apologists to shift the focus from atrocities caused due to the Saudi propagated Radical Wahabism. Perhaps this topic deserves more detailed mention & would be best if I do not discuss this in detail here.
Another Lie propagated by Mr. Ram & his colleagues in rival Media houses is about Modi being denied Visa due to 2002 riots. The fact is 2002 riots have no bearing whatsoever to his Visa being accepted/rejected by USA. Mr. Ram would do well to do more research on why Mr. Modi was not given a visa. More bad news came for Mr. Ram as recently as today with Top US officials saying they had no problem with Mr. Modi as PM and that the Media issue was unnecessarily hyped up by the Indian Media.
The Apology test
Mr. Ram is upset that Mr. Modi has not yet apologized for 2002 riots. Food for thought for Mr. Ram
If someone apologizes for an act he was/is not a part of, isn't he conceding his participation?

Mr. Ram wants Modi to apologize for Gujarat riots, has he ever asked Mrs Gandhi to apologize for Godhra carnage, where many Congress workers were involved in burning 59 people, including women & children alive?

If it is only about apology, should a criminal not just commit crime and apologize. For example a rapist can rape women and then apologize, would that suffice?

Does Mr. Ram concede that a crime must only be followed by apology and corrective action is waste? Do the 11 years of 'relatively' Riots free Gujarat mean nothing?

The Ghost of 2002 Riots
2002 riots are often used by the Media to give Congress a fair play so as to absolve them of the horrendous crimes which were committed during the Anti Sikh Genocide. Some key differences between 1984 and 2002 which Mr. Ram conveniently ignores.
2002 investigation was done by SIT, an INDEPENDENT agency while 1984 by CBI. Does conflict of interest mean anything?

1984 - Rioters went on killing spree for many days. The police and security forces remained mute spectators. Didn't fire a single round. Official dead count (presented by Congress govt in Congress ruled state): Over 3000. Unofficial: 20000. All of them were Sikhs.

2002 - Shoot at sight orders issued the very first day, over 80000 preventive arrests made. Army deployed within 24 hours. Gujarat police and Indian army eliminated over a 100 rioters. Casualty count - 790 Muslims, 256 Hindus (presented by UPA government for riots in a BJP ruled state)

1984 - Probe by compromised CBI. Barely any convictions. Witnesses compromised, threatened. Sajjan Kumar, H K L Bhagat, Jagdish Tytler - all went scot free. 29 years and no justice. 2002 - Probe by Supreme Court appointed and monitored SIT. A Record high of 250+ convictions happened. CM himself cooperated with the enquiry.
Both were started by Congress men

Not to justify any of the 2 but the reasons of the 2 shameful massacres are well known

Actual comparison must be drawn between the ruling heads

Rajiv Gandhi in 1984 said, "When a big tree falls, the earth is bound to shake". Rajiv Gandhi contested elections with anti-Sikh slogans.

Narendra Modi in 2002 said, "There's a chain of action and reaction. We want neither action, nor reaction should take place." Narendra Modi appealed for peace. Sought help from neighbouring states and centre to have spare forces.

Rather than playing THE JUDGE, THE JURY AND THE EXECUTIONER, why should Mr. Ram not accept the Court's verdict and if he has so compelling evidence against Mr. Modi, why doesn't he produce them before the Courts, or give to the Central Government which as per Mr. Ram is run by a 'Secular' party, a fierce rival of the BJP. Why has Congress been unable to produce anything against Mr. Modi in despite being in power and in control of so many resources?
Mr. Ram alleges that the educated classes are aware of Mr. Modi's complicity in 2002. Mr. Ram ignores the findings of pre poll surveys which he used to dismiss the possibility of BJP coming back to power. The survey says that as the education level increases, the gap between Mr. Modi and Mr. Gandhi's popularity increases. It goes on to show the acceptability of Mr. Modi among the educated class.
"What is assured is that 2002 as a legal, political, and moral problem will not go away in the conceivable future." says Mr. Ram. The fact is that legally Mr. Modi has been exonerated; morally there is no issue as he never committed any crime. The only issue is politically. His rivals and the fascist intellectuals in the Main stream media who can also be called as 'Pseudo Seculars' would ensure that 2002 remains alive politically and much to their dismay, each time they invoke 2002, it would result in Mr. Modi gorwing more powerful due to the 'sympathetic' polarization towards him owing to the malicious propaganda carried out by Media and the 'Seuclars'.
Majority of the Indians (Mulsims included) have chosen to forget and move beyond the 2002 riots, but there is a section which wants to keep it alive. Mr. N. Ram belongs to that brigade which does it for their own personal interests. But this scaremongering tricks won't work anymore. The educated class knows that this particular brigade dreams 2002, sleeps Narendra Modi & eats Gujarat.
Author : Suyash Bharadwaj | Follow the writer twitter.com/Suyash75
- - - - - - - - - - - - - - - - - - - - - - - - - - - - - - - - - - - - - - - - - - - - - - - - - - - - - -
Disclaimer: This article was deleted for mysterious reasons, the link given above is that of a Cached page
Share Your View via Facebook
top trend
what next
IBTL Gallery