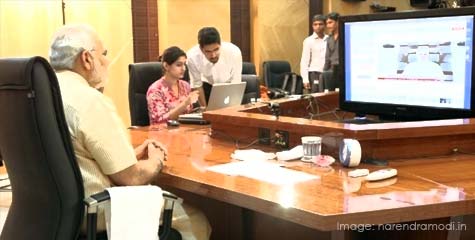 There used to be a time not too long ago when the most charitable thing that the media said about Modi went something like this: "Narendra Modi is no stranger to controversy." The story of how that narrative changed after the courts exonerated him in the riots cases and with how the Gujarat economic juggernaut kept rolling doesn't need repetition. Today, no matter how hard the media tries, it simplycannot find a single thread to bash Modi, even the flimsiest, which it can expand, elongate and editorialize enough to fill an entire library.

However, after what unfolded a few hours ago, it looks like the media will keep itself busy trying to fathom what just hit it.
over a few years
measured using the same parameters. Besides, the TRPs of most of our English news channels have been declining over at least the last five or six years. This is not mentioning their sub-zero credibility and their complete loss of face in the wake of backroom skulduggery and bedroom games with the establishment.
But how has the media been hurt the most by
Modi's Google Hangout
apart from the obvious loss of precious eyeballs for about two hours?
It's pretty obvious that Modi's Google Hangout success has hurt the Congress party badly yet again. But that's a game Modi and Congress will play in the political arena. Just yesterday, the media was handed the golden stick to beat Modi with. Barely minutes after the trial court convicted BJP MLA Maya Kodnani and Bajrang Dal's Babu Bajrangi in the Naroda Patia riots case, the media whipped up the "Blow to Modi" frenzy with the same sadistic passion that it had displayed in characterizing Modi as a fascist and mass murderer a few years ago. Media watchers on Twitter and elsewhere on the Internet were betting with each other as to which channel would be the first to air a "special" Blow-to-Modi talk show. Such a show would've happened. Except that Modi so staggeringly spoiled their party by interacting directly with people on Google Hangout at prime time. On the other side, the media's favourite party is busy trying to dislodge itself from Coalgate, a scam so monumental that the media however hard it tries, simply can't defend or whitewash it.
There's yet another factor.

The behaviour of and the positions some late-respectable senior mediapersons took when the tyrannical UPA government blocked websites and Twitter and Facebook accounts left no doubt as to how deeply they too were entrenched with the Congress party in stifling free expression. Whatever remained of the secret that the media was the Congress party's handmaiden was conclusively revealed by this one episode not counting the Radia affair, which was restricted to a couple of media outfits. And so Naroda Patia or no Naroda Patia, nobody takes the English media seriously anymore.

And now, with Modi triumphantly stealing the media's Prime Time thunder right under its nose, who happens to be the biggest loser thanks to Google Hangout? Modi stole the thunder by going directly to the people without any media intervention and all the ills that come associated with such intervention. This also exposes how out of tune our media is with the times. Despite the all-pervasiveness of the Internet and the explosion in social media, these TV studio eminences still harbour the illusion that they are indispensible to politicians who want to connect with the people.

If Twitter is an indicator of anything, it is this: people express themselves fearlessly and openly call the bluff of the bluffers and mercilessly question those that have something to hide, and those whose tweets are invariably agenda-driven. Our media stars who fall in the latter category get their bluffs called out regularly by those in the former category. The rapturous, nonstop stream of tweets by Narendra Modi-supporters was matched measure for measure by the silence of these mediapersons. The feeble opposing voices which wanted people to ask "hard questions" to Modi were simply driven by their blind hatred for the man.

Which brings us to the definition(s) of "hard questions." In Modi's case, a hard question is defined as one which keeps hammering riots-related questions, often the same question asked in a variety of ways…you know, like how they used to make us do this exercise in school: "write this in your own words." In a Dynasty member's case, a hard question is defined as one which is apple-polishing in the Interrogative Sentence. Not a word about Amethi's abject, 65-year-old non-development. Not a syllable about Rae Bareily's infrastructure. If Modi ensures uninterrupted power supply in Gujarat, it becomes an evil instance of his favouritism towards the business class. When Modi passionately explains policy, development and projects, the underworked and overfed media feels bored.

Forget the riots. Let's assume that the media actually likes Modi. Even in such a case, it would be desperately groping to comprehend things like policy, law, and economics let alone write on these topics. There used to be a time when journalists and reporters laboured long and hard and attained a level of knowledge in multiple fields that qualified them to become subject-matter experts in those fields. Today, there's hardly any journalist in any media house who can solve a mathematical problem, a factor that's directly related to why media perceives news as entertainment and why it replaces serious analysis and debate with vociferous vacuum.

The truth is that Modi by the sheer dint of performance has managed to attract people to him. A majority of those who attended today's Google Hangout did so on their own volition. This is something that no amount of media-shopping by the Congress party can ensure. Whether this translates into votes is beside the point. As Modi himself said at one point in the conversations, we must rise above narrow considerations like "Manesar happened in Haryana, let them suffer!" and instead, keep a pan-Indian outlook in everything we do.

Modi has truly transitioned from being perceived as a Model Chief Minister to being perceived, indeed, being anticipated as the next Prime Minister.
Today's event reminded me of my high school and college days when lakhs of people waited at the National College grounds to hear A.B Vajpayee and L.K Advani speak. These people cut across party affiliations and ideologies and thronged the grounds simply to experience the thrill of listening to master orators. While Modi's Google Hangout wasn't a political event of any sort, I made the parallel because of a common factor: decisive leadership.

However, to a determinedly motivated media, leadership consists of the pearls of wisdom and statesmanship uttered behind closed doors. Sometimes even imbecilic silence becomes a mark of leadership. At other times, this leadership is to be discerned in European skin tone. All these attributes naturally, are the exclusive preserves of the members of a certain political Dynasty.

And these media worthies still wonder why they inspire such derision among the populace on Twitter and elsewhere?

Sandeep Web | First Published | Follow the writer on twitter.com/SandeepWeb
Share Your View via Facebook
top trend
what next
IBTL Gallery