Would US authorities investigate GE in the NDTV money laundering case?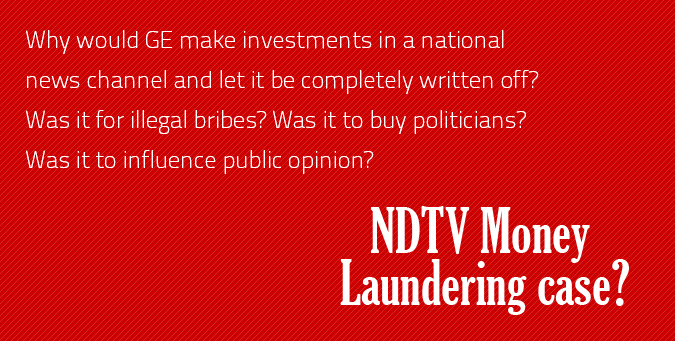 Enron, Walmart and now GE - American companies have repeatedly been exposed using money power to buy influence in countries. American corporate excesses go hand in hand with the American state's policy of encouraging economic and political subjugation of upcoming adversarial nations.
The bloody history of America's involvement in South America and Asia is well known. Its war machine manufacturing corporations have bled the innocent all over the world again and again just to make more money. The US was happy to sell weapons to the Allies during World War II and repeatedly refused to intervene until its own shores were attacked, this policy continues to this day.
Since the World War II, defense manufacturing is the biggest manufacturing industry of the US and its biggest employer. GE is one of the flagship companies in its stable. However, these war factories thrive on the sadistic creation of anarchy in nations particularly far from the shores of the US.
GE's involvement with NDTV is particularly shocking and a gross infringement on the sovereignty of India; a grave, shocking and criminal act deserving severe retaliation and a thorough probe by our intelligence agencies.
GE has been severely indicted by the Dispute Resolution Panel (DRP) of the Income Tax department for having made shady and dubious investments to the tune of USD 150 million or Rs. 642.54 crores at 2008 – 09 valuations into an NDTV subsidiary. This entire amount has been declared as a "sham transaction" by the DRP.
The DRP order is a horror story that unfolds in the first few pages of the order itself ... Scribd Doc
Why would GE make investments in a national news channel and let it be completely written off? Was it for illegal bribes? Was it to buy politicians? Was it to influence public opinion?
The DRP in its order said, "Two conglomerates are involved in this transaction---NDTV Ltd and its subsidiaries and the second is GE Group of companies. As is well known, NDTV has its operation mainly in India and its proposed venture of NDTV Labs etc. were also located in India. It is not possible to fathom out the intention or rationale to float the companies in the Netherlands to indulge in such complex and layered transactions. This is the precise kind of holding structures which are the subject matter of BEPS project.'' The BEPS project is an initiative of the OECD nations to curb corruption.
The DRP, while allowing possibility of appeal to NDTV, has levied hefty penalty on the latter towards this indictment.
Why did GE do this?
GE has multi-billion dollar interests in the defense industries, in media and heavy industries. Huge corporations like GE, with financial powers greater than many countries, create wars and chaos to suit their business agenda; they do not wait for them to happen.
Huge corporations create hype through media to create demand for their products, to put pressure on politicians that do not toe their line. They use the US state machinery to create lobby power for themselves in target countries, make pay offs to greedy politicians, buy off the media to subvert the flow of correct information to the masses and to spread misinformation.
Corporations like GE should be reported to the Internal Revenue Services (IRS), the US government's Income Tax Authority. (Link : www.irs.gov...) While, the US itself allows huge write-offs to corporates for lobbying, refer to the cases of Walmart and Enron, the NDTV deal however, smells very bad. There can be an anti-national agenda to it, a grave security threat to India.
It is surprising that despite such indictments of US companies the Congress government allows the US to have its largest embassy outfit in the world in India, with over 3000 employees just in Delhi! The Edward Snowden revelations, the envoy scandals, the ISRO spy case have not jolted this inept government into taking the US and its corporates to task.
This Congress government's complicity, in accommodating US interests, became very clear during the recent tiff between the two countries, when Indian bureaucrats threatened to down size the US embassy.
It is also surprising that despite such shocking indictments by DRP, NDTV continues to operate. This company should have had its broadcasting license revoked, the company liquidated and its assets sold long ago.
— Anand Mathur (Views are personal) Follow the writer on twitter.com/anand153
Share Your View via Facebook
top trend
what next
IBTL Gallery