From Ram to Babur : Ayodhya - a journey through time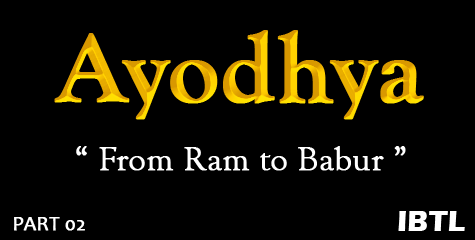 Continued from Ayodhya - the 'Unconquerable' : Ayodhya - a journey through time... So the tradition of Ram worship continued. The various literary and scriptural sources seem to have culminated in the Ayodhya Mahatmaya composed somewhere in the 12th or 13th Century AD. The Ayodhya Mahatmaya describes the various holy spots and extols the pilgrimage to the city of Ayodhya as the best means of salvation.

The Ayodhya Matahmaya profusely eulogizes the Janmbhoomi shrine and gives its exact location. It is said that the man who has visited the janmsthaan will not be born again, even if he doesn't practices asceticism or go on pilgrimages. Lakhs of Hindus kept going to Ayodhya passionately and devoutly believing in whatever was stated in the Ayodhya Mahatmaya.
- - - - - - - - - - - - - - - - - - - - - - - - - - - - - - - - - - - - - - - - - - - - - - - - - - - - - - - - -
हिंदी में पढ़ें : राम से बाबर तक : अयोध्या एक यात्रा
- - - - - - - - - - - - - - - - - - - - - - - - - - - - - - - - - - - - - - - - - - - - - - - - - - - - - - - - -
Then in 1526, an invader from across the border invaded India. He hailed from the province of Fargana in Central Asia. His name, Zahiruddin Mohammad Babur. On 16th of March 1527, Babur defeated Rana Sanga and conquered Delhi. That was the beginning of the Moughal era in India. Soon thereafter, Babur's lieutenant on Babur's express orders marched towards Ayodhya. The texts of Babur's order to Meer Banki have been printed in the 6th July 1924 issue of the Modern Review published from Delhi. It reads, "Shahenshah-e-Hind Malikul jahaan badshah Babur ke hukm wa Hajrat Jalaal Shah ke hukm ke bamoozim Ayodhya mein Ramjanmbhoomi ko mismaar karke uski jagah par usi ke malbe wa masaale se masjid taameer karne ki ijazat de di gayi hai. Bajariye is hukmnaame ke tumko bakaul ittilaa se agaah kiya jaata hai ki Hindustan ke kisi soobe se koi Hindu Ayodhya na jaane paawe, jis shaks par ye suba ho ki wo wahaan jaana chahta hai use fauran giraftaar karke daakhil-e-zinda kar diya jaave. Hukm ka sakhti se taameel ho farz samajh kar"

(By the commandment of the emperor of India, King Babur, it is hereby ordered to demolish the temple at the Ram janmbhoomi and use the material recovered after demolition to construct a mosque at that site. You're also informed and warned to ensure that no Hindu should be able to reach Ayodhya, and any Hindu suspected of willing to go to Ayodhya should be arrested and persecuted. The command must be obeyed like a duty.)
By 1528, One Lakh Seventy Three Thousand (1,73,000) people had sacrificed their lives defending the janmsthaan site. They fought bravely and held Meer Banki at bay but ultimately they lost. The presiding priest of the temple, took away the idol of Ram-lala and ended his life by taking Jal-samaadhi at river Saryu with the idol. Meer Baanki set about to carry out Babur's orders and he demolished the temple by a canon.

When Meer Baanki's men weer constructing the msoque it is said that the day's work used to get undone every night. Babur himself writes about this in his autobiography, "Tujuk-Babari".

"Ayodhya ke Ram janmbhoomi mandir ko mismaar karke jo masjid taameer ki ja rahi hai uski deewarein shaam ko aap se aap gir jaati hain. Is par maine khud jaa ke saari baatein apni ankohn se dekh kar chand hindu aauliyaon fakeeron ko bula kar ye masala un ke saamnbe rakha.. is par un logon ne kayi dinon tak gaur karne ke baad masjid mein chand tarmeemein karne ki raay di .. jinmein paanch khaas baatein thi .. yaani masjid ka naam Seeta Paak ya rasoi rakha jaaye, parikrama rahne di jaaye, sadar gumbad ke darwaaje mein lakdi laga di jaaye, meenarein gina di jaaye, aur hinduon bhajan paath karne diya jaawe. Unki raay maine maan li, tab masjid taiyaar ho saki."

(The mosque that is being constructed after demolishing the Ram Janmbhoomi temple was not completing. At night, its walls used to collapse on their own. I myself visited the site and saw the phenomenon. Then I consulted few Hindu sages who suggested me to make certain modifications in the mosque, viz. naming it Seeta Pak or the kitchen of Seeta, to leave the Parikrama as it was, to make use of wood in the gate of the Sadar Gumbad, to not have Meenars, and to allow Hindus to continue with their bhajans. I acquiesced to their suggestions and then only the mosque could come into existence).

An interesting point here is that Meenar (towers) are an important ingredient of the mosques, while a Parikrama is never there in mosques. Both these design exceptions and the clause of Hindus being permitted to perform Bhajan had virtually reduced the structure to a temple minus idol ever since it was constructed. The name of the structure, that was inscribed on it, Seeta Pak-sthaan (Kitchen of Seeta) spoke volumes about what was later propagandized as the 'Babari Mosque'.

Babur's otherwise meticulous diary does not have any record for the period 12th of April 1528 to 18th September 1528. The pages are said to have been lost in the storm of 17th May 1529 or during Humayuan stay in the desert in 1540. On 3rd June 1528, Devideen Pandey from Sanethu and Mahabat Singh attacked Meer Baanki's men. Devideen Pandey alone is said to have killed 600 men in five days. Meer Baanki survived however and killed Devideen. On the day of Eid in 1529, Rana Rannvijay tried to liberate the Janmsthaan site from the clutches of Meer Baanki but in vain. Babur died in 1530. His son Humayun succeeded the throne. During his regime from 1530 to 1556, Rani Jairajkumari and Swami Maheshwaranand made ten attempts to regain the janmsthaan site. The control of the janmsthaan site kept on intermittently passing from the hands of one side to that of the other. Continued at : From Akbar to Indian Independence : Ayodhya - a journey through time
Share Your View via Facebook
top trend
what next
IBTL Gallery