Bagga, Inder, Vishnu Arrested in Prashant Bhushan Assault Case Get Bail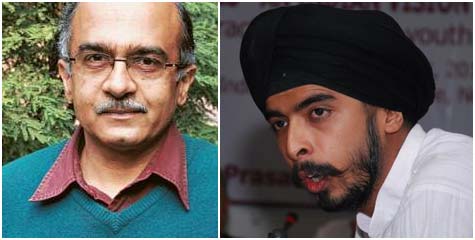 There is good news for all the youth which anxiously waited for their new heroes, the three young nationalists who had assaulted Prashant Bhushan for his anti-national remarks on Kashmir. A Delhi court today granted bail to them.
The court also rejected the plea of Delhi police that they needed to interrogate accused Tejender Pal Singh Bagga, Vishnu Gupta and Inder Verma in their custody for two days to unravel the conspiracy behind the attack on Bhushan, also a key member of Team Anna, and to arrest their fourth accomplice.
The court only charged them with the offences of assaulting, trespass and conspiracy under the IPC. "Except the offence of trespass, all other offences are bailable," the magistrate said.
"The accused are admitted on bail on furnishing of a personal and surety bond of Rs 25,000 each. They will not visit the premises of the Supreme Court without prior permission from this court," Metropolitan Magistrate Sudesh Kumar said.
Share Your View via Facebook
top trend
what next
IBTL Gallery