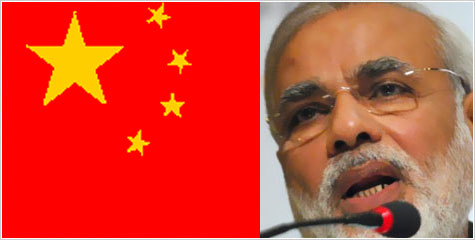 The Government of the People's Republic of China and the ruling Community Party of China (CPC) accorded unprecedented importance and highest level of protocol to the Chief Minister going beyond the established norms. The visit generated huge interest among business and industrial community as well as the Chinese political leadership. The political highlight of the visit was that the Chief Minister was received at the Great Hall of People, where normally Heads of the State or Head of the National Governments are received and accorded such honour.
The Chief Minister had a meeting with Mr. Wang Gang, Vice Chairman of the China People's Political Consultative Conference, (and a member of the Polit Bureau of Communist Party of China), at Great Hall of People and had discussions on a wide ranging topics. This level of meeting is very important for a State Chief Minister and has never happened in the past. Mr. Wang Gang praised the rapid socio-economic development of Gujarat and the leadership provided by Shri Narendra Modi in improving the socio-economic conditions of all people ensuring double digit growth. Shri Modi had a delegation level meeting with the Mayor of Beijing province Mr. Guo Jinlong where he gave a detailed status of Gujarat and its fast growing cities as well as growing urbanization, which provides excellent opportunity for cooperation and collaboration.
In his meeting with top Government and CPC leadership in China, in addition to economic and business relations, Mr. Narendra Modi also raised the issues of National Importance for India, viz. prolonged detention of 22 Indians (Gujaratis) in a Chinese Jail; wrong maps depicted by China showing part of Arunachal Pradesh in China, and related issues; presence of China in POK, which has security implications as in many POK areas, terrorist training centres are being run by the Pakistan; and other issues for economic, political and cultural co-operation between India and China.
Another important agenda of the Chief Minister was investment promotion in Gujarat. He showcased 'Brand Gujarat' to Chinese top leadership and its business community. Accordingly two Business Seminars one each at Beijing and Chengdu were also organised. In both the Business Seminars, extensive presentations and B-to-B meeting were held which evoked massive response. In all the top level political meetings and the above two business seminars, he highlighted the strength of the ascendance of the Indian economy and Gujarat's lion share in the same, which is ever increasing.
He particularly discussed the possibility of Chinese investment in Gujarat, and China's participation in Vibrant Gujarat–2013. Mr. Narendra Modi invited Chinese business community and public enterprises to participate in Vibrant Gujarat Global Investor Summit–2013. The opportunities for Gujarat-based companies in sectors like pharma, IT & ITES, engineering goods, tourism, agro-processing were also discussed in detail. The visit opened new avenues in China for the Gujarat-based companies. The issues like opening a Mandarin language school in Gujarat, connectivity between Gujarat and Chinese cities, and promotion of sports and tourism, particularly Buddhist tourism were also discussed in detail.
With this visit and interactions, top Chinese political and business leadership have become fully aware of Gujarat's robust economy, enterprise, infrastructure, quality of life and opportunities it offers. During the visit, a very large number of companies started B-to-B enquiries and few of them immediately signed their deals. Many of them have actively started pursuing business with their Gujarat counterparts. Highly focussed activities will be planned in 5 Chinese provinces to attract investment in Gujarat and improve Gujarat's presence and business in China.

Specific projects & Proposals
• Huawei : to consider for Gujarat setting up manufacturing base in state, Tele-presence in static/ mobile format on pilot basis, R&D centre with specific focus on e-Governance, Future technology solutions lab. Other issues viz. Data centre setup, Smart City project for Ahmedabad/ Gandhinagar, Government data base in Cloud, Linkage with Educational Institutions, etc. will also be considered by Huawei.
• India – China connectivity: Possibility to connect Chengdu – Bengaluru flight via Ahmedabad; Also better connectivity for Ahmedabad to Beijing and Shanghai, will be explored.
• Metro/ High-speed Train: China Rail Engineering to lead delegation to Gujarat in next few months to assess the potential and scope for participation.
• Mass-housing: Affordable and sustainable housing technology to create affordable mass housing and make urban areas slum-free.
• Gujarat will consider sending teams comprising design/ architecture people to visit 2008 earthquake reconstruction area for its reconstruction, long-term sustainability and better livelihood, disaster management, digital display, etc.
• Valued addition in Agro-forestry: A Professor from PAAF (Participatory Approaches in Agriculture and Forestry) to visit Gujarat for their input.
• Tourism and Sports: Both sides will co-operate in these areas in a big way. Cultural groups from China for next Patang Utsav and Navratri festivals.
• Shanghai Institute for Contemporary Development Studies for International Enterprises to be linked to a University in Gujarat for similar kind of research.
• China Sporting Goods Federation to lead a 20–member delegation in June to Gujarat; they need to be connected to sporting complexes for cost-effective sports equipment manufacturer in Gujarat.
• Kalpasar project: State to consult the Shanghai (Yangshan) Deep Water Port and explore technological options for the Kalpasar Project.
• Student Exchange: More and more students should be sponsored through scholarships. Triple the cultural and student exchange in next 2 years.
• Chinese language teaching: Mandarin language teaching and learning to be promoted in a big way. Chinese language courses to be introduced to various Universities, adding special courses for travel agents and business people.
On the whole, the visit was an unprecedented success. For the Chief Minister, it was an important and a rare gesture on part of the Government, top CPC leaders, the Industry and the people of China to welcome and honour him.
It is expected that this initiative will strengthen the business, economic and cultural ties between China and Gujarat. These economic and cultural exchanges will further improve the political relations between the two countries. More importantly, it will improve the socio-economic conditions of the people of the two great countries which constitute more than one third of the mankind on the planet earth.


Share Your View via Facebook
top trend
what next
IBTL Gallery