Dr. Kalam showers praise on Narendra Modi's initiatives for rural development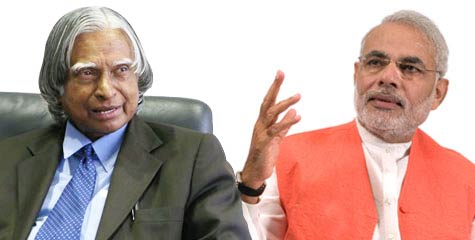 Former President Dr. A P J Abdul Kalam has profusely praised Narendra Modi's government's initiatives for rural development. He was delivering the UPSC lecture on 'Governance and Public Service'.

Dr. Kalam said that factors like lack of transparency hinder development from reaching villages. He cited the programme of Gujarat government to ensure that the rural sector reaps the benefits of growth, as a model. Narendra Modi government has implemented a programme under which every year in April and May, nearly 1 lakh government officials including the CM himself down to a taluka-level staff, spend a month in rural areas. They demonstrate the best of technologies to farmers. Additionally, the Gujarat government has also instituted an e-governance system which links the panchayat level, district HQs, and the state govt together and thus ensures transparency and speed in the decision making process, Dr. Kalam pointed out.

Dr. Kalam observed that such initiatives indicate a strong administrative will to ensure development reaches the rural sector. He cited the example of Krushi Mahotsav which covers all 18,600 villages of Gujarat, and provides the villagers with information and counselling on soil health, organic farming, technology and inputs, irrigation, etc., besides infusing a new spirit of change and mass mobilisation.

Dr. Kalam praised former Prime Ministers Atal Bihari Vajpayee and Narsimharao for "excellent leadership" and taking difficult decisions boldly. He also stressed upon the need for creative leadership that can do a immense good to country's development. He mentioned the names of C Subramanian, M S Swaminathan and B Sivaraman, architects of the Green Revolution, space scientist Vikram Sarabhai, Delhi Metro chief E Sreedharan and several other visionaries to support his point.
Share Your View via Facebook
top trend
what next
IBTL Gallery