Swamy writes to CBI Chief about Sonia-Rajiv's Black Money and KGB link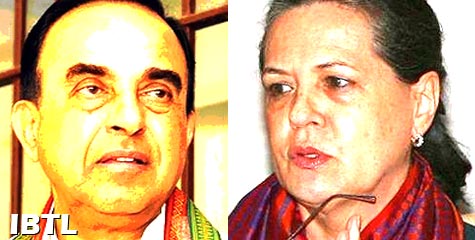 Crusader against corruption and minority appeasement, Janta Party President Dr. Subramanian Swamy has asked the CBI to provide information on the black money account of the Gandhi family. He has written a letter to CBI Director AP Singh and has provided information relating to the disclosure of offences committed under the Prevention of Corruption Act (PCA) about three incidents and requested the agency to record it as part of the first information report (FIR). According to Dr Swamy, former prime minister Rajiv Gandhi and his family have accounts abroad where they may have kept black money.

He has also raised the issue of Rahul Gandhi being detained at the Boston airport in US for carrying $160,000 in cash without the mandatory declaration back in 2001. The then principal secretary to the PM, Brijesh Mishra, to my knowledge, had intervened with the US Secretary of State, and arrangements were made get to Mr Gandhi released. "In his deposition to the US authorities before returning to London Mr Gandhi had declared that the money was his, and he had drawn it out of his secret account in Pictet Bank, headquartered in Zurich, Switzerland. I may mention here later that while studying in Rollins College, Winter Park, Florida, USA, Mr Gandhi paid his tuition and other fees to the College from his secret accounts," Dr Swamy alleged.

In the letter, Dr Swamy says, in November 1991 issue, Schweitzer Illustrate, a leading Swiss magazine, had published an article disclosing that former prime minister Rajiv Gandhi had about $2 billion in secret bank accounts in Switzerland. "Although the information is two decades old, you are aware that there is no time limitation for corruption cases under the PCA. Also even if Rajiv Gandhi is now deceased, his likely beneficiaries are his wife, Sonia, and two children, two of whom are public servants," the letter says.

Dr Swamy has also said brought to light the fact that Russian spy agency KGB had paid money to Rajiv Gandhi and his family. He has cited in his letter, Russian scholar Dr Yevgenia Albats's book in which she disclosed under the title 'A State Within a State: KGB in Soviet Union' the file numbers that contain evidence of the KGB payments to the then Prime Minister Rajiv Gandhi and his family members. The letter says that in 2002 the then external affairs minister Jaswant Singh had taken this matter up with the Russians. The Russian authorities had informed the Government of India that they may send a senior representative of the RAW to Moscow to obtain authenticated records of KGB payments to Rajiv Gandhi and his family.

It'd be interesting to see if CBI, which is often alleged to be acting as 'Congress Bureau of Investigation', takes any action on these complaints and files an FIR against Sonia Gandhi and Rahul Gandhi or Dr. Swamy will have to take alternative steps.
Share Your View via Facebook
top trend
what next
IBTL Gallery