Yashwant Sinha's article goes viral, puts Congress to shame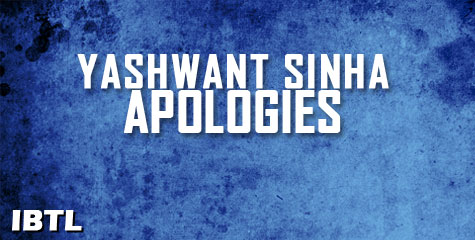 BJP senior leader Yashwant Sinha's article published in the Economic Times as gone viral on social media. He was trending on Twitter (click to read tweets). The article is titled as "I apologise for all scams of Congress". It puts Congress to shame.

The article is in the context of Kapil Sibal's remark that BJP should apologise for 2G scam. Sinha writes, "apologise for the Partition of India; for the lingering Jammu and Kashmir issue and for not resolving it at Simla in 1972; I apologise for India spurning the offer to join the Security Council as a permanent member when it was offered at the time of independence; for the defeat of India in the 1962 war with China and the vexed boundary problem; I apologise for the Hindu rate of growth of 3% for the first three decades of Independence and for all the poverty, deprivation and inequality; I apologise for the massacre of Sikhs in the country in 1984; I apologise for the more recent events like the Army Chief's age row; for the Antrix-Devas deal and for punishing scientists of the eminence of Madhavan Nair without giving them an opportunity for explaination; for the PMO not keeping the PM informed of the 2G scam; for the Supreme Court cancelling the 2G licences; for the CWG scam, the Air India scam, the KG Basin scam, the Adarsh Society scam and for all the other scams for which this government is being wrongly blamed."

The article further puts forth the arguments that push forward the case against Congress' corruption and has try to nail down Congress' propaganda. The article can be read at: economictimes
...
Share Your View via Facebook
top trend
what next
IBTL Gallery