Sonia refuses to disclose IT info, income could be between Rs 50-75 lakh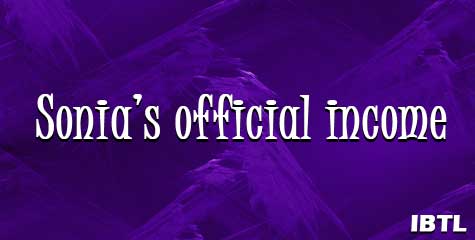 Times of India published today "Sonia Gandhi cites privacy, refuses to disclose info on I-T returns". A Chennai-based RTI activist V Gopalakrishnan had sought details of Sonia Gandhi's I-T returns from the year 2000-2001 to 2010-2011.

In reply Sonia Gandhi said disclosure of such private information to third parties in guise of transparency in public life would amount to unwarranted invasion of the individual's privacy. The information submitted to the I-T department by an individual was confidential and private in nature and cannot be disclosed as per Section 138 of the Income Tax Act, 1961, she said.

CPIO has rejected the petition second time. The application was first rejected without even seeking objection from Sonia Gandhi.

Firstpost published a brief report few hours ago, "Sonia's official income could be between Rs 50-75 lakh". Let's be clear: even if Sonia Gandhi were to put her latest income-tax returns in the public domain – which she has currently declined against an RTI request – nothing much will come to light."

Three reasons why.

One, her main sources of official income are likely to come from being a cabinet-ranked head of the National Advisory Council (NAC), her salary and income as an MP, including attendance fees, and miscellaneous income from fixed deposits, etc.

Two, the assets disclosed by her to the Election Commission in the 2009 Lok Sabha poll was just around Rs 1.38 crore. These assets are incapable of generating very high incomes – unless one sells some of the landed properties held in her name in Italy and India.

Three, it is highly unlikely that her tax returns will give us any greater insight into her real sources of income – assuming there's more to it than what has been disclosed.

The main income for Sonia Gandhi is likely to be the salary and perks she earns by being a member of Parliament, and some additional moolah as a cabinet-ranked member of the NAC.

Next, we have Sonia's salary and perks related to being a cabinet-ranked head of the NAC. Firstpost filed an RTI with the Prime Minister's Office to find out the NAC's costs – but all we got was a gross budget, which works out to Rs 3.77 crore for all of 2011-12. Since this includes all expenses, including office expenses and payments made to other NAC members – and there's a whole lot of them, around a dozen – one can assume that Sonia's earnings from NAC cannot be higher than what she earns as an MP.

There would be the income she earns from assets. In 2009, she declared ownership of assets worth Rs 1.38 crore, including the following:

• An ancestral house in Italy, which was valued at Rs 18.05 lakh.
• Rs 75,000 in cash and Rs 28.61 lakh in bank deposits.
• Mutual funds worth about Rs 20 lakh and Rs 12 lakh in RBI bonds.
• 10 shares of Maruti Technical Services & 500 of Western India Tanneries.
• Post office deposits total Rs 1.99 lakh.
• Rs 24.88 lakh with the Public Provident Fund.
• Jewellery worth about 2.5 kg, then valued at Rs 11 lakh.
• 88 kg of silverware worth more than Rs 18 lakh.
• 2 plots of agricultural land totalling around 15 bighas valued then at Rs 2.19 lakh.

Prime Minister Manmohan Singh has reported assets in excess of Rs 5 crore. Can Sonia Gandhi have only Rs 1.38 crore of assets in her name?
...
Share Your View via Facebook
top trend
what next
IBTL Gallery