IBTL's divine meet with Pujaniya Sri Sri Ravishankar Ji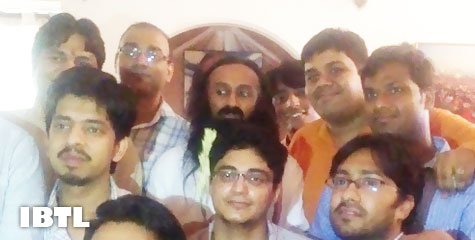 It was a blessed day for IBTL when we got aashirwad from His Divine Holiness Pujaniya Sri Sri Ravishankar Ji in Delhi. Sri Sri listened to all our talks patiently and gave his margdarshan for us. IBTL feels honoured & esteemed by his divine blessings for us all.

We presented to him a booklet showing " IBTL : The Journey Since 05 AUGUST 2010 " till date which he showed interest in and listened to everything very patiently. He guided us how to move further and what he thinks, IBTL as a nationalist media venture, should do in coming days & years.

IBTL has always tried to be firm on nationalism & patriotism. With Pujya Sri Sri's ashirwad, we reiterate our commitment to give this nation a true nationalistic media alternative and a platform for nationalist youth to work for true Bharatiya system of governance. We would like to thank Shraddhey Maheish Girri Ji, International Director, Art of Living Foundation for his continuous guidance & efforts for us.


Share Your View via Facebook
top trend
what next
IBTL Gallery