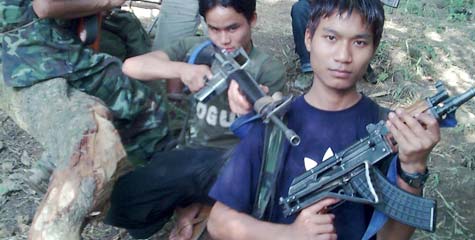 When 24 year old Dimsa rebel, Binod (name changed) got off the bus after 3 days long journey in train from Assam to Bengaluru, little did he know that he would be a changed man with a different mission in life that would be so different from the life that he had known so far. He and his friends (once cadres of DHD) were part of the larger diverse group that comprised of about 250 guerrilla fighters, out of which 231 belonged to the dreaded outfit United Liberation Front of Assam (ULFA). With the initiative of the Art of Living this program has been cleared by a high powered committee of Home Department, Assam.

हिंदी में पढ़ें : जब असम से खूंखार उग्रवादी आर्ट ऑफ़ लिविंग, बंगलुरु पहुंचे
The rebels had a vague and a skeptic look on their faces when they got off their vehicle and walked towards the Art of Living International Centre on 2nd July 2012 for a month long program. Very soon the look changed into surprise and familiarity at the warmth and friendliness of the sevaks at the reception office of the AOL centre.

Henceforth, an enormous and daunting task lay before the AOL faculty, Sh. Sanjay Kumar who facilitated this month long program with the help of other faculties and volunteers.

In the words of Sh. Sanjay Kumar "the biggest challenge initially was to build trust and and to make them follow the discipline of our program , as most of them had many physical and attitudinal problems…from then onwards the task was rendered easy by their participation as the impact of breathing techniques was healing and transforming" After the first Sudarshan kriya they began to relax and open up as they experienced well evident physical healings as well as became quite calm. Yoga, pranayams, processes, interactions proved to have an invigorating effect. In the evening there were cultural programs, when they sang and danced, it was unbelievable that these men had once lived in forest and have been responsible for so much violence. Majority of them had acquired training in the Kachin jungles of Myanmar and Bhutan .




As the program progressed they became more and more participative and reported physical benefits and change in mindset one of the participants Michael shared …"it's a completely different life from the forest life…being in the program has expanded our vision. Now we think about our country from a very different angle"




Likewise another participant shared that had they got this knowledge before, so much bloodshed would not have happened. Ratul, another rebel had a different perspective he told "though our food habits are different yet we liked being here ….and learnt a lot about myself, my society and my country" The impact of the program is being researched by two senior professors of NIMHANS.




Along with the rejuvenating Art of living programs, the participants are being provided skill training to adopt a vocation, the focus being their rehabilitation. One group who had taken making paper product training even put up a display of their products.




And once they met Gurudev, H.H.Sri Sri Ravi Shankarji they related about their life and hardships faced and expressed keen desire to start a new life. Everybody thanked him for taking this initiative to heal their lives. Many even offered to take part in His initiative to help the recent victims of Assam riots.




Their grudges against the system should be an eye opener for each one of us. Even the government needs to understand that sheer force will not help to deal with these disgruntled youth. What they require is a healing touch which only spirituality can provide. Indeed, Art of Living has done a great service through this program and has been taking such initiatives in the past also as a contribution to build a violence free and stress free society.

Author & Images : Art of Living Secrets
- -- -- -- -- -- -- -- -- -- -- -- -- -- -- -- -- -- -- -- -- -- -- -- -- -- -- -- -- -- -- -- -- -- -- -
We are breathing in a media space that is filled with stories of fraud, scams, corruption, deceits, abuse..seldom do we have stories that bring smiles, that touch our hearts, that make us believe in living itself! its time to start afresh. We believe there is scope, because we have been a part of that change. We hope to inspire, by retelling these tales..or at least make it a good read... Happy Reading
- -- -- -- -- -- -- -- -- -- -- -- -- -- -- -- -- -- -- -- -- -- -- -- -- -- -- -- -- -- -- -- -- -- -- -
Share Your View via Facebook
top trend
what next
IBTL Gallery