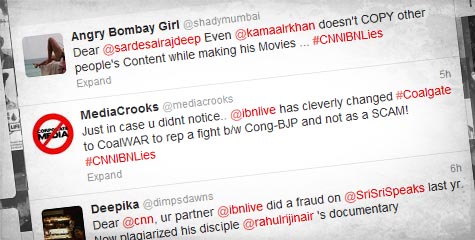 Issues of hindus facing persecution in several parts of world has been a matter of concern in India for long now. One such concerned citizen, Rahul Nair thought that he should do something on this issue. It was that time that idea of making a film on plight of pakistani hindus came into his mind.

हिंदी में पढ़ें : श्रेय न दिए जाने के कारण, ट्विट्टर पर ट्रेंड हुआ... #CNNIBNLies
Rahul started working on this immediately and came delhi for shooting. It was an uphill task given the deliberate attempts by authorities in giving various permissions. His unending efforts along with a great team of his friends came out as a full-fledged film namely 'THE HUMAN BOUNDARIES' in February 2012.




"The Human Boundaries" (2012) is an award winning critically acclaimed English documentary of 35 minute duration on the life of the Hindu refugees from Pakistan. A group of 151 Pakistani Hindus entered India on September, 2011 with a one month tourist visa various religious persecutions they had to face in Pakistan. The group which has a majority of children and women are now sheltered in a camp on the outskirts of New Delhi. But now their visa has expired and is facing deportation. Various organizations are fighting for the basic human rights of these people at the political and judicial level. Their story is a grim reminder of all those lives caught up in no man's land. As more boundaries are drawn across the human conscience has always suffered. The film was shot in a highly restricted and sensitive environment inside the refugee camp in a short span of 3 days with the use of minimal filming equipments. This documentary traces the difficulties they had to face in Pakistan, their life inside the camp and their hopes for tomorrow.

The Expose
CNN-IBN was caught on the wrong foot for using visuals from the documentary "The Human Boundaries" without prior consent and for without giving due credits, as a part of their program "Nobody's Countrymen". The following screenshots, exposed this case of breach of IP rights:
@sardesairajdeep Just saw the program "Nobody's Countrymen" on Pak Hindus. CNN-IBN used visuals from my docu w\o even mentioning the source!

— Rahul Riji Nair (@rahulrijinair) September 2, 2012


The Outrage
The issue was taken up by the netizens on social media, creating a huge uproar against the news channel. The hash tag '#CNNIBNLies' trended on top in Twitter across the country. The issue even broke into the global trends on Twitter! As similar issues regarding such acts of CNN-IBN have been caught red-handed earlier too, the outrage on Twitter & facebook was immense. Tweeple's across India started poinbting their tweets to the top administration & other journos of CNN IBN for an explaination regarding this blatant act of content-stealing.
Rahul Nair, @rahulrijinair is now trending in India trendsmap.com/in

— Trendsmap India (@TrendsmapIndia) September 3, 2012


The Amends
As the issue gathered momentum and twitterati demanded written apology,, the news channel sprung into disaster management mode. The Editor-In-Chief Mr.Rajdeep Sardesai called the filmmaker Rahul Riji Nair on phone and expressed his regret on the issue. He promised to make amends by giving full credits to the filmmaker while re telecasting the episode again on national television.

30 Minutes episode: "Nobody's Countrymen" with due acknowledgement to footage used from producer @rahulrijinair's film ibnlive.in.com/videos/288038/…

— CNN-IBN News (@ibnlive) September 3, 2012

IBTL STAFF


Share Your View via Facebook
top trend
what next
IBTL Gallery