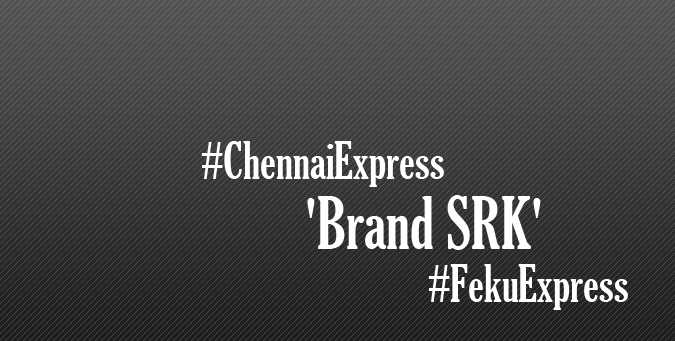 ''Brand SRK'' has become Bigger than even Shah Rukh Khan himself. From being among actors who pay the highest INCOME tax in the country to winning awards and accolades globally, SRK has got it all in for himself. The latest in his list to get executed was Chennai Express, which earned Record Opening Day collections, beating the previous best by Salman's 'Ek Tha Tiger'. Does his immense success got to do with the hard work and talent he possesses? Are there no actors who are more talented than SRK? I think that should be left for the reader to decide, for "Individual tastes & preferences are not a matter of Debates". However it is a fact that large numbers of audience who watch movies do not consider SRK to be the best actor in this country. So then has this economic success got more to do with Marketing, Salesmanship and Business Skills?
When it comes to marketing movies is there anyone who can match SRK. How many of you saw him in the final of T20 Cricket match between India and Pakistan in 2007? Was he there just to boost Team India or his home production Om Shanti Om was on the verge of release? Perhaps only SRK can answer that. SRK has always been known for vigorously promoting his work and movies. I am sure all of you would have heard the buzz around his dream project Ra One's release. SRK would have many waiting with ted breathe for the movie to release. However that the movie was not liked by many is a different issue altogether. Is it a coincidence that SRK gets involved in some or the other controversy just around when any of his movie is going to get released. For example just when his movie My Name Is Khan was about to release, there was news of racial discrimination being slurred upon SRK in USA's airport, incidentally the movie had same subject matter too.
Can think of any nook or corner where SRK has not made presence for promotion of his movie? Daily Saas-Bahu sagas, Comedy shows, Reality shows, IPL matches, Mall events and everything that comes to your mind. This strategy perhaps even intensified for his latest flick Chennai Express. If you don't remember just watch the newspapers of 1 month back. For those of you who do, just connect the timing of his controversy related to Sex determination of his 3rd child 'Abram' to that of release of his movie. SRK has beaten all the records of promotional activities. Would it be wrong to say that SRK does not leave any opportunity go waste so as to promote himself or his movie, even if that opportunity is the Birth of his own child?
No one denies the reach of Television but today any Modern Director/Producer/Actor would ignore the reach of Social Media, twitter and Facebook to be particular. SRK has a huge fan following on both Facebook and Twitter. Twitter, despite having a lower number of active users than facebook has the ability to spread word more than Facebook in terms of reach. Using #hashtag trends; one can reach the entire country possibly the whole world. and his followers do have that ''can-do-anything-for-SRK'' attitude. For those in twitter how many of you have seen Die Hard SRK fans indulge in altercating feuds with Salman Khan or Aamir Khan fans? Why wouldn't these same fans give everything to trend anything that would be beneficial to SRK or his movie? The Khan Rivalry is well known.
Currently, SM and especially Twitter has become a political battleground for the two mainstream parties in India- BJP & Congress. The BJP has always had an upper hand and their most popular leader Narendra Modi has a strong support base on Twitter. Congress has a marginal presence but of late they have realized that they have missed the bus and now they are trying to change the situation. It is reported that Congress plans to spend Big Rs 100 Crores on anti BJP campaign, Anti Modi in particular. Congress leaders like Shashi Tharoor, Ajay Maken, Digvijaya Singh and Deepender Hooda are the flag bearers of the Congress party on Twitter. The Congress party has geared up to face the Modi assault. As reported by India Today in its 5 Aug, 2013 issue ''The ''Target Modi'' campaign is being coordinated at three levels. A research team of five people under Sandeep Dikshit sitting at his C-1/16 Pandara Road residence in the capital takes note of every economic data or figure mentioned by Modi. The fact checking starts immediately and a report is prepared which is shared between Maken's and Hooda's team. Every morning around 1000 hours, Maken shares these deatils with all the leaders and spokespersons of the party and discusses the party line to be taken on TV debates and in SM."
So what has Congress Social Media strategy got to do with SRK? Where SRK does comes into the picture? Details later of it but first let us just explore if there is any nexus between SRK & Congress
How many of you know that back in 2009 Chief of Mumbai Unit of Congress Party, Kripa Shankar Singh said that there is a strong possibility that SRK will contest election from Mumbai as he has close relations with Sonia Gandhi and the family?1
Later on in the same year, Shree Prakash Jaiswal says that SRK along with Preity, Govinda and Nagma would campaign for Congress party ahead of the general elections.2
The Bollywood superstar was banned for 5 years from entering Wankhade Stadium after his scuffle with a poor security gaurd. Which political party came up to SRK's defence? Hint – A political party wrote letter to Mumbai Cricket Association pleading to allow SRK's entry into the stadium on the day when KKR (Shahrukh's IPL Team) was to take on Mumbai Indians.3
Well, things do not end up here. HumaraCongress.com which is Congress Party's website published the article written by SRK for Outlook magazine. You might argue what as the portal Humara Congress got to do with SRK's connection with Congress? Humara Congress is owned by Congress spokesperson Sanjay Jha4
Did you read that newspaper report which appeared in Indian Express earlier in May this year? Well if you didn't you should search for it and check that Shashi Tharoor of Congress is set to lead the 100 Crores Social Media campaign, which would include 'like minded celebrities' active on twitter such as SRK and Shabana Azmi5
Would you invite a person to launch your book or website or anything unless you have close relationship with the person? Well; enjoy this video where SRK is launching the book written by Shashi Tharoor, While Narendra Modi was giving his speech in Hyderabad on Aug 11, 2013, the Congress supporters on twitter were trying to trend #FekuExpress. Well the name itself has its bearing to the latest SRK movie Chennai Express. Do an serious analysis of the tweets under this hash-tag and check if SRK followers played a major role in trending it? Digvijay Singh thanked the SRK followers by promoting #ChennaiExpress. Another coincidence? Free Chennai Express tickets were distributed to those who were tweeting under this hash-tag through a newly made fake profile twitter.com/fekuexpress
Can SRK favour any political party? Yes he can but it would be more sporting if it is not done in a Stealth way Whether the Superstar has collaborated with Congress in the latter's Sinister and smear campaigns is for you to decide, considering all the facts presented here. But if he has, it won't do a lot of good to his image. Cheap Popularity is not so cheap. It comes at an expensive price. Do you think if SRK is favouring one of the most corrupt Governments of the Indian History, he is directly endorsing their corruption and communalization? Looking at this shoddy attitude is there any doubt that his Chennai Express is the real #FekuExpress, fake name, fake fame and fake fans on social media tweeting for $0.50/ tweet?
Does anyone of you foresee SRK weeping again, playing the victimhood card yet again but this time it by common man, the youth would stop following any kind of partisan? I would love to see SRK as the 'Raj' of Dilwale Dulhaniya Le Jaenge and not as Rahul of 'Darr'.
[1] Shahrukh to contest election on Congress ticket! [ The Indian Herald ]
[2] Shah Rukh Khan, Preity Zinta to campaign for Congress [ Andhra News ]
[3] Maha Cong writes to MCA to allow SRK at Wankhede [ IBN Live ]
[4] Written by Shahrukh khan for outlook [ HamaraCongress.com ]
[5] Shashi Tharoor to lead congress fightback on social media with shahrukh khan [Indian Express]
Share Your View via Facebook
top trend
what next
IBTL Gallery