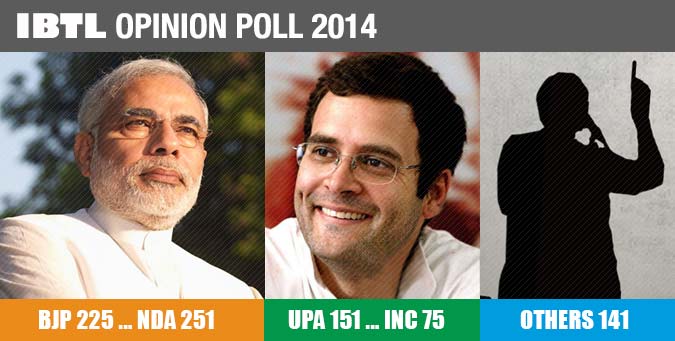 The latest IBTL Opinion Poll predicts a power-packed performance for the NDA led by Narendra Modi. It appears that, not only will the BJP breach its best ever performance (both in terms of seats and vote share) but also ensure that various other regional players are rendered irrelevant in the 2014 elections.
Other Opinion Polls have given the hint that regionally parties, especially the 3 ladies Mamta, Maya and Jayalalitha would play the role of King makers. However our Poll suggest that BJP and NDA's tally in total would be robust enough to not take the support of any of these parties or even the BJD.
Seat Summary (Pan India)
NDA – 251
Allies Breakup
BJP 225, Shiv Sena 9, Shiromani Akali Dal 6, MDMK 3, PMK 2, RPI (A) 2, HJC 1, NPF 1, NPP 1, Swabhiman Paksha 1
UPA - 151
Allies Breakup
INC 75, BSP 20, AAP 15, RJD 14, SP 11, NCP 5, AIUDF 2, IUML 2, JDU 2, J&K NC 2, KC(M) 1, LJP 1, MIM 1
Other Key players
AIADMK 25, TMC 25, Left Front 22, TDP 15, YSRCP 11, BJD 10, TRS 9 DMK 4, DMDK 2, JDS 2, JVM 1, PDP 1, INLD 1, VCK 1, Independents 8, Others 4
Key Points
NDA needs another 21 seats to get majority which can be accomplished by the help of TDP and TRS or a group of Independents and small 1 seat parties like INLD, SDF etc

AAP, JDU, SP, BSP have been included in UPA because these parties either support Congress or take its support in 1 state or the other

AAP is predicted to win 15 seats, the survey period covers the peak of AAP popularity, therefore situation might have changed thereafter

BJP with 225 seats (projected voteshare of 28.8%) and INC with 75 seats (projected voteshare of 19.2%) achieve their best and worst ever performance respectively
For a detailed statewise analysis please read below. All the states' analysis and key findings have been presented in descending order of State Seats starting with Uttar Pradesh
State – Uttar Pradesh
Prominent Players – BJP, BSP, SP, AAP, INC, RLD
Key Findings from UP
A social churn is being witnessed among the backward class, including Yadavs who are found to shift towards BJP

Even the Yadavs in the hardcore loyal bases of Samajwadi Party namely Etawah, Kanpur etc are willing to vote BJP due to the Modi factor

AAP is present in limited pockets but completely destroying Congress and BSP in those areas

The sporadic Modi Wave seem to have intensified in the last 1 month.
Vote share prediction
BJP almost doubles its vote share. All other parties are getting smashed as per this. This would lead to erosion of Seats for all the parties except BJP and AAP
Seats Prediction
So, everything that could go wrong is going wrong for the Congress. The party is expected to win just 3 seats, its ally RLD would bag merely 1 seat. However the good news is that possible ally and 1st timer AAP is winning 4 seats
State – Maharashtra
Prominent Players – BJP, Shivsena, RPI (A), AAP, INC, NCP, MNS
Key Findings from Maharashtra
Heavy anti incumbency prevalent against the Cong-NCP alliance govt.

NaMo wave is lifting up BJP in many areas, but Shiv Sena is affected by vote split from MNS

Although MNS is splitting votes of NDA alliance, it seems to do limited damage in Lok Sabha elections. There are many voters who said they would vote MNS in Assembly but NDA in Lok Sabha Polls due to Modi factor

Very much like MNS, the new party AAP also has effect in limited pockets of Mumbai and Pune.
Seats Prediction
State – West Bengal
Prominent Players – BJP, TMC, INC, Left Front
Key Findings from West Bengal
Cadre strength is with TMC and it will consolidate its position compared to last time, despite dissolution of UPA in Bengal

BJP almost doubles its voteshare but not likely to win any seat
Seats Prediction
State – Andhra Pradesh
Prominent Players – BJP, TDP, INC, TRS, YSRCP, MIM
Key Findings from Andhra Pradesh
Compared to our last survey, YSRCP is recovering a bit in Seemandhra, but TDP is still holding edge in this close contest

In Telangana, it is a Big surprise that there is a Big undercurrent for BJP, possibly due to Narendra Modi factor, particularly in the half dozen seats of Greater Hyderabad region.

In fact, in Secundarabad, number of respondents who preferred to vote BJP is higher than combined respondents of TDP and TRS. As per our survey BJP on its own is likely to win 2 seats (Secundarabad & Mahboobnagar) and stay in Top 2 in 4 other seats out total 17 seats in Telangana

In Seemandhra too, BJP is likely to get decent support, but not enough to win seats, because many people said they prefer Modi as PM but voting BJP would be wastage as BJP won't win, so they would vote TDP as it is likely to support BJP post elections

Above findings make it clear that TDP should be the natural ally for BJP in Seemandhra and can win extra few seats if BJP supports TDP

Also BJP should fight most of the seats in Telangana as our survey shows BJP being in Top 2 in atleast 6 seats and ahead of TDP in 3 more.

Both TDP and BJP alliances seem synergic as it seems to help both the parties, although TDP would benefit more from the alliance
Seats Prediction – 25 Seats of Seema Andhra
Seats Prediction – 17 Seats of Telangana
State – Bihar
Prominent Players – BJP, JDU, RJD, LJP, INC, NCP
Key Findings from Bihar
IBTL was the 1st to predict this, way back in May 2013, that if there is a Strong Modi wave in any Indian state (except South), it is in Bihar and Rajasthan

It is now almost certain that RJD-INC-LJP-NCP will form a 'Secular alliance' to counter BJP, hence this analysis takes that into account, but 1st some facts

Right from 1996, the NDA voteshare in Bihar has remained stable around 39%. This has got to do with a large section of Biharis who have gone Anti Congress since the JP movement. When NDA won 32 seats in 2009, they got 39% vote share. When they won just 11 seats in 2004, they still got around 38%. So why this skewness in seats? It was because in 2004, RJD-LJP-INC-NCP cobbled up a formidable alliance

Similarly the Congress voteshare has remained stable at around 8.5% in the last many LS and Assembly elections. In 2009m Congress managed to get 10% because the country was witnessing a Pro Manmohan wave

The BJP-JDU split will ensure that the bulk of 39% Anti Congress votes stay with the party more likely to counter Congress in National elections i.e. BJP. Some erosion due to Nitish Kumar's Backward Caste engineering would be compensated by additional backward votes brought in by Modi and forward catse/yadavs who hate Nitish Kumar

In the perception battle of corruption, Congress scores higher than RJD. So Congress has nothing to lsoe by allying with RJD but RJD has a lot to lose by allying with Congress
Vote share prediction
Seats Prediction
State – Tamil Nadu
Prominent Players – AIADMK, DMK, DMDK, PMK, MDMK, BJP, INC
Key Findings from Tamil Nadu
It is assumed that there are 3 fronts AIADMK + Left, DMK + DMDK + VCK, BJP + MDMK + PMK, Congress

A strong undercurrent in favour of Narendra Modi. The state is disgusted with Congress.

People perceive DMK as an opportunistic party.

The battle is not 3 way as many media reports suggest. As per our survey AIADMK alliance is leagues ahead of the other 3 fronts
Seats Prediction
DMK-DMDK-VCK+ alliance is struggling, despite cobbling a formidable front. AIADMK front is way ahead with 25 seats. Left allies would fail to win any seat but would help AIADMK with small vote shares. DMK and BJP alliance are tied at 2nd place with 7 seats each. While Congress alliance would be decimated and would draw yet another blank. This comes as a major shock because many Union Ministers from Congress are from Tamil Nadu.
State – Madhya Pradesh
Prominent Players – BJP, INC
Key Findings from Madhya Pradesh
After the recent Assembly elections, MP has gone the Gujarat way and is now a fully saffron state

Our survey predicts that there are many voters who voted for Congress on Assembly but would vote BJP in Lok Sabha due to Modi factor

This would lead to BJP getting 53% vote share while Congress falls to 32% votes

The huge gap would ensure that BJP sweeps the state

Twin waves, 1 of Narendra Modi and another of Pro Incumbency of Shivraj Chouhan Govt. would ensure that BJP is powered to its best ever performance in the state
Seats Prediction
Our survey indicates that other then Guna and Chhindwara, BJP will rock and sink the boat of Congress in this state where factionalism has added fuel to the party's destruction fire.
State – Karnataka
Prominent Players – BJP, INC, JDS, AAP
Key Findings from Karnataka
Karnataka has thrown up possibly the biggest upset in our Survey results

Congress just won the elections and it was expected that, powered by the populist schemes, the Green party would

Win almost every seat here

In fact in our October 2013 survey, we gave Congress 23 out of 28 seats

However people have gone delusional sooner than expected and the party is on the verge of being diminished to another single figure show

AAP factor is prevalent in patches and is undoing the Congress
Seats Prediction
BJP is losing 4 seats compared to 2009, while Congress gains 4. However this is still a good news for BJP, which was sunk in recent Assembly elections due to factionalism and intense corruption charges. The news for Congress gets even worse as Union Railways Minister Malikarjun Kharge is predicted to lose his seat in Gulbarga to the AAP.
State – Gujarat
Prominent Players – BJP, INC, AAP
Key Findings from Gujarat
The less said of the Home state of BJP PM Candidate, the better. The state is already under NaMo wave for over a decade now
Last time we predicted a whopping 23 seats here. However there is a stagnation which has occurred. It seems that Narendra Modi, other than doing rallies across the country should do 1 grand rally in his Home state and ask every Gujarati to vote for the pride if he has to breach this stagnation, both in terms of vote share and seat share
BJP is predicted to hold on to more than half the votes at 53% vote share, INC would drop to 34% while AAP would get 3% votes
Seats Prediction
Congress is still latching on to 4 seats and BJP needs a further swing to grab these 4 seats from the Congress.
State – Rajasthan
Prominent Players – BJP, INC
Key Findings from Rajasthan
In last 1 month or so of the BJP govt., people have already started saying that BJP govt. is better than former Congress govt.
The state is engulfed in a massive Modi frenzy. Many voters who voted for smaller parties like that of KL Meena would be backing BJP in Lok Sabha
This would possibly be the 1st big state where Congress is drawing a blank where there is a direct fight between BJP and Congress
Like MP and Gujarat, Rajasthan too would send over a score of MPs to the Lok Sabha this time
BJP consolidates its voteshare to more than the psychological 55%, expected to get 56% votes while Congress struggles at 29% voteshare
Seats Prediction
State – Orissa
Prominent Players – BJD, INC, BJP
Key Findings from Orissa
Many believe that Navin Patnaik wins elections after elections due to pro Incumbency but the actual reason is, he wins due to lack of better opposition and a very strong BJP cadre base in Orissa

Despite this, BJP seems to be losing the plot in the upcoming Lok Sabha elections.

As per our Polls, Congress is not gaining much votes, but BJP is eating into BJD votes, thereby helping Congress in a seat or 2 in the state

It is possible that BJD may end up winning less than the half of available seats in the Coastal state
Seats Prediction
State – Kerala
Prominent Players – BJP, INC, AAP, Left Front, IUML, KC(M)
Key Findings from Kerala
There is a massive wave for Narendra Modi in the backwaters state buoyed by Communal tensions in the state
Entry of AAP is also a game changer as both BJP and AAP are eating into considerable amount of Left as well as neutral votes
As a result, the Left which was expected to do well given the alternate mandate rule of the state is not doing well and Congress is holding its ground

BJP can win 4-6 seats if it puts of good candidates and effective campaigning by Narendra Modi

The contest would be 3 way in over a dozen seats (due to BJP) and 4 way in atleast 5 seats (due to AAP)

Both the Left front and UDF might lose votes, but not so much damage in seats shares. Debutant AAP is expected to notch 9% votes while BJP 20% vote share
Seats Prediction
State – Jharkhand
Prominent Players – BJP, INC, JVM, JMM, AJSU
Key Findings from Jharkhand
BJP was in a state of bother in the 'richest' state of India, due to JVM factor but it seems that the Modi storm which has engulfed neighbouring Bihar, is now blowing in Jharkhand.

The current JMM-INC government is also facing huge anti incumbency and except for a few pockets, people are disgusted with the UPA govt.

Despite not allying with JVM, BJP is expected to sweep. This would come as a bad news for former CM Babulal Marandi

The All Jharkhand Students' Union is expected to garner more votes than JDU (6%) but not enough to win any seat
Seats Prediction
State – Assam
Prominent Players – BJP, INC, AIUDF, AGP, ABF
Key Findings from Assam
Despite communal riots, Congress is gaining

It appears that AIUDF and Congress combination would decimate the opposition
Seats Prediction
State – Punjab
Prominent Players – BJD, SAD, INC, AAP
Key Findings from Punjab
INC is not gaining, but because of AAP cutting anti Congress votes, the Red party would help Congress

Like Delhi, AAP is a force here with close to 18% voteshare
Seats Prediction
State – Chhattisgarh
Prominent Players – BJP, INC
Seats Prediction
State – Haryana
Prominent Players – INLD, INC, BJP, HJC, AAP
Key Findings from Haryana
Marred with Twin anti incumbencies (of state and of centre), it looks highly unlikely that Congress would touch anywhere the half its tally of 2009

Modi wave is sinking both INC and INLD, while AAP is rocking BSP and INC. Hence the Congress seems to get a fatal blow from all quarters

INLD would still hold much of its voteshare but not enough to win too many seats

It appears that a combination of BJP-INLD-HJC might have swept all 10 seats and even emerge stronger in the Assembly Polls
Seats Prediction
State – Delhi
Prominent Players – BJP, INC, AAP
Key Findings from Delhi
AAP is losing its support base of the pragmatic middle class voters, and the section is drifting to BJP

However, the red party is drawing a lot of backward caste votes and also knocking off Congress as far as Muslim votes are concerned

This new churning and counter churning would lead to, the fight being a bipolar, rather than a 3-way

AAP is predicted to get 44% votes while BJP 40%. Whereas the Congress which won 7 seats might struggle to cross 2 figures
Seats Prediction
Note – The survey was done in 3rd and 4th week of January, so parts of the sample would reflect the mood of the people before the AAP Dharna and before the 1st Bills of electricity and water were invoked in 2014
State – Jammu & Kashmir
Prominent Players – NC, INC, BJP, PDP, PP
Key Findings from Jammu & Kashmir
Ruling JNKC-INC alliance facing huge anti incumbency

There is a massive Modi wave in the Jammu region and BJP is almost certain to win the seat

PDP may gain a seat while Congress would lose both
Seats Prediction
State – Uttarakhand
Prominent Players – BJD, INC
Key Findings from Uttarakhand
Congress has lost credibility due to the management of Uttarakhand calamity by the state government

Despite replacing the CM, Congress would be unable to change its fate as per our survey
Seats Prediction
State – Himachal Pradesh
Prominent Players – BJP, INC
Seats Prediction
State – Goa
Prominent Players – BJP, INC
Seats Prediction
States – Tripura, Manipur, Meghalaya, Arunachal Pradesh, Sikkim, Nagaland, Mizoram
Prominent Players – Left, BJP, INC, MNF, NPF, SDF, NPP
Key Findings from the 7 Sister States
Left Front is still strong in Tripura, leaving no room for any other National Party

Congress would retain both the seats of Manipur and 1 seat of Meghalaya

NDA's ally partner and debutant NPP would also win 1 seat in Meghalaya

Due to the recent threats from China and security concerns, it seems that BJP would win 1 seat in Arunachal Pradesh

SDF and NPF would retain their respective seats of Sikkim and Nagaland

Congress would also hold on to its lone seat in Mizoram
Seats Prediction
Tripura
Manipur
Meghalaya
Arunachal Pradesh
Sikkim
Nagaland
Mizoram
Union Territories – All
Prominent Players – INC, BJP
Key Findings
The National parties would more or less retain their seats of 2009 with other players not being so significant except in Chandigarh

In Chandigarh, AAP would cut significant votes of Congress, helping BJP to win

BJP retains Andaman and Nicobar but the fight is quite close

Congress would lose Pondicherry seat to DMK
Pondicherry
Lakshadweep
Daman & Diu
Dadra & Nagar Haweli
Chandigarh
Andaman & Nicobar Islands
—
IBTL survey findings in Dec 2013 ...

Share Your View via Facebook
top trend
what next
IBTL Gallery