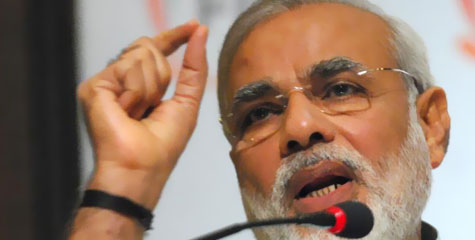 At the inauguration session of 'India Chem Gujarat 2011' conclave, Gujarat chief minister Narendra Modi asked, "Why do we need foreign ink to print Gandhiji's photo?" The CM was referring to the use of foreign ink for the printing of Indian currency. He said that there are Indian manufacturers who produce chemical ink for currency printing, which is used by many other countries but India prints its currency using foreign ink. Modi said that union government should encourage Indian ink.
Modi spoke about taking Gujarat to the next level of the chemical industry. He said, "We are interested in high end value addition products in chemical sectors in the state. We want to encourage product upgradation and environment friendly technological upgradation." Modi also emphasized on keeping chemical industries environment friendly. He said that more NGOs are set up than companies in one year. All these NGOs watch the processes in these industries carefully, so you should keep your plants, processes and technologies environment friendly.
Other than CM, minister of state for energy and petrochemicals Saurabh Patel, Neel Kamal Darbari, jt. secretary, department of chemicals & petrochemicals, ministry of chemicals and fertilizers, government of India and leading industrialists of various chemical industries were present at the event. Darbari applauded the progress of Dahej PCPIR (Petroleum, Chemicals and Petrochemicals Investment Region). She said, "Progress of Dahej PCPIR is an example for other states to follow."
Over 160 participants from across the world are attending the two-day conclave.
Share Your View via Facebook
top trend
what next
IBTL Gallery