Terror plot foiled in Ambala, 5 kg explosives found in car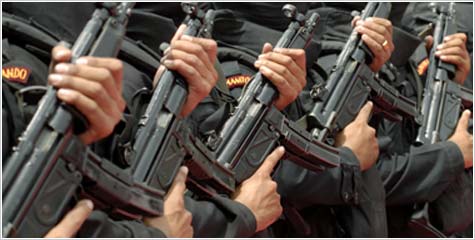 A possible terror attack was foiled just days before the Diwali festival with the recovery of over 5 kg explosives and detonators from a car parked outside the Ambala Cantt Railway Station, police said today.
Acting on a tip-off, a joint police team of Delhi and Haryana found the explosives in a blue Indica car parked outside the railway station last night.
"Five detonators, two timer devices, five kg explosives in two packets and two batteries were seized from the car lying parked outside the railway station," Haryana's Director General of Police, Ranjiv Dalal, who along with senior officials of Haryana Police rushed to the spot, said.
Bomb disposal squads were summoned from Madhuban and other neighbouring places.
A box of sweets was found lying in the car, which showed that it was purchased from Jammu's Bari Brahmna area besides two newspapers from Jammu and Kashmir. The car was bearing a fake Haryana registration number and police suspect that it was a stolen one.
When asked if the intended target of the terror plot could have been Delhi, Dalal said, "Senior officers from various investigating and security agencies are here. We are probing every angle".
As the cantonment area is also located in Ambala, police would also be probing if the target could have been a military installation in the region.
The explosives have been sent for forensic test and a team of National Security Guard (NSG) from Delhi has been rushed to the spot, police said, adding that the nature of explosives was being studied.
Security agencies will be going through the CCTV footages available at various toll barriers in Punjab and Haryana through which the car may have passed, police sources said.
After recovery of the explosives, security personnel thoroughly checked the car, which was bearing the registration number HR-O3-R-0055. The tyres of the vehicle and some other parts were removed to check for presence of any more explosives, the sources said.
In view of the approaching Diwali festival, vigil has been stepped up around key installations and crowded public places including the railway stations in the state.
PTI
Share Your View via Facebook
top trend
what next
IBTL Gallery