Catholic church making money by producing and selling porn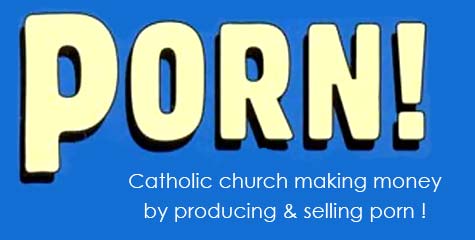 One of Germany's largest publishing companies, Weltbild, that has over 2,500 erotic novels in its online catalogue, is owned 100 percent by the German Catholic Church. Weltbild has an annual turnover of €1.7 billion ($2.4 billion), 6400 employees and has a 20 percent market share when it comes to selling books. That makes it the second largest online retailer of books behind Amazon. Weltbild has a reach over 20 million customers. They are indeed advertised openly no porn, but the catalog shows often frighteningly touts books that speak to the other side of the Catholic Catechism scorn. Among the erotic novels are books of the publishing house Blue Panther Books with prose of his sex series "Anwaltshure", "Vögelbar" and "Schlampen-Internat".
German newspaper Die Welt has published a detailed report that says that the company has been owned by the church for over 30 years. Few Catholics have raised the issue for long, but to no avail. The situation came to light after a report mentioned the erotica distributed by Weltbild. The high point of this opposition came in 2008, when a 70-page report on the book sales was sent to bishops. But over half of the bishops who were sent the report, failed to acknowledge receipt of the document. The response from the Archdiocese of Munich was cynical. The response to the complaints from Archbishop's finance director, Dr. Sebastian Anneser has left little doubt that bishops have own interest in not taking corrective action. The response said that "not every weed can be rooted out".
Church has invested over 182 million Euroes in the company. For 30 years, the flirtation with money and power has gone on. In defiance of ethical and moral theological commitments, the Church has highly pushed up with its own company as a major player in the media business.
The already difficult situation aggravated when the business-minded church people in 1998 went on a merger, after which Church became 50 percent stake holder in the publishing company 'Droemer Knaur', which produces pornographic books, among others, thus itself becoming a producer of porn literature. The bishops are thus indirectly the publishers of pornographic articles. One wonders why media Bishop Gebhard Fürst, who stays out of the controversial public debate, takes no objection, if the Catholic Church co-produced the work 'Sündige Spiele' "meaning 'Sinful Games', or for that matter, titles which in English mean, "Take me here and take me now", "Sex for Experts", "Manual for sex goddesses", "Dirty Stories", "The perfect seducer", "Tell me, bitch!", "Why do men come so fast and women do just as if" etc.
The devout catholics are dismayed because their decade long protest has turned to deaf ears. The church's credibility is at stake. Translated to the current situation: preaching chastity and sell porn, if what the Catholic church is unabashedly engaged in.
Share Your View via Facebook
top trend
what next
IBTL Gallery