Islamic terrorists blast Nigerian Churches on Christmas, want Sharia law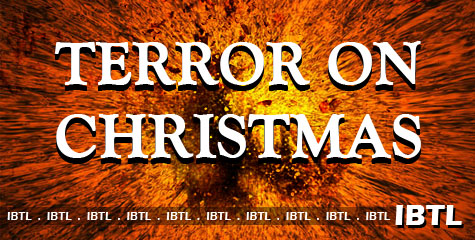 A chain of bomb blasts have taken place in Nigeria on Christmas day killing at least 32 people and leaving several injured. The Islamist group Boko Haram has claimed the responsibility for the blasts. The group has asserted that Nigeria belongs to Allah and it must be made Islamic state governed by Sharia law. Nigeria, has almost equal number of Christians and Muslims.
An explosion took place on St Theresa's Church in Madalla, near the capital Abuja, that killed 27. The church had a capacity of 1000 and the number of casualties is likely to increase. A second explosion hit a church in the central city of Jos. A policeman died during gunfire. Three attacks in northern Yobe state left four people dead. Two hit the town of Damaturu, and a third struck Gadaka. Yobe has been the epicentre of violence between security forces and Boko Haram militants. One of the Damaturu explosions was a suicide car bomb attack on a convoy of the State Security Service. The state lies in Nigeria's so-called Middle Belt, between the mainly Muslim north and Christian south.
The word Boko Haram itself means "Western education is forbidden". The group came into existence in 2002 with the commandment to make Nigeria a strictly Islamic state. - often targets security forces and state institutions. Since 2009 the group has been particularly active. It killed hundreds by storming Police Stations in 2009. Following that, its leader was captured by army. But then, under political pressure, hundreds of prisoners were freed from jail in September 2010 and in December, they killed 80 people bombing Jos. The group carried out an August 2011 suicide attack on the UN headquarters in Abuja, in which more than 20 people were killed. Last month also, coordinated bomb and gun attacks had taken place in Yobe and Borno states of Nigeria. Nearly 70 people have died this week in fighting between Nigerian forces and Boko Haram gunmen in the country's north-east.
More than 1,000 have been killed in religious and ethnic violence in Jos over the past two years. A string of bomb blasts in Jos on Christmas Eve 2010 were also claimed by Boko Haram. Vatican spokesman Father Federico Lombardi condemned the latest attacks as blind, absurd "terrorist violence" that enflames hate.
Such acts of Islamic violence are not new to the world and India specifically. India has had blasts in its National Capital of New Delhi just days before Diwali in 2005.
Meanwhile, in Egypt, Salafist clerics have reiterated that Jews and Christians are 'infidels' thereby calling for offering them the treatment that Quran prescribes for infidels. The Christians are under constant attack and are facing religious cleansing at the hands of Islamic religious extremists. Many Christians have expressed their wish to take asylum at US.
In another Islamic republic of Pakistan, Christian family was not given permission to visit their mother who is in jail facing death sentence for insulting the Prophet of Islam.
Share Your View via Facebook
top trend
what next
IBTL Gallery