Dr. Swamy demands strict action on Fishermen murder issue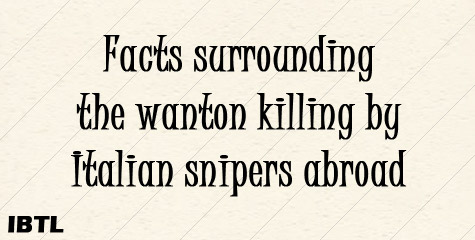 Dr. Subramanian Swamy has demanded strong action by the Indian government on the issue of two Indian fishermen having been killed by Italian snipers just 11 km from Indian coast. The Janata Party president has issued a press release to this effect. The release is published below as is:

The facts surrounding the wanton killing by Italian snipers abroad on Italian Tanker ship of two innocent Kerala fishermen requires firm action by the Government of India especially in view of the fact that the UPA Chairperson Ms.Sonia Gandhi is of Italian origin and is actively seeking to meddle in this case through the PMO's Mr. Pullok Chatterjee, currently Secretary to the Prime Minister.

I therefore demand that the Government of India take a firm line with the Italian Government on the question of diplomatic immunity now that the Italian Government has made that absurd claim. Wanton murder does not entitle any country diplomatic immunity at the investigation and charge sheeting stage.

This is the occasion when the Prime Minister must assert the true sovereignty of the nation especially because the firing took place just 11 kilometers of the coast of Kerala on eleven fishermen in a small fishing boat, nine of whom were visibly asleep. It has to be determined whether the Italian snipers who killed two of the innocent fishermen were at that time drunk and treating the poor fishermen as target practice for that firing. We should no more allow repeat of what happened in Purulia arms drop case when the Government abjectly surrendered to the British Government. Modern India is not mentally any more a captive of the Whites of Europe. It is time such firm signal was sent to Europe.


As per Firstpost, "'Killer' mariners, and the Quattrochi-Sonia connection"

The "killer" mariners are not the first seafaring Italians to come close to the Kerala coast. In fact, their forefathers frequented the coast of central Travancore (erstwhile) which was part of a large Tamil kingdom, for a long time.

There is more to Italy in Kerala. For instance, Alleppey, one of the busiest ports in olden times, is called the "Venice of the East" (It was an amused Lord Curson who exclaimed so though) and a recent movie by the state's superstar Mammootty was titled "Merchant of Venice."

can read the article here ...

Share Your View via Facebook
top trend
what next
IBTL Gallery