A Dialogue with Sri Sri on, How can we create a Harmonious Society?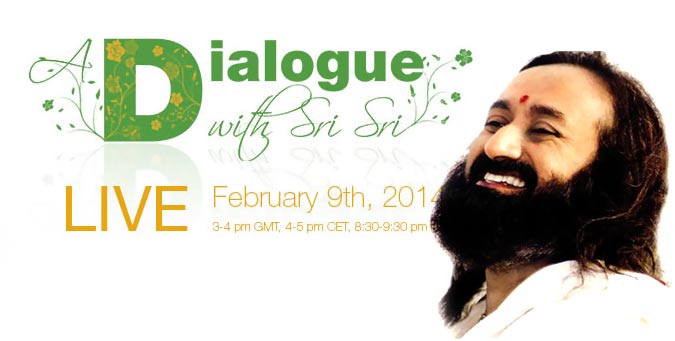 Women are the backbone of any society. Their role in the development of a society is of utmost importance. In fact, it is the key criterion that determines the strength and harmony in a society. Yet, women are constantly searching for answers to the multitude of issues that hinder their progress and peace of mind.
<p center;"="">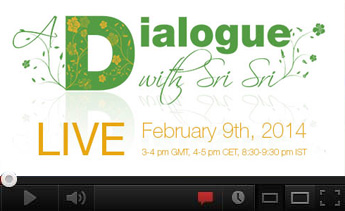 When solutions are infused with human values, when they bring together people from all walks of life and create a sense of belongingness, only then can a violence-free and stress-free society emerge where women are given due regard, respect and importance.
From Trauma relief, women safety, human rights, environmental care to fashion, media and film-making, the discussion is between women who have dedicated themselves to that field and a spiritual Master venerated world over for His wisdom and has the promise of being eye-opening and thoroughly engaging.
This event will highlight solutions and add new perspectives to the challenges we face with a focus on strengthening the resolve for peace, harmony and leadership in women.
Partial List of speakers on the Event,
Ms. Ritu Kumar, Fashion Designer, India

Ms. Vandana Shiva, Environmentalist, India

Dr. Kiran Bedi, Social Activist, India

Ms. Mary Kom, Olympic Boxer, India

Ms. Chanda Kochhar, MD & CEO, ICICI Bank, India.

Ms. Fatou Bensouda, Chief Prosecutor of the Intl Criminal Court of Justice, The Hague

Ms. Maria do Rosario, Human Rights Minister, Brasil

The Honorable Ms. Nancy Pelosi, Democratic and Minority Leader of the House, USA

The Honorable Ms. Naida Glavish, MP, New Zealand

The Honorable Ms. Aliza Lavie, MP, Knesset, Israel

The Honorable Hitomi Tokuda, Consul General of the Kingdom of Bhutan in Tokyo, Japan

Ms. Criselda Kananda, TV Presenter, South Africa

Ms. Annika Doppings, Filmmaker, Sweden

There will also be questions from civil society from Iraq, Senegal, Syrian refugees in Turkey, Hungary and so on.
Audience: Speakers & Delegates of the IWC 2014 at the international Art of Living centre, millions of viewers online from over 100 countries.
Background on online events with Sri Sri:
Sri Sri Ravi Shankar is a spiritual leader and humanitarian whose wisdom and guidance has touched and shaped the lives of millions around the world from over 152 countries over the past 3 decades. His words are timeless wisdom that is practical and profound, easy to understand and integrate in to our lives. His approach to peace has been through inner transformation.
Sri Sri has been engaging with millions of people through online properties including Facebook, google+ and twitter through regular updates and also a series of global events focused on using social media for social good.
The Google+ Hangout with Sri Sri in Jan 2013 was viewed by about a million people from 129 countries. 30 countries participated in the hangout itself. Women leaders including Juliana Paes from Brazil, Presidential Nominee Bothaina Kamel from Egypt, Annika Doppings, filmmaker from Sweden, asked questions to Sri Sri besides Strings from Pakistan, Deepak Chopra, Shaggy, Nobel Laureate Myron Scholes, civil society from trauma affected Israel, post shoot-out Sandy brooks, and other eminent decision makers. This event also had one of the largest count of countries participating in an online event.
Face2Face with Sri Sri on Facebook in June 2013, was once again viewed by over a million people from 148 countries and addressed the most discussed topics of relationships and career, besides opening up young minds to new perspectives on global challenges like terrorism, corruption, natural disasters, suicide etc through questions posed by young politicians and youth from countries including Iran, Iraq, Pakistan, Brazil, Argentina, Korea and Germany.
This event will be furthering the effort to make life a celebration on this planet.
Event Description: Online Interaction with Sri Sri as part of the 6th International Women's Conference entitled Harmony: Evolution Towards Perfection. | Date & Time: Feb 9, 2014; 8:30 - 9:30 pm IST
Share Your View via Facebook
top trend
what next
IBTL Gallery