Black Money: Baba Ramdev leads a mammoth rally to bring back stashed away black money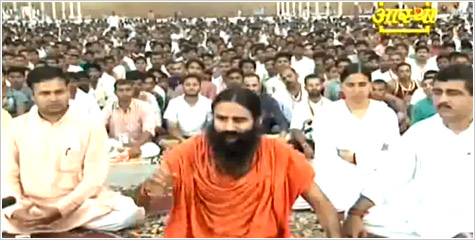 Yoga guru, Baba Ramdev led a mammoth rally here on Friday to bring back black money stashed away offshore.undreds of protestors were seen marching on roadside and shouting patriotic slogans.
"We are walking for about 10 kilometres in this rally. The purpose of this Nation Building March is to bring back Rs. 400 lakh crores, which has been looted by the corrupt people in the country," said Baba Ramdev.
In June this year, Baba Ramdev sat on an indefinite hunger strike in New Delhi with his admirers across 624 districts for a day, in a bid to trigger government action on the repatriation of an estimated 400 trillion rupees worth of black money stashed in offshore accounts.
But less than 24 hours into Baba Ramdev"s fast, Delhi Police broke it up, risking more political headaches for the scandal-tainted government.
Baba Ramdev"s anti-graft stir gave sleepless nights to the government, which is wary of a revival of the public backlash against corruption that was witnessed in the agitation spearheaded by veteran social activist Anna Hazare. Baba Ramdev also added that his objective is to achieve political purity rather than entering into politics.
Ramdev, who runs a 40 million dollar global yoga and health empire and has millions of followers across the nation, is supporting the Hazare campaign. (ANI)
Share Your View via Facebook
top trend
what next
IBTL Gallery