Protest against Communal Violence Bill 2011, Tajinder Pal Singh Bagga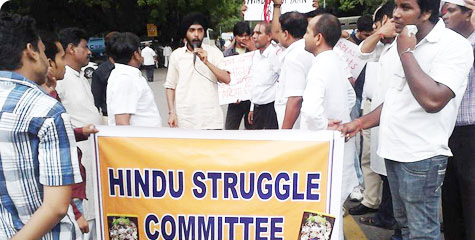 Lets read what is this Bill exactly how it will damage the social system in India. The basic premise behind this new bill is deeply flawed and anti-federal.

This draft bill however proceeds on a presumption that communal trouble is created only by members of the majority community and never by a member of the minority community. Thus, offences committed by members of the majority community against members of the minority community are punishable. Identical offences committed by minority groups against the majority are not deemed to be offences at all.
Page 33: absurd provision- demand for proportional representation of religious and linguistic minorities in Special Public Prosecutor Panels.
It is also ironic that the NAC have adopted definitions from the much maligned Maharashtra Organized Crime Act (MCOCA) and TADA despite having opposed similar legislations pending from other non- Congress states.
Thus a sexual assault is punishable under this bill and only if committed against a person belonging to a minority 'group'. A member of a majority community in a state does not fall within the purview of a 'group'.
A 'hate propaganda' is an offence against minority community and not otherwise. Organised and targeted violence, hate propaganda, financial help to such persons who commit an offence, torture or dereliction of duty by public servants are all offences only if committed against a member of the minority community and not otherwise.
No member of the majority community can ever be a victim!
This draft law thus proceeds on an assumption which re-defines the offences in a highly discriminatory manner. No member of the minority community are to be punished under this act for having committed the offence against the majority community.
If implemented in a manner as provided by this bill, it opens up a huge scope for abuse.It can incentivise members of some communities to commit such offences encouraged by the fact that they would never be charged under the act.
Terrorist groups may no longer indulge in terrorist violence. They will be incentivised to create communal riots due to a statutory assumption that members of a jihadi group will not be punished under this law. The law makes only members of the majority community culpable.
Why should the law discriminate on the basis of a religion or caste? An offence is an offence irrespective of origin of the offender. Here is a proposed law being legislated in the 21st century where caste and religion of an offender wipe out the culpability under this law.
The most disturbing aspect of the Bill is under"Defenders for Justice and Reparations" where in the state authority can appoint any random individual and empower him or her with an interventionist role.
In conclusion it must be noted that this Bill stands out for the contempt and disregard with which it holds the Parliament of India by offering NO ROLE to Parliament in the removal of members appointed to the proposed "National Authority".
Content Shared by : Tajinder Pal Singh Bagga
Share Your View via Facebook
top trend
what next
IBTL Gallery