LK Advani to raise issue of Black money during Yatra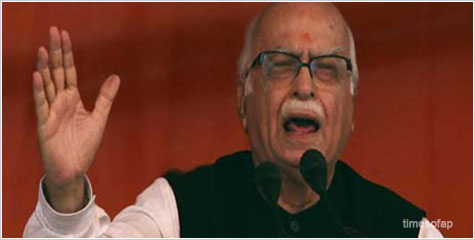 BJP patriarch LK Advani has said that the issue of bringing back Indian black money illegally stashed away abroad would figure prominently during his anti-corruption Jan Chetna Yatra' across the country, among other issues of rampant corruption, price rise and extreme poverty that exists in the country. Notable is that Black money was one of the poll issues of BJP in 2009 but the people of India had then turned a deaf ear to this major issue, and now they're slowly awaking to it, after having realized the billions of rupees lost in various scams under UPA regime, and being crushed daily under never ending inflation.
While addressing a gathering of people from the rural areas of Delhi at his residence, Advani recalled that during the erstwhile NDA government, the issue was taken up with the Swiss authorities but the latter expressed their inability to return the money or share information due to their banking secrecy laws. However, due to pressure from the US and European countries, the laws were changed and Switzerland allowed access to these banking details.
"In 2009, I had rigorously raised the issue of black money during Lok Sabha elections and before that I wrote to Prime Minister Manmohan Singh saying that when the banks in Switzerland, despite their banking secrecy laws, are returning money to other countries like America and Germany, why can't India get its money back?" Advani asked. "I asked him to put pressure on them and bring the money back but unfortunately he did not take any action in this regard. And when I asked him to at least reveal names of those Indian nationals, who had stashed away money abroad, which was our right to know, he did not reveal that either," Advani said.
He insisted that through his yatra he will try to awaken the country and make it realise that India has immense resources and potential to become the number one country in the world.
Share Your View via Facebook
top trend
what next
IBTL Gallery