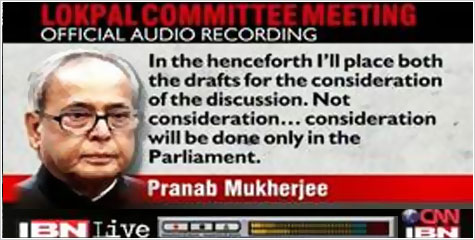 The Lokpal tapes were released by the government in response to an RTI query by CNN-IBN. Here's the excerpts from the final round of negotiations, as published by the channel.
Pranab Mukherjee: In the henceforth I'll place both the drafts for the consideration of the discussion. Not consideration…consideration will be done only in Parliament.
The Government will have to look into it before they give their approval for introduction
Arvind Kejriwal: Cabinet will have to select one of them.
Pranab Mukherjee: Or combination of both.
Arvind Kejriwal: Sir, is this decision being taken now that this will be only for the Centre and we are not working on the simultaneous Bill for the states?
Pranab Mukherjee: For instance, yesterday I received the comments of Punjab Chief Minister, he has flatly stated - 'No need of having it as we have our own act'.
Arvind Kejriwal: Sir my humble submission is, in Right To Information Act also, Central Information Commission and State Information Commission…
Pranab Mukherjee: That is your argument on why it can be done...
Arvind Kejriwal: Opinion of the states were not sought at that time.
Pranab Mukherjee: But I have decided to seek their opinion and I told it in the meeting itself.
Share Your View via Facebook
top trend
what next
IBTL Gallery