We're always at your feet, Madam Sonia ji : Political Sycophancy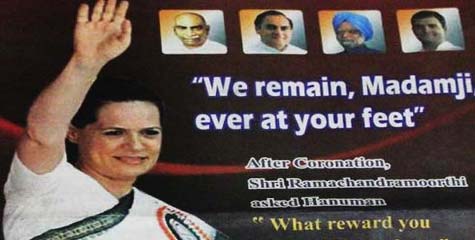 Since Independence, Congress has been synonymous with dynasty politics. History has stood witness to how after Nehru era and Shastri's brief rein, Indira locked horns with Morarji Desai, split the party, and set a precedent where an individual becomes synonymous with the party. The way Rajiv Gandhi was coronated within hours of Indira Gandhi's assassination confirmed the dynasty politics of Congress. And, a fresh chapter was written when Sita Ram Kesari was unceremoniously ousted and Sonia Gandhi took the Congress Presidency. The 'yuvraj' treatment offered to Rahul Gandhi is just an extension of the same.

With dynasty politics, comes sycophancy towards the 'Queen' and 'Prince'. India remembers how an incumbent President of India proclaimed that he can sweep the floor if Madam (Indira Gandhi) asked him to do so, as it was due to her that he held that office. A fresh chapter of this sycophancy has no appeared this new year, as depicted by the pictures.

The New Delhi edition of The Hindu on January 1, 2012 had a full page advertisement by a Congress leader wishing party head Sonia Gandhi a happy new year and promising to remain at her feet forever. It even cited the example of Hanumanji praying to always be at the feet of Shri Ramchandra ji, thereby making a direct comparison between Sonia Gandhi and Lord Ram, while the 'sewak' compared himself to Lord Hanuman.


The advertisement was given by H Vasanthkumar, a Tamilnadu politician who has also been an MLA from Nanguneri constituency in 2006. He also runs a channel, 'Vasanth TV' which was launched by Sonia Gandhi in 2008.

Earlier, Vasanthkumar had given similar advertisement, like one on Sonia's birthday in 2004, describing her as the Top star of Asia, focus of world's attention, recepient of undying love, and last, proclaiming that she had attained the status of MOTHER INDIA. IN yet another, published last year in July, he got Sonia described as the 'Champion of World Peace'.

Vasanthkumar lost his 2011 election by over 12000 votes. Sonia has clearly beaten her rivals like Mayawati and Jayalalitha, who have been other examples of such targets of acts of sycophancy.
Share Your View via Facebook
top trend
what next
IBTL Gallery