Members of the Action Committee Against Corruption in India, ACACI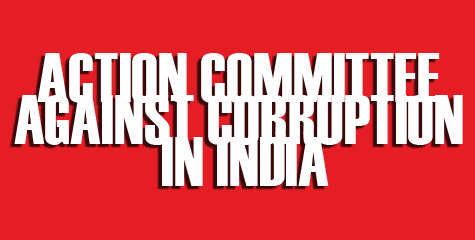 Chairperson of Action Committee Against Corruption in India led by Shri Dr. Subramanian Swamy, President of Janata Party, a noted economist, former Union minister of Law & Commerce in India, five-time parliamentarian and Harvard economics professor. Dr. Swamy has been at the fore front in fight against corruption and has further exposed number of cases on corrupt practices including the recent 2G spectrum scam.

Members of ACACI

Shri K N Govindacharya : Noted Political Ideologue and Social Activist. He is presently the Patron of Rashtriya Swabhiman Aandolan, Bharat Vikas Sangam and Kautilya Research Center. Under his leadership Rashtriya Swabhiman Aandolan had set up the 1st campaign leading to a nationwide agitation in 2008 demanding restitution of black money illegally held in tax heavens abroad.

Shri. Swaminathan Gurumurthy : Swaminathan Gurumurthy, popularly known as a writer and journalist in India, is a corporate adviser of high standing, being a chartered accountant by profession. Highly rated for his investigative writing, he has ceaselessly campaigned against corruption at high places, exposing the bribery in Bofors arms deal and the nexus between corporates and government. The Business Baron magazine rated Gurumurthy's knowledge of economics, finance and accounts as 'outstanding'. BG Verghese, a highly respected journalist, described Gurumurthy in his biography on the media baron Ramnath Goenka as a 'brilliant chartered accountant and exceedingly astute amateur lawyer'. Gurumurthy was rated among 50 most powerful persons in India in 1990 [Gentleman magazine]; as the 8th most powerful [Business Baron magazine 2004]; as the 17th most powerful [India Today magazine in 2005].

Shri Ajit Doval (IPS) Retd. : A highly decorated IPS officer, Kerala Cadre, Shri Doval is the former Director of Intelligence Bureau. A veteran with 33 years experience in the intelligence profession, he has served in the United Kingdom and Pakistan. An acknowledged expert on counter insurgency, he serves as an adviser to various Indian Policy makers and government agencies. An alumnus of the National Defense College, New Delhi he presently serves as the Director of Vivekananda International Foundation, a leading security and foreign affairs think tank based in New Delhi

Shri Prof. Madhav Das Nalapat : Professor M.D. Nalapat is presently the Director of the School of Geopolitics at Manipal University in Manipal, India. A gold medalist in economics from Bombay University, Professor Nalapat's original theories include the India-China-Russia Trilateral Alliance (1983); Wahabbism as the main security threat of the future (1992); "Indutva," or Indians as composites of Muslim, Hindu and Christian civilizations (1995); the concept of the proxy nuclear state (1999); the need in student curricula for a "horizontal" (rather than the traditional "vertical" or graded) view of different societies (2001); and the concept of an "Asian NATO" ( 2002). Dr. Nalapat is also a UNESCO Peace Chair, Senior Associate of the National Institute of Advanced Studies, Board Member of the India-China-America Institute and Associate of the United Services Institution of India.

Dr. R. Vaidyanathan : Dr. R. Vaidyanathan is a Professor of Finance at the IIM, Bangalore. A visiting Fulbright scholar at the University of Georgia at Atlanta, he was a member of the Advisory Committee on Secondary Markets of SEBI, and also Technical Advisory Committee [TAC] on Money, Foreign Exchange and Government Securities Markets of the RBI. He was a trustee of New Pension Scheme [NPS] of the PFRDA and President of the Asia Pacific Risk and Insurance Association [APRIA] headquartered at Singapore. He has published extensively in National and International Journals. He has been working in the area of Black money and Tax havens for more than a decade.

Shri. A. Surya Prakash : A noted author and journalist of repute, he has been a leading commentator on India politics and constitutional and parliamentary issues. He has held key positions in several print and electronic media organizations. He was Editor, Zee News; Executive Editor, the Pioneer; India Editor, Asia Times; Political Editor, Eenadu Group; and Chief of Bureau, Indian Express, New Delhi. Currently, he is a Senior Fellow at the Vivekananda International Foundation, New Delhi. He is the author of "What ails India Parliament", published by HarperCollins in 1995.

Shri Dr. S Kalyanaraman : Shri Kalyanaraman is Director, Sarasvati Research Center, President, Ramasetu Protection Movement in India and BoD member of World Association for Vedic Studies. A graduate in Economics and Statistics, his Ph.D. is in Public Administration from University of the Philippines. He has served as Senior Executive with Asian Development Bank, Manila, Philippines for 18 years and as Financial advisor to Indian Railways as member IRAS since 1962. A multi lingual scholar, he has 18 publications to his credit. He is also recipient of many awards including Vakankar Award (2000), Shivananda Eminent Citizens' Award (2008) and Dr. Hedgewar Prajna Samman (2008)

Shri. V Sundaram (IAS) Retd : An IAS officer of Tamil Nadu cadre, V. Sundaram, took voluntary retirement in 1994. Shri Sundaram has served with distinction in several high positions in Tamil Nadu government from 1966 to 1994. Notably, among them as first Chairman of Tuticorin Port Trust, Managing Director of TN Agro Industries Corporation, TN Small Industries Development Corporation and as Commissioner and Secretary to the government across various departments. An author of several books and monographs, he presently serves as All India General Secretary (Ideology) for Janata Party.

Shri M.R Venkatesh : A practicing Chartered Accountant since 1993 and All India rank holder, Shri Venkatesh is an expert who addresses the Business concerns relating to Economic Policies, International trade and Business strategies. He is also a commentator on International Trade and Economic Affairs. He is a regular contributor to various prestigious publications in India and has been relentlessly campaigning on the issues of Black Money, Participatory Notes and Tax Havens for over several years now. He has written two books; Global Imbalances and the impending Dollar crisis, published in September 2007 and highly acclaimed "Sense, Sensex and Sentiments" published in 2010.

Shri J. Gopikrishna : Special Correspondent with The Pioneer Daily, Shri Gopikrishna is credited with unearthing the Spectrum Scam. It was his 1st published report in mainstream media about Nira Radia's phone recordings and her subsequent involvement in the 2G spectrum scam with former Telecom Minister, A. Raja, which further lead to the major revelations on the 2G spectrum scam.

Shri K. Sampath Iyengar : Eminent Income Tax lawyer and renowned Chartered Accountant . Shri Sampath has experience in the fields of corporate finance, taxation and budgetary controls. He is an auditor and advisor to many large corporates based in India and is considered as one of the top most Income Tax lawyers in the country today.

Shri Saryu Roy : Shri Roy is a well known name in socio-political field in Jharkhand and Bihar. His political carrier was shaped during JP lead famous students movement of Bihar in 1974 which lead to fall of Mrs. Indira Gandhi's authoritarian rule at centre and for the first time congress was dethroned from seat of power in the country.He was a Member of Bihar Legislative Council from July 1998 to July 2004 and Member of Jharkhand Legislative Assembly from February 2005 to October 2009.He was the Deputy Chairman of the Jharkhand State Planning Board for a brief while.He is credited with raising several issues of corrupt practices at helms of affairs in political administration and launching well documented anti corruption campaigns resulting into punishment to corrupt politicians and officials. Prominent scams exposed by him, Bihar Fodder Scam (1996), Iron Ore (Madhu Koda) Scam (1997) & Bank of Baroda Scam (2005).

Member Secretary of the Action Committee Against Corruption in India

Shri Abhishek Joshi : New Delhi based prominent socio-political activist and Management Consultant by profession, Shri Joshi has lead and organized various socio-political campaigns and movements advocating efforts towards impacting a progressive change centered on Transparency and Accountability in Governance of Democratic Institutions. An alumnus of NUS Business School, Singapore, his work areas and interest include in International Law - with focus on Public International Law, Constitutional and Political reforms, developing an ethical, decentralized alternative model of governance, Geo-political strategies and emanating Foreign policy affairs.
...
Share Your View via Facebook
top trend
what next
IBTL Gallery