News Coverage on 'Bharat Bandh' Exposes Media Hypocrisy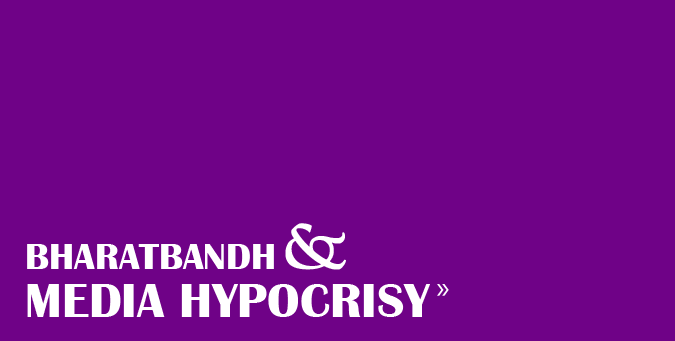 By Titu Shadowson

The IPL is over leaving behind it a trail of controversies, yet the people can't stop talking about "strike rates". National Democratic Alliance (NDA) has called a democratically political strike against the unjust hike in prices of essential goods by UPA ruled government of India. When BJP lead NDA launched a democratic strike, UPA launched undemocratic strikes on the democratic strikers through its stick friendly Thullas(cops) and Congress-pet media houses launched disinformation strikes against the same. I am only trying to calculate whose strike rate is greater.

Strikes and roadblocks have been evolved in India as a major mean of displaying democratic protests. Every party organizes the strikes against the ruling party. Congress used organize strikes during BJP regime, BJP is organizing strikes in congress regime. And now even congress organizes strikes at provincial level at BJP ruled provinces. And have a recent example of a highly disputed strike, February 28, 2012, CPM organized strike against TMC in West Bengal.

Not surprisingly, quite expectedly; the media coverage on the two different strikes is different. And this exposes the media hypocrisy.

Zee News, Star News, Aaj Tak which always glorified, justified and with the editors' great analytical abilities made every possible attempt to indoctrinate the audience into the benefits of such strikes, use their same analytical abilities to blame and malign BJP to disturbing the normal life of the public. The secret behind this U-turn is the political sponsorship and paid-news strategies. The same aspect bears different meanings for different parties. When BJP organizes strike, its unjust; and when Congress strikes, its justified. Most of the electoral campaigns for congress are done by the petro-dollar greedy media rather than its functionaries.

Most shameless is the attitude of the Bengali media towards the strike. In West Bengal the CM, the greatest political dramatist ever seen, had announced yesterday that each absentees from their offices would be scrutinized for his past performance and his salary for the day would be seized. Actually Mamata Bannerjee knows it in her heart of hearts that she has been elected as CM by the biggest historical mistakes of the Bengalis. So she wants to hush up every political protest in her state to ensure her longevity of regime. Similar strategy was adopted on 28 Feb strike called by CPM. As expected, the CPM sponsored channels like 24 Ghanta and Akash Bangla deeply criticized the state's fascist policies to hush up the rebel voices. They were accompanied by Star Anando, a virtual mouthpiece of the congress. Star Anando is known among the Bengalis as a "Bazari" channel which is known for changing sides according as the allies Congress decides. Recently the Congress is fighting a cold war against the TMC, so Star Anando is relentlessly criticizing TMC. On the other hand TMC pets like Channel 10, Kolkata TV, News Time etc were blindly justifying the Mamata strategy. They even justified how on that day the workers (TMC supporters) carried out picnics in their offices itself: hospitals, schools, post offices and even in the Reuters Buildings. However today on the same state-sponsored fascist method, none open their mouth. The communist mouthpieces and Star Anando; all were maligning BJP only.

On 28 Feb, the police carried out relentless lathicharge on the protestors and in the same old CPM style, TMC sponsored goons were wrecking havoc on the common people side by side. The drama was a long one and included numerous climaxes. Firstly; Partha Pratim Ghosh, a young correspondent of Star Anando was kicked like football on the street itself by the TMC cadres and the footage was caught on communist cameras. Though he was very slightly injured with hardly any intolerable pain; the anchor Suman Sarkar in his evening-debate misinformed the public that he was admitted in ICU of a private hospital; in order to draw public sympathy that can be encashed to high amount of TRP. Secondly; CPM leader Tapas Chatterjee vandalized a school named Gopalpur Ramkumar Kamala Vidyalaya. Thirdly; the service revolver of a security official on guard of Rajarhat based TMC leader and strongman Sabyasachi was looted allegedly by the CPM operatives. The policed searched the entire area and arrested so many people ranging from young to old, well built to handicapped, sleeping to eating, everyone they previously listed. The arrests were justified by the pro-TMC media units and were criticized by the anti-TMC houses. Today exactly the same thing has happened: around a thousand of the BJP operatives were arrested by the police. Planned strikes were carried on them by the TMC cadres. The police recklessly lathicharged even the female supporters of the BJP. Madan Mitra threatened the BJP supporters with stern consequences that will destroy their lives. None knows what will happen to them! The dictator CM had already threatened the protesters on 28 Feb, "We will take such stern action against those, that now onwards none would ever dare to call any strike." Isn't it the same Mamata who was known for calling strikes? Mamata has a fake educational PHD from a nonexistent American university, but she certainly has a real PHD quality: Perfectly Hypocrite Dictator. Well, now these atrocities on the BJP operatives are condemned by not even a single news channel, be it a communist or an anti-communist!




A shameless politically motivated media war was going on during the TMC's strike. The pro-TMC papers were borrowing leaves from TMC's press release saying that the strike a mess and there was full attendance in all offices. This theory was challenged by the Akash Bangla, 24 Ghanta and Star Anando which said that the strike was successful. Strangely this time everyone is shedding tears for the disturbance of the public normalcy. Just like a strike called by non BJP parties offer the public some invisible compensations. Strange! Shame!

All the Bengali media houses were propagating that the BJP's strike is not supported by mass and everywhere in Bengal the strike is forced on the public. Let us have a look on the headlines various media houses adopted on the strike:

Kolkata TV: Julumbajir Bandh (Strike of Atrocities)

Star Anando: Hoiranir Bandh (Strike of Harassment)

News Time: Gajorir Bandh (Strike of Force)

The anti-BJP parties and their media-puppets launched several disinformation missions against the BJP. To communalize the strike TMC and CPM supporters from anti-Hindu communities has torn BJP's political flags in various areas of West Bengal like Andul of Hawrah, Kalna, Katva and Burdwan. As obvious and expected the BJP operatives retaliated and as pre planned, TMC pet police nabbed them even before they embarked on the retaliation. Everyone know that in India only the Hindus are communalized, so in West Bengal, most desperately. The BJP operatives would face deadly communal charges on them. Except Andul, all the areas were in Burdwan region, the only Bengali region where Hindus still feel safety, though in recent days there are various communal assaults on Hindus politically backed by the anti-Hindu politicians. So Asansol and nearby areas observed huge success of strike and shops and transport were shut here.

All the political parties through their media puppets carried out propaganda against BJP that their strike didn't have mass support. For that purpose they highlighted that there is exams going on at graduation level in some colleges. Oh really? Graduation exams on May? They should have tried saying competitive exams, which would sound really rational in May month! However on 28 Feb there were several matriculation exam participant among those picked up by the police. They could not sit in exams and the entire year is lost for them. Not just a single year, actually 3 years. The bullshit Bengali educational system is such that once a student fails in board exam, he/she is dumped for two more years, his/her answer sheet is given marks without checking; this is said about them. Ask any Bengali teacher or student. Then only anti-TMC channels were criticizing that, pro-TMC were silent. And now, everyone is shouting. Strange!

Even they telecasted that common people were pushing the BJP supporters off the railway track as they were blocking the trains. It was aimed to propagate that common people didn't respond to the BJP's strike. In reality those "common people" were very common, not from the train, but from the surrounding areas; the local TMC supporters.

Madan Mitra, the great transport minister of West Bengal held a press conference in the Reuters Buildings. A mistaken reporter asked him how BJP could "wreck havoc" in various parts of West Bengal? This was the time when Madan Mitra made his biggest mistake, associating BJP to CPM. "Where is BJP? In West Bengal, BJP is nowhere. Today we have seen forced strikes in north Bengal, in south Bengal, in Kolkata, everywhere. But where is BJP? In Bengal, BJP is nowhere. Actually CPM operatives are doing all these under BJP's flag."

Really? Then why arrest the BJP leaders, why not the communists? If BJP has no base, then how can Badabazar Area, one of the most important area of Kolkata, is controlled by BJP? Why did they arrest 3 powerful BJP councilors from central Kolkata? It is true that BJP is yet to win any single seat in West Bengal, but that doesn't mean BJP is baseless in Bengal. The CPM has 41% voters in West Bengal, but where is that stats in case of seats? Let me explain this logic pretending to be magic.

Consider an electoral area with 100000 voters. CPM wins 30000 votes, TMC 40000 and BJP 30000. As a majority the seat goes to TMC and then all the other stats for TMC and CPM become useless. Their vote share is 30%, 30%, and 40% but seat share is 0%, 0% and 100%. That's the logic. In reality, in many electoral areas, BJP was on lead. BJP has base in West Bengal, all it needs is good leadership. It's not that BJP needs Bengal, but Bengal needs BJP.

CPM and TMC both are equally pro-Muslim and equally divert public attention and malign BJP. Both of them associate BJP with each other, under the indication of their Islamic masters so that people always remain confused on BJP and the only Hindu-caring party never makes it into West Bengal; their first target after victory in Kashmir.

Madan Mitra tried to shed crocodile tears for the transport workers but he is a terrible actor, he needs to take up classes from Amir Khan on how to shed crocodile tears. If someone is thinking how big a sympathizer this man is for the transport workers then please lend me an ear.

24 Jan 2012; the transport minister Madan Mitra shockingly announced that they are going to cut down the number of employees on the Calcutta Transport Corporation and are withdrawing the subsidy. Else how could they arrange comfort for the Muslims! They can increase subsidy for Haj but not for public developments, this is the real face of secular Bengal. "Even if transport employees remain unpaid, we can do nothing," said Madan Mitra. After the shock, on 25th a CTC employee named Vikram Singh working in the Ghasbagan depot of Hawrah, committed suicide leaving behind him his pregnant wife with no money to feed her unborn baby and herself; he was working since last 2 years and was unpaid since last 4 months. Madan Mitra hardly uttered any single word of sympathy. On 29 Jan he said, "How could we subsidize the transport? Will we bring money from America?" He also maligned the transport employees to be working for CPM and taking salaries from department; in the same line Mamata maligned dead Hindu farmers as CPM cadres and businessmen. The same Madan Mitra is now trying to shed crocodile tears!

Well, there is another aspect on the coverage by media that reflects their anti-Hindu strategy. The strike has been called by NDA and not alone by BJP, and in fact non-NDA parties like SP and CPI too participated in the strike at regional level. NDA alley, JDU participated in Bihar. They all used the same "brute force" that BJP is using. Still the maligning coverage fell on BJP only. Why? Because only the BJP cares about Hindus and only it deserves the wrath of pro-Islamic media houses. Even the JDU is extremely shameless Muslim appeaser.

Media houses need to understand that the public is not so moron as they think. The day is coming when the media-hypocrisy will be exposed and the media disinformation agents will receive what they deserve.

Analysis by Titu Shadowson, asansolnews
- - - - - - - - - - - - - - - - - - - - - - - - - - - - - - - - - - - - - - - - - - - - - - - - - - - - - -
Disclaimer: The author is a commentator on issues of national interest. These are his personal views and do not necessarily reflect IBTL's opinion.

Share Your View via Facebook
top trend
what next
IBTL Gallery