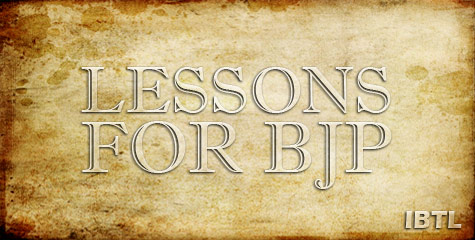 The 5 states have given their verdict and one hopes the victors take forward their respective states growth and help the people of their state achieve their dreams.

Each state has sent a message to their respective stakeholders as well as combined big picture. Punjab has broken the trend of voting out governments and voted back in the Akali-Bjp combine. One of the reasons attributed to the Akalis victory was the much maligned Sukhbir Badal's and his father and CM- Parkash Badals easy availability. At the same time, among the major reasons why Mayawati lost was said to be her aloofness from the people, cut off from the real feelings of people and fed only by a coterie of party assistants and intelligence officials who tend to say what sounds sweet to the ears of their political masters. She had rarely stepped out of her office and toured the state to assess the situation and first handffedback in a vast state like UP.

Move over to Uttarakhand. Despite the huge anti-incumbency thanks to inept administration of Nishank, peoples love for the honest leader and one who was simple and accessible allowed BJP to make a stunning comeback. While the reason for loss of Khanduri is said to be his predecessor in CM post and and also the sitting constituency MLA to whom Khanduri had entrusted his campaign while touring the state, a popular leader like Khanduri just cant loose due to some backstabbing. Such leaders should be ideally able to overcome it. But his opponent was a very popular, former 4 time Mla, who has excellent rapport with locals for his availability. The sitting MLA of BJP too had the same image. With Khanduri hardly able to spend time in the constituency, with the climate reducing his campaign schedules, it helped the opposition as well as backstabbers spread the canard that Khanduri would not be easily available to them. This availability factor and backstabbing helped in Khanduri's loss and also made the difference between which party rules the state.

Thus one of overall big message out of the elections is - be it MLA or CM, they must be easily accessible to the people and frequently tour the state. Jayalalitha should very well read the message, otherwise the writing is on the wall.

Since most of them discuss the picture for Congress I am not going to discuss the message for Cong. The message for BJP is big and huge. The dead cells has reached a stage where major surgery is required and fresh cells inserted. Else the voters have clearly sent the message that BJP is heading towards oblivion as a conglomerate of glorified municpal parties or at best glorified regional parties, if I am allowed to extract that famous term of Jayalalitha to centre.

That the delhi leadership of BJP is part of its big problem is known for quite sometime. But the reactions post verdict made it pretty clear that no lessons will be learnt and instead will be brazened out.

When the BJP performed its worst in 2007 UP polls on the back of the most inept and disastrous presidency by UP local man, most people thought this is the rock bottom and from here only growth is possible. Even in Jan sangh days it hadnt been this worst. But to grow and not to hit further rock bottom, meant corrective measures to be taken. With the same man acting as a hindrance along with coterie responsible for destruction of Kalyan singh to any corrective attempts ,perhaps the result was a foregone conclusion. Not even the result of 2009 awakened the BJP. One expected that when a much touted administrator and man manager in Nitin Gadkari was parachuted to check the Delhi powercentre by Nagpur course correction was on the anvil. This was not to be the case. Nagpur's much famed hands off policy while exercising its power to select the president of party is as much part of the problem especially given its previous choice proved disastrous.

In Nitin gadkari it had chosen a person who was perceived soft and had no mass base to take on the political and media power of delhi leadership of party. Its here that hands off policy of Nagpur hurt the most. Had it been pulling up its choice every forthnight, this power Gadkari drew from Nagpur would have been sufficient to take on Delhi leadership.

Gadkari in the first 15 months of his leadership failed to be assertive. Unlike Akilesh yadav who saw the message in his wife's defeat and Sukbhir Badal in the defeat of 2009 and subsequent split in party and family and applied course corrections, Gadkari and BJP failed to pull up their socks.

Once a decision was taken to reinduct Sanjay Joshi it should have been done officially. Once it was decided that Uma would be the face of BJP, her candidature must have been announced first and declared CM candidate no matter who protested. Instead not only was there a delay in declaring the list, Uma candidature was announced very late thanks to protests from Delhi, mainly from the disastrous past president. What message was being sent when Gadkari succumbed to protest of a leader not to campaign unless his son was given post who incidentally has done nothing to add to party unlike what Akilesh did. This when party was going all out against dynasty politics. Unfortunately voter expect less out of other parties, while they expect very high standards from BJP. This message has come out in many elections. Take the choice of state leadership BJP decided post Nitin Gadkari becoming president. Gadkari, Sushma,Advani campaigned for Shahi and his main contender was a Muslim candidate, yet he lost. Thats how uninspiring was the choice of state president made in Apr 2010. The weak base of Gadkari, this blogger believes allowed the pressurizing of him by Delhi power centre's through the clever manufactured revolt of Munde.

Now move over to Uttarakhand. By last April people were saying unless Khanduri was brought back uttarkhand will be a disaster. Soon Swapan Dasgupta had tweeted BJP was toying with replacing Nishank very soon. Even news channels quoted this tweet of Swapan Das Gupta. Yet a decision was never taken till very late. Who and what prevented an early decision and there is no accountability on this front. When Khanduri was such towering figure, and towering Thakur leader In Koshiyari there to support him, where was the need to pitchfork Rajnath Singh as leader of UK campaign ? And when it is well-known that unhappy Nishank will attempt sabotage, why was he allowed to remain part of state politics? if a Sripad Naik could be prevented to avoid trouble, why wasnt Nishank kept away? If koshiyari was brought to rajya sabha, why wasnt Nishank who was made a vice president packed off to manipur as incharge? And when it is known that Khanduri has to travel around, why wasnt a safe seat chosen for him? That new entrant in manipur- TMC performed way better than BJP again shows the inept leadership of BJP.

The timely recovery initiated in Punjab is large part thanks to the timely interference of Badals. And Goa out and out belonged to Parikkar. There is nothing to cheer for Delhi leadership or even Nagpur. Time and again karnataka has become a mess thanks only to the deadwood allowed to run rot. Without corrective action many more uttarkhand and rajasthan are bound to happen, and delhi would prove to be another UP come 2013

The entire deadwood in UP, karnataka, and delhi powercentres needs to be removed and some towering figures forced retired as graceful reminders seem to have had no effect. It's a do or perish situation currently confronting BJP and Nagpur political vision. Nagpur has to do away with hands off approach and become involved more hands on as it doesn't seem inclined to allow cadres to elect their leader. As Shourie put it a bombardment is needed. Drastic times require extreme actions.

It's also time action is taken in Bihar and its face Suhsil modi is promoted for next few months before finally breaking away as otherwise Bihar is another orissa in making. While power hungry machinations of Delhi leadership has allowed the nonsensical theory of allies wishes to stay afloat while damaging BJP, that very ally is bad mouthing BJP all over and attempting to break BJP in karnataka. It will be prudent to break away by early late mid 2012 and allow anti incumbency to set in while working hard, rather than be washed away when ally decides to break away close to 2014 polls to realize PM ambitions through third front dreams. The third front is not punctured as some claim, as Maya has gained votes and given first 2 days of happennings in UP, she looks all set to make a stunning comeback with 30 MP's in 2014. Also a maya free of the burdens of CM post is dangerous in that she will be a force to reckon in poll bound states before 2014.

# Uttar Pradesh voter Packs off (white) Elephants
# High Court quashes Lokayukta Report, raps Governor too
# High Court, Yeddyurappa's FIR and twitter

Finally one will know if Nagpur has learnt its lesson during the mid march conference coming up. The mesage is project a clean honest, hardworking, easily available candidate for Mp's or perish. This will be even more important in the 80-100 odd urban seats. But the biggest message to nagpur from UP,Goa,UK,punjab for 2014 – project a credible, honest proven face for PM or perish. The choice is obvious.

Author : NR Vithobha | Follow the writer on twitter.com/NR_Tatvamasi
- - - - - - - - - - - - - - - - - - - - - - - - - - - - - - - - - - - - - - - - - - - - - - - - - - - - - -
Disclaimer: The author is a commentator on issues of national interest. These are his personal views and do not necessarily reflect IBTL's opinion.
Share Your View via Facebook
top trend
what next
IBTL Gallery