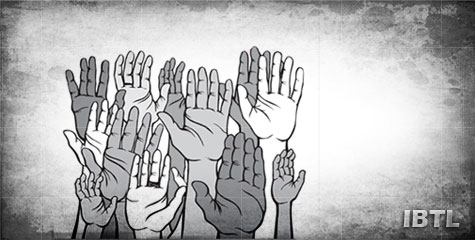 Well known columnist Mr.Ashok Malik in his article in Tehelka wrote
For the moment, the BJP has no option but to work towards a larger coalition — an 'NDA plus', as the shorthand goes — and hope the party itself will have enough MPs to command it
Its a very strange and yet interesting suggestion given the mandate people have given to BJP in 5 state assembly polls last week.

It is strange because the NDA which came into existence in 1998 as a coalition of 13 parties was formed after a strong showing by BJP of 162 seats in 1996 and expected ascendancy in 1998 polls. This attracted many parties for prepoll alliance and a stunning performance in 1998 attracted further support post polls. Further it was a period of flux in Janata parivar and Congress in Bengal and these fledgling outfits needed the single digit vote shares of BJP in those states and central power for survival. This experiment was successful under the leadership of Sri Atal Bihari Vajpayee ji who commanded great respect cutting across party lines and ideologies. Though the governance of NDA from 1998 - 2004 was and is being hailed as one of the best governments the country ever had, it failed to get a third mandate in 2004. In Uttar Pradesh assembly from 172 in 1996 it fell down to 82 in 2002. From 57 LS seats out of 85 from combined UP in 98 to 29 LS seats in 99 when north was being swept by BJP after kargil, one vote loss sympathy, pokhran factors were at work. All thisl when BJP was in power in Delhi & doing some good work. This then dropped to a very low of 10 LS seats from split UP in 2004. Probably that was a wake up call that BJP did not take notice of & it resulted in a disastrous outing in 2007 where it got just 51 assembly seats. This also ensured subsequent loss in 2009 Lok Sabha polls which allowed the MMS led UPA come back for a second term.

And now in 2012 the BJP got just 47 seats. While the party had lost its face in the hindi heartland it has also lost its partners in NDA coalition in Delhi.From a 13 party coalition the NDA is now reduced to just a 5 party coalition. The JDU, SAD & SS are the only significant parties left in the NDA now with BJP. The BJP had conceded its ground to BJD in Odhissa & is now not even in the reckoning in that state given the recent disastrous performance in thelocal polls there. On one hand the party tally in LS has been coming down & on the other hand it has been losing allies which helped it come to power in 1998. This proves one big point that post ABV none of the leaders could either revive BJP or stitch a formidable alliance & keep the NDA in contention. And this is why i find Ashok Mallik's suggestion that BJP must work towards a NDA plus as the shorthand goes very strange & unconvincing.

Interestingly Mr.Malik contradicts his NDA plus idea by saying hope BJP will have enough numbers to command a NDA plus scenario. I say it is contradictory because for BJP to get back to anywhere near the 1998 situation(180 in 1998) or better for a NDA Plus situation it needs atleast 150 seats in the Lok Sabha on its own which is very unlikely given the kind of situation the party is in the state it governs & wherever its in opposition. This target of 150 seats requires peak or record breaking performance in MP,Raj,Maha, Guj, and Kar. There is no hope that any drop in expectations from these states will be compensated by UP as 58% of BJP candidates lost deposits. The BJP has no presence what so ever in the eastern & souther parts of the country. It could have made some inroads in the southern belt by opening some seats in Telangana but it has floundered that too now by some strange reasons that only the Delhi leadership knows. Also the relationship in Bihar & Punjab look fragile in the current environment which has been well explained in the Opinion piece.

The BJP first needs to cross hurdle to emerge as single largest party and also have command of numbers that discourages its allies to look for greener pastures in motley fourth front. So it is important for BJP to get enough numbers on its own to attract and retain allies is a well acknowledged point. In this backdrop it is not important to stitch large prepoll alliances & is more crucial for BJP to go past the 150 seats mark & then attract allies who will support its governance agenda . Hence a post poll larger alliance makes more sense than a NDA plus prepoll arrangement which will not benefit BJP at all. It will also be foolish of BJP in hope of post poll tieups to not name any candidate for PM post. A Jayalalitha,Naidu or Navin will flock to BJP only post poll and not pre -poll (after getting maximum seats from their states where they need no help from BJP) only if the BJP returns a strong performance at the hustings. The fledgling outfits of 98 no longer need BJP as they have outgrown BJP into a behemoth in their region. Bihar is a typical case where BJP had 23 seats in 99 to jdu 18 seats from 54 seats of ombined Bihar. It now contests 15 seats out of the 40. BJP is no longer in a position to dictate terms to these regional parties as it was in 98-99.

For BJP to get to that number of minimum 150 seats to push its cards in Delhi it needs a strong face with proven administrative skills and innovative ideas, which can inspire the voters and fetch their confidence in party. And the road to Delhi is obviously via Gujarat... Narendra Modi :)

Thanks to @nr_tatvamasi for his valuable inputs.

Author : Naveen Gnosis | Follow the writer on twitter.com/emanin
- - - - - - - - - - - - - - - - - - - - - - - - - - - - - - - - - - - - - - - - - - - - - - - - - - - - - -
Disclaimer: The author is a commentator on issues of national interest. These are his personal views and do not necessarily reflect IBTL's opinion.
Share Your View via Facebook
top trend
what next
IBTL Gallery