Is Vijay Goel BJP's best bet in present turbulence?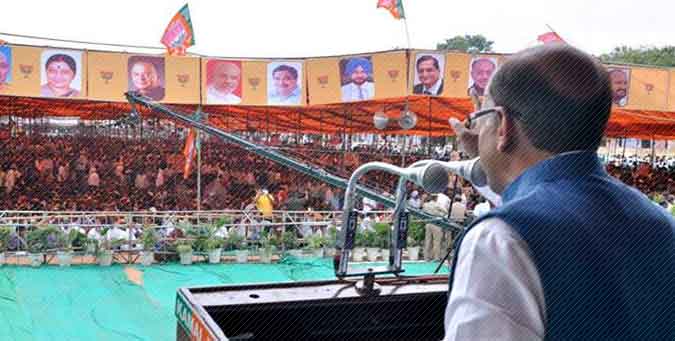 The battle lines for the Delhi Assembly polls have been drawn. Sheila Dikshit's image has never taken such a blow in the last 15 years as its being perceived now. The ire and anguish of Delhi citizens stem out not only due to massive corruption indicted/complicating CM but also with the sheer arrogance, she displays regularly through her insensitive remarks. Last time when a journalist asked her about the rising electricity bills, she suggested him to stop using ACs and shift to fans.
However, the question now is that - if the old lady is playing her final innings then who can unseat her? No matter, how much Arvind tries to make us believe that AAP is the real opposition to Congress in Delhi, the meager size of public turnout in his Jansabhas spares me from commenting on their eventual outcome. Coming to BJP, the party is in opposition for last 15 years, and yet no regional leader has reached to such a stature, to be seen as the leading face of BJP in the upcoming November elections. As rightly believed, the Delhi unit of BJP revolves around 5 leaders: V K Malhotra, Vijay Goel, Aarti Mehra, Vijendra Gupta and Dr. Harsh Vardhan; with infighting being a connecting factor among them. In this case, I even agree with LibertyCrew(CRI), who said that the condition of BJP in Delhi is in many ways like the Congress in Gujarat. Resigning BJP's fate to God, the author does go overboard, launching a series of attacks on the incumbent BJP Delhi Pres. - Vijay Goel, a man at the centre of BJP politics in Delhi today.
Goel hails from a traditional Vaishya family, a community that largely dominates the city, along with Purvanchali and Punjabi settlers. An alumnus of SRCC, Vijay Goel began his political journey when he succeeded Arun Jaitley as President of the Delhi University Student's Union(DUSU). A homegrown RSS worker, he was often imprisoned during the emergency along with his father Shri Charti Lal Goel, also a former Delhi Assembly speaker.
From DUSU, he climbed the ladder to ABVP, BJYM, BJP, and finally to Loksabha in 19 years. However, it was the ban on "single digit lotteries" that not only acted as tipping point in his political career but also made him popular across the nation. His detractors may try to downplay this achievement, but the ban saved thousands of lives and crores of rupees of poor families. Also, in reply to CRI, had the lottery evils been arrested merely by improving the law and order then Kerala, a state often adjudged best in law and order, would not have been selling multiple - digit lotteries officially. The lottery ban was hailed by none other than Atalji who personally endorsed Vijay Goel for the Ministerial birth in PMO. VG means 'Very Good', former PM often remarked. It was his strong on - ground support that drove BJP detractors berserk again when he defeated the 3 - time sitting Congress MP Jagdish Tytler from Sadar and went on to register 2 - successive wins from Chandni Chowk, a minority-dominated constituency. Even within the limited geo - sphere of Chandni Chowk, he campaigned for the 'World Heritage' status by promoting the Ganga-Jamuni tehzeeb of the walled city - Puraani Dilli through his much popular festival Chaudavi ka Chaand, setting up museums, development board, book-publishing, workshops and kites - flying tournaments. For this contribution, he even received the prestigious Sur - Sadhna Award and the Global Excellence Award.
Interestingly, one thing that is same between Modi and Goel, is that both rely on improving the existing structures before building the new ones. Besides being MoS to PMO, Vijay Goel also held the ministerial portfolios of Youth, Labour, Planning Commission, and Statistics and Programme Implementation. So when he took over, instead of taking up new projects, he ensured the timely completion of the pending 160 projects by offering incentives to bureaucrats. Private consultants were roped and few but major projects were taken up that contributed to 93% of overall cost overruns. Sports ministry budget got tripled, private donations surged and sports promotion took the centre stage. For the first time, PM National Sports Fund was setup to encourage people to take up sports as a career. 'Organize as many sporting events as possible', was the motto at Sports Ministry then. He played a pivotal role in getting India, the much-touted and now infamous CWG 2010. Though detractors discredit him on this, the fact remains that 1st Afro-Asian Games and Under - 17 Cricket Asia Cup too were organized under his ministerialship. His website initiative increased transparency in MPLAD works. His time - bound Grievance redressal mechanism in PMO received such a huge appreciation by Atalji that erstwhile PM passed instructions to suspend the officials who failed to resolve the grievances on time.
Even at present, it is a heresy to believe that BJP is failing to prove itself as formidable opposition in Delhi. Within the small time frame of 6 months, the Delhi unit of BJP has held over 400 Jansabhas and 30 Rallies, covering all of 272 mandals of Delhi. The massive turnout of people in Burari and Ramleela Maidan has made even the central leadership sit and take notice of Goel's personal connect with people at the grassroots. However, what sets him apart is his unique approach of highlighting the issues, be it selling tomatoes (now aped by AAP), taking bath from leaked pipes water, books for backward classes, Janata Adalats or community feast with Dalits. In an era where opposition's work has reduced merely to criticize the government policies, Goel setup helpline to assist students with DU Admissions, an initiative that received more than 12,000 calls and saw distribution of 35,000 booklets. Same goes for the presently much-praised MCD school adoption programme that he first implemented in 2003 at Bandook wali gali in Chandni Chowk.
How many oppositions have you seen who have come out with a sector - specific report, with each report detailing issues and counter solutions? BJP Delhi came out with 3 such reports on - Yamuna, Higher Education and JJ Clusters, before the process received halt due to political maneuvers. Reports offer simple and realistic solutions - Competition in Power sector, CAG Audit of Discoms, Opening branches of SRCC and St. Stephens/Miranda in neighbouring states and inflow of fresh water in Yamuna. Taking a leaf out of Modi's model, the Yamuna report proposes to develop riverbanks along the lines of Sabarmati Riverfront in Ahmedabad.
Also with the combined fan following of over 3.5 lakhs on social media, Vijay Goel is way ahead of any other regional politician in Delhi. Leveraging from the same, a voter registration drive was taken up with the aim of getting online BJP supporters ready with the voter cards. The drive saw over 5000 registrations within 3 days.
There should not be any doubt that Goel's hands-on approach is better suited for public than Sheila's cosmetic approach. He not only addresses the issues with required preciseness, but also makes BJP's presence felt in Delhi politics. BJP sympathizers may find not him popular but the same logic goes for other BJP regional leaders too. Also, the popular faces may get BJP win the media debates or twitter battles but if we wish to ensure the lotus blooms this November then it takes a huge public support at grassroot level and that is where Vijay Goel wins through.
Disclaimer: The author is a commentator on issues of national interest. These are his personal views and do not necessarily reflect IBTL's opinion.
Share Your View via Facebook
top trend
what next
IBTL Gallery