Birth Anniversary of Nationalist Pandit Deen Dayal Upadhyaya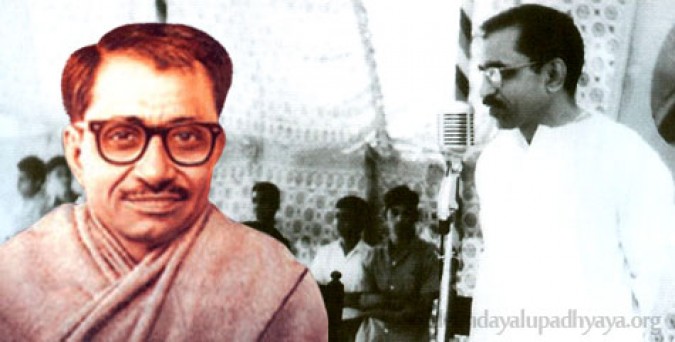 Pandit Deendayal Upadhyaya was born on Monday September 25, 1916, (Ashwin Krishna Trayodashi, Samvat 1973) in the sacred region of Brij in the village of Nagla Chandraban in Mathura District. His full name was Deendayal Upadhyaya, but he was called Deena by the family. His mother Shrimati Rampyari was a religious-minded lady and his father, Shri Bhagwati Prasad, was Assistant Station Master at Jalesar. His great-grandfather, Pandit Hariram Upadhyaya was a well known astrologer.
An astrologer who studied his horoscope predicted that the boy would become a great scholar and thinker, a selfless worker, and a leading politician - but that he would not marry. After his birth, two years later, his mother Shrimati Rampyari gave birth to her second son, Shivdayal. He lost his father Shri Bhagwati Prasad when he was less than three years old and his mother before he was eight.
Two years after his mother, Shrimati Rampyari's death, her father Shri Chunnilal, who was bringing up her two sons to his village Gud Ki Mandhai, near Fatehpur Sikri in Agra District, as a legacy of his dead daughter, also passed away in September 1926. Deendayalji was in his tenth year at that time. He was thus bereft the love and affection of both his parents and his maternal grandfather. He started living with his maternal uncle. Deendayal's aunt was sensitive to the feelings of two brothers; she brought them up like her own children. She became a surrogate mother to the orphans.
The ten year old Deendayalji became a guardian for his younger brother at that tender age; he looked after him and took care of all his needs. When he was in the ninth class and in his eighteenth year, his younger brother Shivdayal contracted smallpox. Deendayalji tried his best to save Shivdayal's life by providing him all manner of treatment available at that time, but Shivdayal also died on Nov. 18, 1934. Deendayalji was thus left all alone in this world.
He later went to high school in Sikar. Maharaja of Sikar gave Pandit ji a gold medal, Rs. 250 for books and a monthly scholarship of Rs.10. Pandit ji passed his Intermediate exams with distinction in Pilani and left to Kanpur to pursue his B.A. and joined the Sanatan Dharma College. At the instance of his friend Shri. Balwant Mahashabde, he joined the RSS in 1937. In 1937 he received his B.A. in the first division. Pandit ji moved to Agra to pursue M.A.
Here he joined forces with Shri Nanaji Deshmukh and Shri Bhau Jugade for RSS activities. Around this time Rama Devi, a cousin of Deendayalji fell ill and she moved to Agra for treatment. She passed away. Deendayalji was very depressed and could not take the M.A. exams. His scholarships, received earlier from Maharajaj of Sikar and Shri. Birla were discontinued.
Source ― deendayalupadhyaya.org
Share Your View via Facebook
top trend
what next
IBTL Gallery