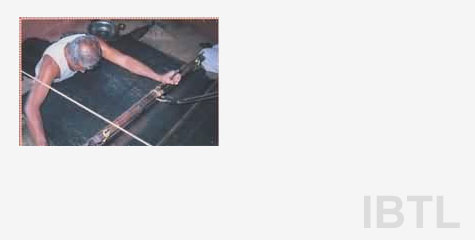 Mata Balak Utkarsha Pratishthan (MBUP) is engaged in providing basic facilities such as health, education, drinking water, sanitation, hygiene, etc. to bring a revolution in Sangola village of Solapur district.

Health is one of the prime requirements of any society; specifically in rural areas where people are least bothered about health facilities. Mata Balak Utkarsha Pratishthan team talks to villagers and convinces them by providing answers to all the questions and doubts. MBUP has implemented several programmes which provide better healthcare facility. There has been a gradual change in the attitude of the people towards health care and hygiene.

Making rural population aware of health issues is not an easy task. A special effort is made to provide better medical facility for mothers and infants. A team of doctors and social workers identify the expecting mothers and convince them to follow the systematic framed plan, which contains diet as well as other precautionary measures. Regular vaccination, monitoring and treatments is provided for expecting mothers and infants. Convincing them to accept the modern medical treatment along with the age old practices is a big challenge, but due to strong dedication, MBUP team has succeeded in implementing this in many remote areas. This effort has resulted in drastic decrease in mortality rate of mother and infants. Earlier, due to lack of proper medical facility, people were solely dependent on traditional healers. Now the scene has changed completely, even an illiterate young woman knows about medical facilities and its benefits.

Aarogyadoot

U V Patel Foundation, through Seva Sahayog, gracefully donated a mobile van popularly known as Aarogyadoot which is working since April 2008. As the name depicts, it is working as a messenger of health. This van visits five villages in the interior areas where currently no medical facilities are available. The doctor accompanying the van provides medical service to the villagers once in a week, the work being very similar to an OPD. The fully equipped mobile clinic also contains a well maintained small pharmacy which provides medicines at very affordable rates .Having this kind of advanced facility is really a boon for the remote villagers. Along with the doctor, a team of nurse, social worker, a teacher/trainer for children, SHG supporter also visit these villages. The advantage is the spread of other developmental initiatives like informal education, hygiene, financial independence, fighting against atrocities etc along with providing the medical facilities.

Water harvesting

MBUP has successfully built up a low cost water body, where water is collected from the available source through lift irrigation and then utilized for agricultural purpose. This pilot initiative had helped a farmer to manage a big pomegranate orchid.

Utkarsh Primary School

Mata Balak Utkarsh Pratishthan initially began a play school and kinder Garden and soon opened a primary school. Providing quality education for rural children is the aim of the organization. Various innovative teaching methodologies are practiced by the teachers. All efforts are taken to assure that the culture and moral values are given to children.

Conventional education system is not adequate enough to equip a child for challenges of fast running world. Keeping these things in mind, timely programmes are organized, where in children are familiarized with various issues. Practical knowledge is imparted in an informal way, which is joyfully accepted by them. Giving the required exposure at the right time on various issues helps them face challenges. Issues such as bank transactions or governmental office work are also explained to these rural children.

Unmesh-A Personality Development Programme

Being a small town away from city, children find themselves lagging behind as compared to children of any urban locality. To break this barrier, guest lectures are organized. Experts from various fields guide the children in a proper manner. These programmes make them aware of their potential and also to guide them to make the best use of available resources.

Kishor-Kishori Vikas Prakalp

The adolescent period is a very crucial point for any individual. There is equal chance of getting diverted towards wrong direction. In this programme, children are guided in a proper way. All the participants feel comfortable and through sessions of different types, all the essential information is provided in a simple manner. Experience of the parents help children learn a new way and lead a better life ahead.

Utkarsh Kala Vardhini

Women spare their time to benefit from the music, which has resulted in enhancement of their self confidence. A significant change in their personality has been observed as they gain the sense of achievement by learning new lessons in music.

Ghongadi Cluster Development

MBUP came across the families of shepherds, the artisans weaving blankets, wool workers through the self help groups. Here the entire family used to work in the same profession. Their income was low; the debts were high, living conditions unhygienic and unsafe. A detailed project report was prepared, accepted and is being implemented from the last couple of years. Study tours and training programmes for weavers and other artisans were arranged. In 2006 -07, there were only 7 handlooms which were being operated. Today, there are 22 handlooms which are in operation. MBUP participated in NABARD's Gram Sampada exhibition in Pune and got the first prize.

Contact:

Mata Balak Utkarsha Pratishthan
Deshpande Lane, Opp Kelkar Hospital, Sangola
District Solapur, Maharashtra, India
Pin code - 413 307
Phone no: +91 2187 220741 / 221073
E-mail: [email protected]

How to reach:

By air: Solapur does not have an airport. The nearest airport is Pune, at a distance of 253 km. Sangola village is located at a distance of 97 km from Solapur.
By train: Solapur has a railway station and is connected to most major cities in India.
By road: Solapur is well connected to all parts of Maharashtra by state transport buses.
... ...
Share Your View via Facebook
top trend
what next
IBTL Gallery