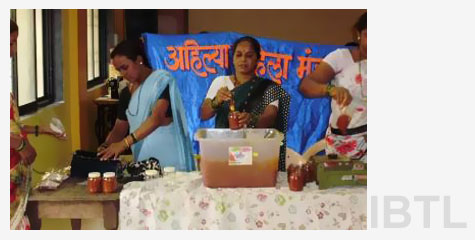 Ahilya Mahila Mandal was established in 1997 with a view to provide self employment to women so as to make them self sufficient. For any nation to succeed, empowerment of women is necessary. A woman grooms the child so that he or she becomes a responsible citizen of tomorrow. Mother is the first teacher of a child. Women empowerment holds a special importance in India whose history is largely influenced by great women like Jhansi ki Rani.

Earlier, the work of Ahilya Mahila Mandal began with the production of snacks (Chakli) flour. Then the organization started provided training in tailoring. The authorities of Hetavane Dam Project also requested the centre to run a primary school in their colony and thus the work started gearing up. At present, 90 members jointly bear the responsibility of the mandal and about 40 women are the field workers. The work of the organization is now growing by leaps and bounds. A variety of projects are now run by the mandal such as :

1) Mukti Vidya Mandir: Even after several years of Independence, the tribal population is still deprived of education. In order to enlighten the tribal masses, a primary school was started at Hetavane village in 1997. The village is located at about 8 km distance from Pen. At present, the school runs two kindergarten classes and four government recognized classes from standard one to four with a total number of 190 students. In 2004-05, one of the students stood first in the scholarship examination in Raigad. This itself indicates the hard work which the teachers have put in.

2) Swad Bharati: Health is wealth that depends upon good food. In order to provide quality food to the students studying in hostels as well as the bachelors, homely mess Swad Bharati was started in 1999. Students who come from far flung places to the town and bachelors who come in search of work do not feel homesick now!

3) Swayamsiddha: In order to focus on all round development of women, Swayamsiddha centre was established in 1996. The centre provides self-employment training in the areas such as tailoring, painting, weaving, clay-modelling, Ganapati making, etc. Till now, over 300 vanvasi (tribal) women have received training here.

4) Maher (mother's house): Nowadays, working women hardly get time for preparing snacks at their home. Instead, they prefer to buy readymade food products. At Maher centre, that was established in 1996, various food products such as pickles, snacks, sweets, etc are manufactured. This saves a lot of time as they get quality food at cheaper price to suit all the festival occasions.

5) Counselling Centre: This centre was established in 1997 so as to give legal advice to women regarding marriage problems. So far, eight couples owe their happy married life to this centre. Five alcoholics have quit drinking. The centre has also helped poor girls to get married.

6) Sanjeevan Ashram: In order to take care of old men, Sanjeevan old age home was opened in 2003. Elderly people who stay here have an immense treasure of knowledge that can be tapped and effectively utilized for the growth of the organization.

7) Dr Ghate Health Centre: Generous relatives of Dr Gajanan Vinayak Ghate donated his house which now also serves as the house and office for the old. The centre was established in 2004. Poor patients are treated by charging nominal fees. Yashoda Pathology Lab also helps in the diagnosis.

8) Indira Sanskrit Pathshala: Sanskrit is regarded as the mother of all languages but still it is neglected. At Indira Sanskrit Pathshala, a special knowledge of performing various rituals is provided in addition to the school curriculum. At present, about 100 students of various age receiving education here.

9) Nataraj Nrityalaya: At this dance academy, classes are held once/twice a week so as to provide training in Katthak dance. Nearly 60 women have learnt classical dance in the camps that are arranged regularly.

10) Swanand Sanskar Varg: At this cultural training class that is held every evening, children play, climb trees and live life to the fullest by enjoying themselves. A proper justice is provided to their childhood which is hardly to find nowadays. Nearly 80 kids enjoy this activity. Snacks are also provided to them once a week.

Apart from all these projects, an yearly get together for women is also organized. Around 500 women take part in this programme and about Rs 10,000 are spent to provide them with breakfast, dinner and a small memento.

Hostel for students of Sanskrit Pathshala; expansion of Sanjeevani Ashram; playschool for children; blood bank; ladies hostel; cottage industry; mobile dispensary and school for the handicapped are some of the future projects on anvil.

Contact :

1) Smt Vasantitai Deo
Dr Ghate Wada, Ziral Ali
Pen, District Raigad, Pin 402107
(Maharashtra, India)
Telephone no: 02143-256718/255172

2) Seva Sahayog Foundation
1st Floor, Pitruchaya, S. H. Paralkar Marg,
Shivaji Park, Dadar (West), Mumbai 400 028
Tel. 24446094, Fax. 24456000, Mobile: 9833994754
E-mail: [email protected]

How to reach:

By road: Pen is located approximately 80 km from Mumbai. It can be reached from Panvel (30 km away) by the Mumbai-Goa Highway ( NH-17 ) or from Mumbai-Pune Expressway by Khopoli-Pen State Highway (25 km away from Khopoli).
By railway: Pen station lies on Konkan Railway. Most long distance trains do not stop at Pen, however a local train service running from Diva to Ratnagiri can be used to reach Pen.
By air: Nearest air port is at Mumbai.
... ...
Share Your View via Facebook
top trend
what next
IBTL Gallery