Pragati Pratishthan transforms the face of agriculture at Jawhar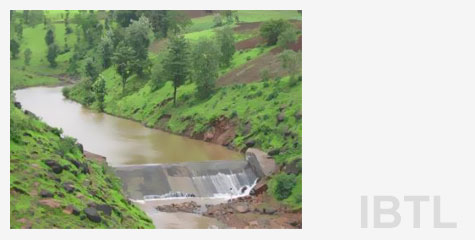 The hilly terrain of Jawhar, that was once deprived of basic facilities has now become self-sufficient in agricultural produce because of the innovative and disciplined farming methods implemented under the guidance of Pragati Pratishthan.

Pragati Pratishthan is a Non Governmental Organization (NGO) working in the area of education and rural development since 1972. The organization was started with a rehabilitation project in slums of Thane. Decent houses for slum dwellers along with water and sanitation facilities were provided by the organization. Over a period of time, the scope of work was expanded in the areas of education, watershed management, women empowerment, energy, employment, food and nutrition programme for children, agriculture etc.

Regarding agriculture, the focus is currently being laid on tribal Jawhar tehsil in Maharashtra's Thane district that is inhabited in 272 hamlets called 'padas.' Its total population is approximately 1.5 lakh, out of which 90% belong to Scheduled Tribes & Scheduled Castes. More than 80% families belong to BPL (Below Poverty Line) category. Most of the villages do not have good roads and the situation becomes worse during monsoon. In spite of many government schemes, people are extremely poor & lack basic amenities such as health, education, irrigation & employment. 80 to 90% population is engaged in agriculture. Major crops are rice & Ragi. The overall productivity is low because:

■They follow traditional methods of farming.

■Due to hilly terrain, they cannot use mechanical means of farming like tractor.

■Non availability of good quality seeds.

■Being hilly area, water flows down to plains and farmers are left with no water after monsoon. Hence they grow only one crop.

For improvement in agriculture, the foundation has joined hands with another organization, Syngenta Foundation. Pragati Pratishthan, with the help of graduates in agriculture, is disseminating information regarding new techniques of farming. For this purpose, information centres for agriculture (Krushi Mahiti Kendra) have been set up at various places. 'Pragati Krushi Vikas Mandals' have also been formed with local progressive farmers, who impart knowledge to other farmers in nearby areas & provide continuous help & guidance.

Apart from giving information, farmers are motivated to adopt new techniques. They are guided to grow good quality seeds and make these available to farmers. Guidance is also provided regarding the techniques of sowing, pest control, manure etc. There is a continuous hand holding till the crop is harvested. During the last few years, farmers who have adopted new techniques have seen more than 50% rise in their yield/acre. A new variety of vegetables has been introduced in the region so that farmers' income improve. Kitchen gardens have been developed where farmers can grow vegetables for their own use.

In this hilly area, water retention is very important. For this, dams of various kinds are built. Check Dam is a cement concrete dam & is long lasting. It can also withstand greater force of water current. However, it is expensive (Rs 4 to 6 lakh) and is therefore limited in numbers. Vanrai Dam is very economical (Rs 2000) but is useful only if current force is low & its life is generally one season. Wiremesh Dam costs around Rs 30 to 40 thousand and lasts for a longer period. Apart from storing water for direct use, these dams help in raising ground water level. This helps in improving availability of drinking water through wells.

Another inexpensive method of storing water is farm ponds which are built in the fields of individual farmers. These ponds are lined with 'Silpaulin' to preserve water for a longer period. Farmers use this water for growing vegetables or flowers after monsoon. As the pond is situated close to the field, the farmer does not need pump to use it.

For sustainable development in tribal area, it is necessary to supplement their agricultural income through other activities. As a part of this initiative, a rehabilitation centre is run for deaf and mute children, where they create 'Warli Art' articles. The centre helps villagers for kaju (cashew) processing, farming and provides them machines & equipments. A marketing training is also provided to them. Various vocational training programs are organized like nursing, tailoring, poultry farming, masonry, driving, DBRT (Diploma in basic rural technology) etc.

In Jawhar tehsil, the availability of electricity is poor. Even many padas do not have provision for electricity supply. Also, tribals use wood as a fuel leading to deforestation. Hence the centre is trying to create non-conventional energy sources like bio-gas, solar energy, bio fuel from Jatrofa seeds etc.

A bio-gas plant is built in the hostel that is used for cooking food for more than 70 students. In far flung villages, people have been using kerosene lamps. The centre provides them lamps powered by solar energy. Each hut is provided with a solar panel & 2 bulbs. Solar lights are provided in common area also.

Contact:

1) Anil Dingore
Tendulkar Smruti, opposite petrol pump,
Tehsil: Jawhar, District: Thane
Tel : 02520-222454 Fax : 02520-223140
Email : [email protected]

2) Sunanda Patwardhan
Jeevanchhaya, Ram Maruti Road,
Naupada Thane(W)-400602
Tel: 022-25389800 Mob: 9423027931
Email: [email protected]

3) R C Aggarwal
503 A, Broadway cooperative housing society,
Hiranandani estate, G.B. road,
Thane (W) 400604
Phone - 022 25861412 Mob - 09702172209
Email - [email protected]
Email: [email protected]

How to reach:

By Road: Thane, which is adjacent to Mumbai is about 100 km from Jawhar. From Nasik it is 76 km.
By Rail: Nasik and Thane are major stations on Mumbai-Howrah rail route. These two cities are well connected to major cities in India.
By Air: The nearest air port from Jawhar is Nasik. Mumbai international air port is 124 km from Jawhar. Taxis are easily available for Jawhar.
... ...
Share Your View via Facebook
top trend
what next
IBTL Gallery