Deendayal Upadhyaya Institute: Multi-dimensional Service for Handicapped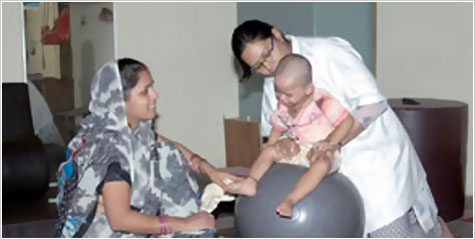 Pt Deendayal Upadhyaya Institute for Physically Handicapped is engaged in the noble work of providing treatment to differently-abled section of the society. The institute came into being as an autonomous organization in the year 1976. It was started by late Nirankar Swaroop as a Non-Governmental Organization in late fifties to cater comprehensive rehabilitation services to children and persons with disabilities. It started the pioneering work of manpower development in field of Physical Therapy and Occupational Therapy in the northern part of country.

Apart from manpower development, the institute is providing comprehensive rehabilitation services to the persons with locomotor disabilities. These include aids and appliances, social, vocational and psychological counseling and job placement services. For human resource development in the field of rehabilitation, the institute conducts various courses such as Bachelor of Physical Therapy, Bachelor of Occupational Therapy and Bachelor of Prosthetics & Orthotics.
Assessment Clinic: The objective of the Assessment Clinic is to evaluate and assess the patients for therapeutic, aid and appliances requirement of the patients and for referring them to appropriate departments for their treatment, therapy and rehabilitation. Registration of new patients is done at a nominal charge of Rs 10.
The registered patients are examined by orthopaedic surgeons, pediatricians and other doctors in the assessment clinic for their rehabilitation requirements. After initial assessment, the patients are sent to various units such as Physical Therapy, Occupational Therapy, Speech Therapy and Workshop for providing therapeutic treatment and fitment of aids and appliances. The institute has also arranged the services of a clinical psychologist on specific days for providing psychological counselling to the patients and persons with disabilities and family members. A medical officer has been engaged to examine and provide general medical care to the employees of the institute. An Ayurvedic Physician is also working on an honorary basis to attend the Assessment Clinic once a week.
Occupational Therapy: The department is equipped with sophisticated occupational therapy equipments. This Department, apart from imparting training to Bachelor of Occupational Therapy students, also provides treatment & rehabilitation to the persons with neuromuscular and skeletal disorders. Occupational Therapy is intended to restore physical functions in daily living activities, development of work tolerance & maintenance of special skills. The patients who suffer from poliomyelitis, cerebral palsy, traumatic limb injuries, spinal cord and nerve injuries, Spina Bifida and all type of arthritis are assessed, evaluated and treated in this unit by using various therapeutic activities and equipments to improve or restore functional capabilities.
Speech Therapy: Speech Therapy unit provides services to persons affected with speech and hearing disorders covering all age groups. The services are being provided in the form of speech and hearing assessment. Speech Therapy and hearing aids are also provided to needy hearing-impaired persons. Speech therapy outpatient services also receive patients referred by different hospitals for speech and hearing evaluation and therapeutic management. Speech Therapy Department is equipped with audiometer speech trainer, impedance audiometer etc.
Physical Therapy: Physical Therapy Department is equipped with latest electrotherapy and exercise therapy gadgets. The patients who suffer from neurological, muscular and skeletal disorders are provided therapeutic treatment to relieve pain, increase muscle power and restore mobility of the affected joints. The Department of Physiotherapy is equipped with electro-therapy modalities viz Short Wave Diathermy, Vibrators Interferential Therapy, Laser, Ultrasound, Transcutaneous Electrical Nerves Stimulator (TENS), electronic cervical and lumbar traction, Paraffin Wax Bath, etc. Students and internees of Physical Therapy also undergo clinical training in the department.
Workshop: The Prosthetic and Orthotic Workshop is catering aids and appliances services to the persons with disabilities. The workshop division is providing prosthetic and orthotic appliances free or at subsidized rate to the needy disabled. The aids and appliances are provided under ADIP scheme of the Govt. of India. A new material called rigid polyurethane foam, as substitute of the willow wood has been introduced. This is used for artificial limbs. It makes the weight of the prosthesis lighter than wood. This type of prosthesis is quick to fabricate and is light in weight in comparison to the conventional prosthesis. Qualified professionals are engaged in the workshop to yield a more scientific approach towards the design and development of prosthetic and orthotic appliances.
Social and Vocational Counselling: The social workers of the institute provide counselling to the patients and their family members for their comprehensive rehabilitation. Various other services like job placement, vocational training, self-employment, placement in schools and old age homes are arranged for disabled persons.
Contact:
Pt Deendayal Upadhyaya Institute for Physically Handicapped
4, Vishnu Digambar Marg,
New Delhi, India, 110 002.
How to reach:
By air: Indira Gandhi International Airport at Delhi is connected to all the important cities across the globe.
By rail: The city has three main stations at New Delhi, Old Delhi, and Nizamuddin.
By road: Strong network of roads, highways connects Delhi with all parts of India.
Share Your View via Facebook
top trend
what next
IBTL Gallery