Tribal students who cannot afford to opt for a private hostel : Vishwa Hindu Parishad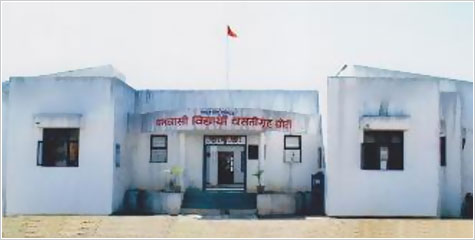 Vishwa Hindu Parishad's Vanvasi Vidyarthi Vasatigruh has fulfilled the residential need of tribal students who cannot afford to opt for a private hostel that is beyond their economic reach. The boys hostel that was started with just 13 needy students from the surrounding region has now provided a great relief to these students belonging to economically backward sections of society.
Established in the year 1987, the hostel is situated at Ghoti in the tribal area of Maharashtra's Nashik district. There were no sufficient educational facilities available for tribal children and students in this area. The hostel for such students was a great need at the time. Therefore, VHP karyakartas at Ghoti decided to start a boys hostel and initiated a step in this direction.
Namdeo Shelar made his two rooms available for the purpose without charging a single penny. Thereafter, the land was made available and a simple building was constructed in 1992. Till 2006, the hostel was run in the said building. Vanvasi Durbal Ghatak Vividh Seva Prakalp Nyas, Nashik purchased half acre land at Ghoti and constructed a new precious 4000 sq ft building and the hostel was shifted to this new premises in March, 2006. The new hostel building was inaugurated by Pravinbhai Togdiya, secretary general of VHP, in a grand ceremony. The nyas is a care taking organization to look after day to day matters of the hostel on behalf of VHP. In this new building, enough facilities are provided to the hostellers.
The hostel now runs in a well-equipped building where the infrastructure such as water, electricity, road etc are available. As ample space is available, the nyas is providing other facilities such as computer training, sports etc. The hostellers are promoted to participate in various competitions at school levels. The hostel has maintained 100 per cent result since many years. One of the students bagged 91 per cent marks at SSC examination. The volunteers of Adhar Foundation from Nashik visit every Sunday and give educational guidance to the students. Apart from this, students are encouraged to stretch their potential in various fields like drawing, quiz contest, etc.
The villagers always extend their cooperation to the hostel. A local committee from amongst the villagers is an asset for the hostel. The Social Welfare Department of Maharashtra Government conferred Best Hostel Award to the hostel twice in 1991 and 1993. Ghoti Grampalika has also extended its support and help by providing water supply to the hostel free of charge.
Till now, 450 students have been benefited by this hostel and are working in different sectors; some have become teachers, lecturers, some are working at government offices whereas some are rendering services in technical field. Their families are now well settled. They are also helping the needy students from their villages. They keep contact with the hostel, visit regularly and help also. A permanent 80 G certificate has been obtained by the nyas to have the donations exempted from income tax.
Contact
Vanvasi & Durbal Ghatak Vividh Seva Prakalpa Nyas 20, Shri-Kripa Apartment, behind Hotel Neelam Old Agra Road, Near Ashok Stambha Nashik, 422 001, India Phone : +91253 2353014 Mobile : +91 9890368689 Email: [email protected]
How to reach:
Ghoti village is located at a distance of 35 km from Nasik and is easily accessible by bus. By air: Mumbai Chhatrapati Shivaji International Airport, which is 180 km away from Nasik, is the nearest airport. By train: Nasik Road railway station is about 9 km away from Nasik city center. This station is directly connected to Mumbai and regular train services are available from here to many cities in India. By bus: Nasik is well connected to all neighboring cities by Government owned buses. Private A/C and non A/C deluxe buses are also available from Nasik to many cities in the State including Mumbai and Pune.
... ...
Share Your View via Facebook
top trend
what next
IBTL Gallery