Aussie crowd abuses, Virat Kohli responds by showing middle finger, fined half the match fee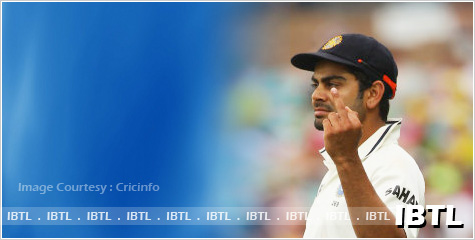 At the Sydney Cricket Ground, it was a show of the characteristic Australian indecency, for which their Cricketers are notorious and of late, the common Australians have also earned a bad name following a trail of racist attacks. The Australian crowd, arrogant with the continuing Indian misery on the field and a splendid performance by their batsmen piled abuses involving the mother and sister of Virat Kohli, as the player expressed his anguish on twitter later.

The crowd provoked the 23 year old Delhi Cricketer and the latter lost his temper and reacted by showing his middle finger to the crowd, which was captured by the camera on the Second day of the match. The incident happened when Virat was posted on the boundary. Virat said that he had heard abuse worse than he ever had in his life.

Kohli has been fined 50% of his match fee for the offence. The level two charge was laid by the match referee Ranjan Madugalle on the third morning of the SCG Test. Kohli went to the hearing along with manager Shivlal Yadav. He apologised for his 'indecent' conduct. India's media manager GS Walia, said that the matter was closed as far as the Indian team was concerned.

Virat expressed his anguish on Twitter posting, "I agree cricketers dont have to retaliate. what when the crowd says the worst things about your mother and sister. the worst ive heard".

Support came for Kohli from English Cricketer Kevin Pietersen, who replied to his tweet thus: "ha ha ha ha ha!!! Welcome to Australia buddy!!"

To which Kohli replied: "never heard crap like that. EVER"

Pietersen then took a further swipe at Australian fans, tweeting: "that's the way it is mate.. Beat them & they start abusing their own!! #fickle."

Virat, the young optimist, began his third day on a more positive Twitter note that said, "New day new beginning! :)"

Meanwhile, it'll take Indian batsmen to come up with an unprecedented performance to save the test, while the Australian lead is set to go past 400.


Share Your View via Facebook
top trend
what next
IBTL Gallery