The Massacre at Wandhama, Kashmir : 25 January 1998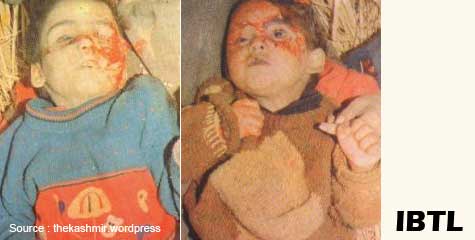 On January 25, 1998, 23 Kashmiri Pandits living in the village of Wandhama were killed by unidentified gunmen. According to the testimony of one of the survivors of the incident, a 14 year-old Hindu boy named Vinod Kuman Dhar. the gunmen came to their house dressed like Indian Army soldiers, had tea with them, waiting for a radio message indicating that all Pandit families in the village had been covered. After a brief conversation they rounded up all the members of the Hindu households and then summarily gunned them down with Kalashnikov rifles.
The indiscriminate firing on the Pandits spared 16 year-old Manoj Kumar Dhar, and, he was the lone eyewitness to the massacre. In a statement to police on that night, Kumar said a group of masked gunmen came to his house at about 11:30 pm and forced all those inside to come out. "I jumped out of the wall of my house. As soon as my father, brothers and sisters came out, I saw the gunmen shooting them. They were crying and begging for life," he had told the police.
The massacre was allegedly committed by Abdul Hamid Gada of Hizbul Mujahideen and was timed to coincide with the Shab-e-Qadar, the holiest night of the month of Ramzan, when believers stay awake until dawn. Gada was subsequently shot dead by Indian security forces in 2000.

Meanwhile, the police that day claimed to had recovered a letter in which an unknown militant organisation, Intikaam-ul-Muslimoon, had claimed responsibility for killing of Pandits. The letter that was tagged to one of the bullet-ridden bodies disclosed that this was the beginning of a seriesof such attacks.

After the massacre, the local Hindu temple was destroyed, as were the houses of the Pandits.

Police, as usual, falied to arrest or get anyone convicted . The case was subsequently closed by police. Sub Divisional police officer Ganderbal Showkat Ahmad, who was then Station Hose Officer for the area told Kashmir Times, "The case has been closed, as no one was identified as the killer of these Pandits."

Sabhaar : thekashmir.wordpress.com/2010/01/22/wandhama
Share Your View via Facebook
top trend
what next
IBTL Gallery